The Deathweaver Clan is a notorious brood of pirates led by the infamous Naacani necromancer, Gro'chal Deathweaver. Gro'chal is wanted for numerous crimes including but not limited to murder, terrorism, grand theft, piracy, and necromancy. In addition to their stolen and re-outfitted ships, the Deathweavers' numbers consist entirely or almost entirely of corporeal and incorporeal undead. This is a list of known types under Deathweaver's command.
Corporeal
Ghoul
The ghoul is the most common soldier in the Deathweaver armada. They are often the victims of their raids that have been resurrected to fight in their ranks. Ghouls utilize the training and equipment of their previous lives with stunning efficiency.
Patchwork Brute
These monstrosities are the juggernauts and shock troopers of the Deathweavers. They are created by stitching and fusing the remains of several cadavers together and reanimating the product with necromancy. Brutes are incredibly strong, highly resilient, and surprisingly fast and agile for their size.
Incorporeal
Shade
Shades are spirits that take on the form of shadows. They are adept at infiltration, assassination, and scouting. This brand of incorporeal undead are ferocious fighters and rip their targets apart with blood-thirsty animal-like zeal. Often the only warning of their presence is a sudden drop of temperature in the air.
Dreadwraith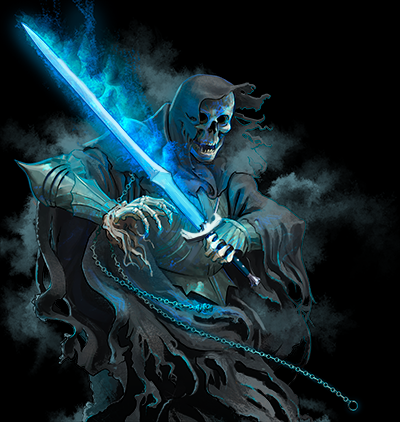 In contrast to the shades, the Deathweaver dreadwraiths are far more straight forward in their assaults. The dreadwraiths stalk the halls of ships or other buildings and indiscriminately slaughter any living thing they come across with ethereal blades. A sickening aura of despair and dread, hence their name, herald their approach.
Banshee
Banshees are the restless dead of women who either died of grief or lived a life of woe and pain. Their eternal screams reach across the physical and astral planes and fill minds with their own crippling sorrow. The screams also cause interference with communications, whether mundane or mystical.
Scion
Scions are the henchmen and direct representatives of Lord Deathweaver's will. They are smarter, more cunning, and generally more independent compared to the other types of undead. Lord Deathweaver uses them as control nodes and relays for his arcano-psionic network.
Ships
Ghost Ship
An old frigate refitted for Deathweaver use.
Revenant
Revenants are medium or large warships that have been converted for Deathweaver use. They are armed with necrotic weapons that eat away at shields and hulls.
Spectre
Spectres are small scout vessels used by the Deathweavers to hunt for prey or execute special operations.