THE ELEMENTAL LORDS
Go'ath the Storm Maker
Go'ath is the Lord of Wind. He takes the form of a massive living tempest laced with scorching lightning. His will commands the storms, winds, and sky as if they were extensions of himself. Powerful hurricanes, tornadoes, and thunderstorms are crafted by mere thoughts. He carries the legendary hammer Thorizan and his symbol is the storm eagle.
Aigaioth, Lord of the Sea
Aigaioth is the Lord of Water. He takes the form of a gargantuan title wave, a whirlpool, or watery giant. This Elemental Lord holds control over the oceans, seas, rivers, and lakes. With a wave of his hand he can destroy the coast with a tsunami or ravage the land with floods. He carries a large trident and his symbol is the whale and horse.
Munio Earthshatter, the Mountain King
Munio is the Lord of Earth. He takes the form of a massive rocky titan with various numbers of muscular arms. He can cause catastrophic earthquakes, open deep chasms, and raise mountains. The Earth Lord carries a combination of giant spears, swords, mallets, and shields. His symbol is the Ox.
Brathadair the Infernal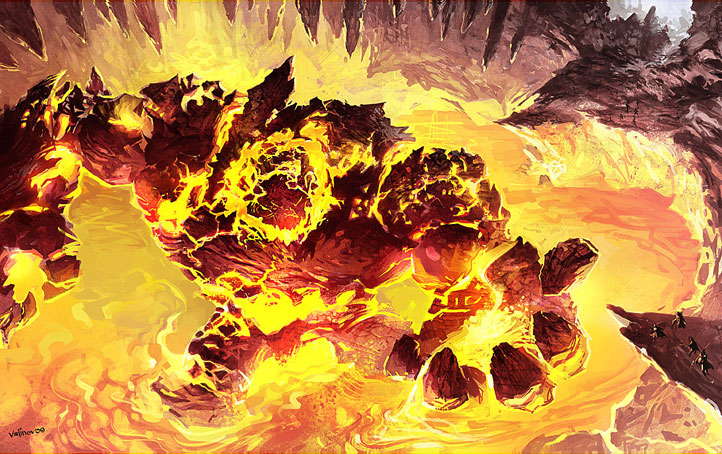 Brathadair is the Lord of Fire and the most aggressive of the Elemental Lords. He takes the form of pure inferno or a massive creature of magma and fire. His mere presence causes steel to melt and forests to erupt like matches. The Fire Lord's symbols are the dragon and phoenix.
Ter'ron the Warden
Ter'ron is an enigma among the Elemental Lords. He is their leader and is neither deity nor titan. Ter'ron is the personification of the elements in harmony and keeps the clashing nature of the Elemental Lords in check.