The Grey Battalion

The Troops
The Troops of the Grey Battalion are made up of Clones of their Commander: Kinara. However, unlike their Grey-Jedi Commander, they all have stark differences. For one, they are not force sensitive, none of them have a sensitivity to the force large enough to be counted as candidates for any kind of Force training. For another thing, they are both biologically Male and Female, adding diversity to the individuals of the millions of Clones being made for the Grey Battalion.
Each and every Clone wears specially designed and made a plastoid, metallic armor made from a mix of Durasteel, Shadowsilk, and Zakuulian silk with a special, sealed bodysuit that appears as a rubbery substance to absorb outside trauma and keep the body of each individual soldier functioning perfectly, cooling or warming as needed, also made from Shadowsilk and Zakuulian silk. The mixture of Shadowsilk and Zakuulian Silk not just simply makes the armor comfortable to wear, it also makes it light-saber resistant, allowing superb protection from all manner of damage. They carry what can be assumed to be a modern-day Assault Rifle, however these weapons are indeed Blaster Rifles with a minimum magazine size of 200 shots at full power. These rifles can be adjusted in terms of how much power each shot uses, allowing for a maximum of 500 shots per magazine at an optimized power-level. They carry heavy duty Blaster Pistols as side arms, and are trained in all weapons that they use, to replace any who fall in combat. Each Clone is allowed some sort of Customization of their armor, however each are restricted based on Rank and roll within the Battalion.
Standard soldiers
are seen to the right. They carry standard issue rifles and pistols, and have standard Crimson markings on their otherwise Grey armor.
Snipers
are allowed the greatest degree of armor customization as what they decorate their armor, as they need to perfectly blend in with their surroundings without the use of a stealth field projector or something similar. They also carry Solid-Projectile Rifles, equivalent to 1. Caliber.
Flame-Troopers
generally have similar markings to the Standard Clone, but have a Flame Insignia on their armor somewhere, generally on their chest or on their helmet.
Medics
, likewise, have the same design, however with a medical Cross on their armor somewhere, usually on their chest and back, small enough to be identified by friendly soldiers, but not the enemy.
Squad Leaders
generally have both Crimson, and either Black or White markings on their armor, allowing the men to see them clearly and rally to them in times of trouble.
The Commander
, a Clone calling himself
Kaal
,has the Symbol of the Grey Jedi, and therefore The Battalion, on the Pauldrons of his armor, and his armor is a blend of Green and Black, like hi Jedi-General's lightsabers.
Special Ops
Soldiers have solid Black Armor, and sound-dampening additions to their bodies and weapons.
Speeder Bikes
are used by the Clones as fast Transport, Snipers, Scouts, and Messengers use these agile bikes to zoom around the terrain at speeds reaching upwards of Two Hundred and Fifty MP/H on a flat, paved Surface. When on uneven, hazardous Terrain, these bikes can turn themselves into Hover-Bikes by running an Electrical current between the tires to lift them off the ground by using the magnetic properties of the planet they're on at the time.
They are generally Black, with Grey Detailings across the shining surface of the Bikes. They can be equipped with light Blaster-Repeaters for suppressing fire should they need it. A squad of Normal Clones can use these as a sort of "Wolf Pack" and harass the Enemy supply lines with hit-and-run attacks meant to lower morale and steal what they can. The Bikes are made of a light but durable material, and rarely need repairs until after a campaign.
The
Juggernaut Transport Tank
is what many would consider a relic from the Clone Wars, but with Kinara's specifications, these behemoths can withstand multiple blasts from Main Battle Tanks, reach speeds upwards of One Hundred and Twenty Miles and Hour over most terrains, are amphibious with a speed of Sixty Knots. They have Great Suspension systems allowing all Eight of their Wheels to move independently, turn for optimum handling, and continue to operate even when almost fully destroyed. They carry four Squads of 11 Soldiers for a total of 44 troops per tank.
They are also lightly armed to support the Troops they drop off into Combat Zones, with the loading hatch in the back of the vehicle for safe departure during combat missions. The hull has also been modified so that the Soldiers within the hold can use their weapons in slots at the side of the hull, helping with suppressing fire and with breach-and-clear missions without having to leave the safety of the tank in a less-than-favorable environment.
The
Protector
Anti-Air mobile gun platform is to provide Anti-Air support to the troops as they advance, whilst the stationary batteries stay at their base of operations. They fire heavy Duty Blaster Bolts, and can be compared to Mobile Turbo-Laser batteries used for AA support. They are often hidden very well and advance about half a mile behind the very front lines. They have a range with their missiles of about three Kilometers, while the Laser Canons have a range of One and a Half Kilometers, reaching to just in front of the Front Lines. They are also found protecting the Mobile Artillery batteries, along with some assault walkers, should enemy troops break through the lines and the artillery isn't able to move out of the way in time.
The Old UTAT from the Clone Wars, or
Trident Artillery
, is a Mobile Artillery vehicle capable of lobbing high-explosive, armor/bunker penetrating, smoke, and flame rounds to a range of twelve Kilometers when at full tilt. They help provide artillery support for the Troops as they advance towards the enemy position. The only real modification Kinara made to these otherwise very reliable pieces of equipment was the rifling of the barrels, and the conversion to Solid Projectiles instead of Blaster bolts as the turrets were used to firing in the Clone Wars. Solid Projectiles gave a much more reliable Artillery piece that wouldn't be exposed to enemy attack as easily, rendering an armor upgrade un-needed. Minor modifications include increased engine power, and a better method of moving the whole vehicle, as well as modifications to each main battery gun, allowing them to move more independently of each other, and be able to fire at three different targets if the need arose.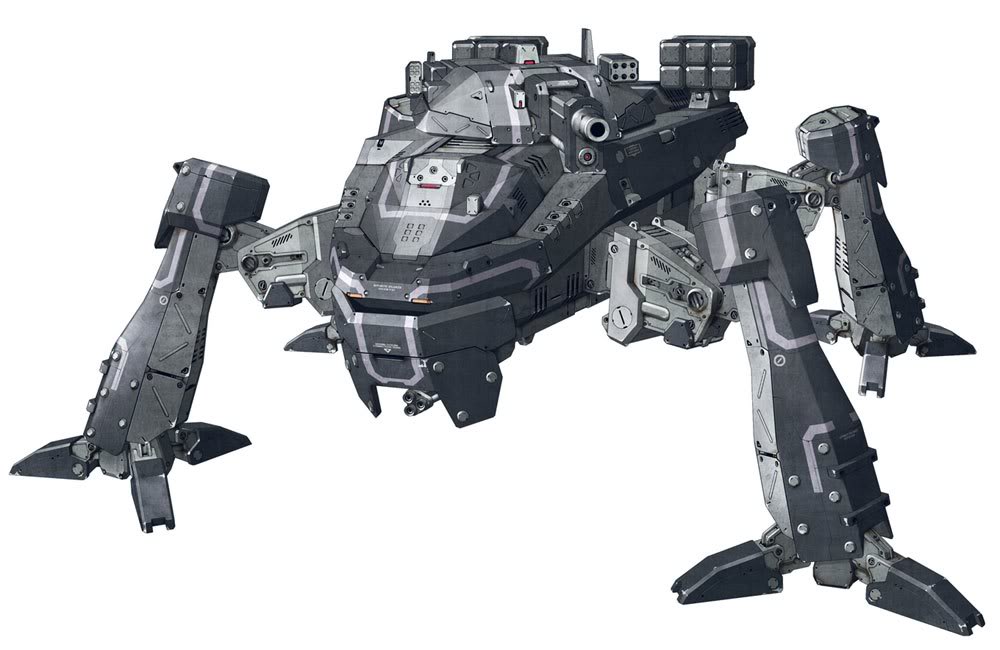 The
AT-MBT
or All Terrain-Main Battle Tank, is an extensive upgrade of the old Republic Walkers such as the ATOT or ATTE, and replaces them both. Higher off the ground to avoid Mines, and with Four Legs rather than Six or Eight, the AT-MBT is able to walk on, as the name implies, all terrains, save for air. It is sealed, so it can be used under water or even in space if need be. Replacing the turret atop of it with a single Heavy Turbo Laser Battery, the main armament has been upgraded significantly. With triple-barreled Blaster Cannons on all four sides, one up front, two on either side, and one in the back, it is well defended from enemy infantry while the Main Cannon takes care of enemy vehicles, gun emplacements, and buildings with ease. It is equipped with homing rockets for minor Anti-Air defense as well, though it by itself won't be shooting down any enemy aircraft.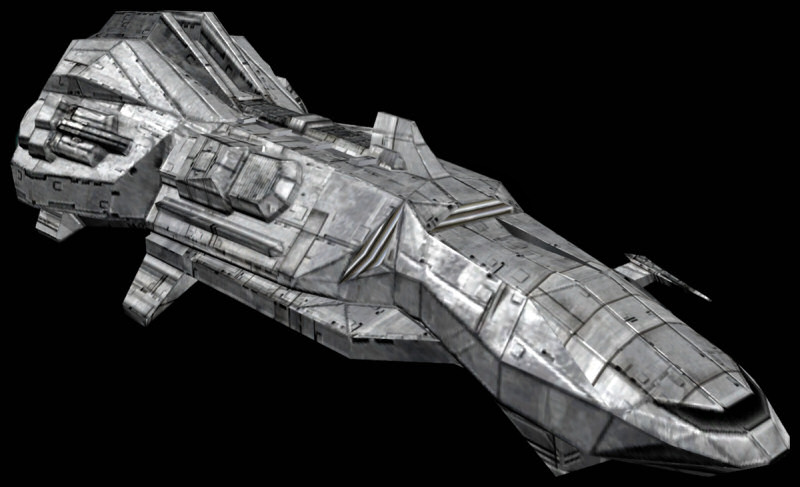 The
Tartan Patrol Cruisers
are the defenders of the two Acclamator Class Cruisers that are serving the Silver Battalion as Medical and Rehabilitation ships for the troops and pilots of the Battalion. They are modified with double the usual eight laser cannons in order to produce a heavier anti-air support screen to shield the Acclamators from assault from all sides. They are manned primarily by droids, whose primary function is to keep the ships running at optimal efficiency.
The most numerous of Kinara's ships, the
Acclamator Assault Ships
come in three Unit-Blocks, or 21 ships in total, with two of those 21 acting as Medical and Rehabilitation ships for the troops of the Silver Battalion. They are armed with numerous Quad-Turbo Laser batteries for ship-to-ship combat, as well as numerous point defense turrets to help defend against single craft attacks as well.
They are one of few ships that can land on a planet's surface safely, and do so to deploy large numbers of Troops and Vehicles as well as provide a base of Operations for the Silver Battalion on hostile Planets. They possess a ramp with which to deploy large numbers of troops at once once landed, and have been modified with drop pods for an orbital insertion of troops and light vehicles when needed, particularly for blitzkrieg assaults of enemy positions. They lack a hangar of their own, and are therefore unable to launch fighter support for the troops on the ground. They can however use their Turbo Laser Batteries as an Orbital Bombardment from above the battle.
The
Venator-Class Star Destoyer
act as dual role ship, acting as both Battle-Cruiser and Carrier. It has four Hangars, two on the sides, one on the bottom, and the main hangar on the top. The two armor plates (Colored red in the ref) can slide apart to allow for the strike force of Fighters, Bombers, and Gunships to all leave within a quick amount of time and get into the fight quickly. Each Ship in the Unitblock is equipped with multiple Heavy Turbo Lasers, Medium Turbo Lasers, numerous Point Defense Turrets, and even six Tractor Beam generators to capture enemy ships and hold them in place. If the Venators work together, they can trap an enemy ship in place, and allow for the Grey Battalion to board and capture the ship.
They, along with the modified Sabre Classes, are the bulk of the Fleet's anti-Capital ship firepower, and when focusing fire, can make short work of most any enemy ships. Their shields are superbly strong, as is their armor. They carry a compliment of Fighters and Bombers. Each Venator carries three Fighter Squadrons, two Bomber Squadrons, and twenty Troop Transports and Heavy Transports for Vehicles.
The
Sabre Class Star Destroyer
is the newest addition to the Fleet of the Grey Battalion in the form of Seven Unitblocks. The original Sabre Class were only 600 meters in length, but thanks to Kinara's specifications, the size was upped to 2100 Km, and its armarment was upgraded accordingly, and then sextupled in strength. At first glance, each Sabre Class looks like a bigger version of the orginal, however when Battle-Stations come online, all of the added Guns rise from the hull and begin their onslaught. Upgrading the regular 8 Medium Turbo Lasers to 48 Super Heavy Turbo Lasers when at full battle readiness, with appropriate side armaments, as well as two large laser pods on either side of the hanger to burn through Enemy Armor disguised as Interdictor Gravity Wells.
They have two small hangars on either side, as well as a bottom hangar for deploying their own fighters, bombers, and transport Gunships. Each Sabre Class is equipped with Two Fighter Squadrons, one Bomber Squadron, and fifteen Troop Transports.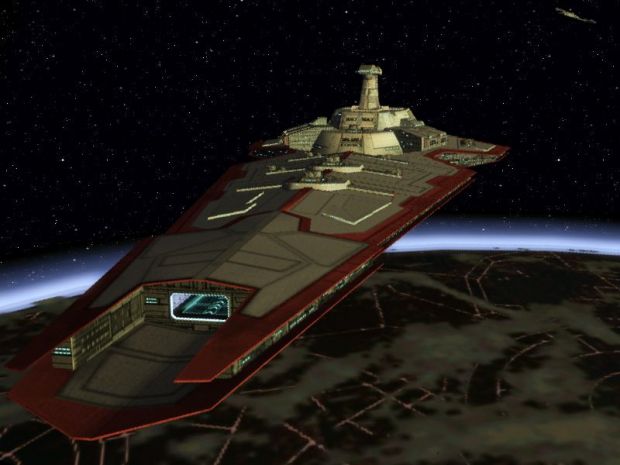 A
Valiant Class Star Destroyer,
The Obsidian Eagle is Kinara's Flagship within the Grey Battalion, and acts as her personal home. From her Four Hangars, the Obsidian Eagle can unleash Five Fighter Squadrons, Ten Bomber Squadrons, and well over One-Hundred Transport Gunships of both sizes. It is also modified heavily as per Kinara's design choices, with Fifty Super Heavy Turbo Laser Batteries, Seventy Five laser Canons, and hundreds of point defense turrets. As well as Ten Torpedo Tubes, five in in the bow and five in the aft. To account for all of these offensive capabilities, the Eagle was recently upgraded in size, moving from 3 Km in length to 5 Km.
The Eagle was also recently equipped with a new design choice by Kinara, out of the knowledge that her opponents may be able to outgun her. She has added a large Glassing Beam to the bottom of the Obsidian Eagle, able to completely decimate anything beneath it. The only thing more powerful would be a Super Laser equivalent to that of the Death Star.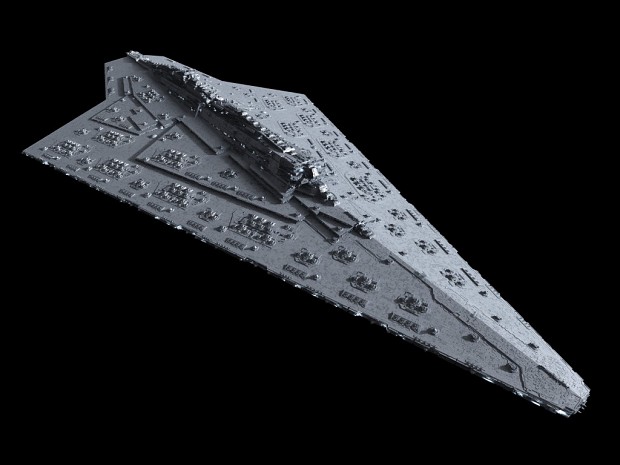 Yet another new addition to Kinara's fleet, the modified, 22km Long Assertor Class Super Star Destroyer is the most heavily armed and armored ship in Kianra's fleet. It is also one of the fastest, with numerous Aft Thrusters to propel her at great speed.
She is armed with 500 5-gun Batteries of Super-Heavy Turbolasers, 200 batteries of Regular Laser Canons, countless Point Defense batteries, and Twenty Forward and Ten Aft Torpedo Tubes. She is also equipped with Nine huge Hangars, four on each side and one on her belly. She carries 50 Squads of Fighters, 70 Squads of Bombers, and Hundreds of Transports.
The
Shadow Wing
Class Star/Air-Superiority Fighter is a fast, manueverable, and durable Fighter capable of in-atmosphere speeds of Mach 2.5. It comes Equipped with standard Repeating Laser Cannons, and Numerous Homing Missiles to track down its targets. They are also equipped with a passive stealth technowledgy, dispersing their heat-signatures to prevent heat-seeking missiles from locking on, and appear smaller on radar. They are piloted by one person with a state of the art H.U.D system that feeds them information in real time. They come in Squadrons of Six.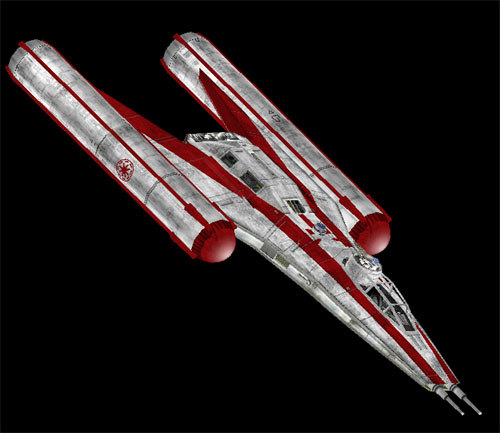 The Y-Wing Bomber is a tried and true bomber from the Clone Wars. Fast, Maneuverable, and tough, the Y-Wing bomber can take a hit, continue to deliver it's payload of Proton Torpedos, and then return, provided that it doesn't take another very serious hit. It is Piloted by one pilot, and one gunner, who sits in the bubble turret behind the pilot. It is also equipped with an Astromech Droid for quick calculations and on-the-fly repairs when returning to the capital ship is not possible or in dire situations. They come In Squadrons of Ten.
The U-Wing is a reliable Transport, carrying two squads of Soldiers into Battle whilst also providing Covering Fire from each Door Gunner. They can Also be Modified to deliver Light Vehicles such as Speeder Bikes and Mobile Artillery or Anti-Air.
Pictures do not Belong to me, and I will remove them if asked by the artist.