The Handmaiden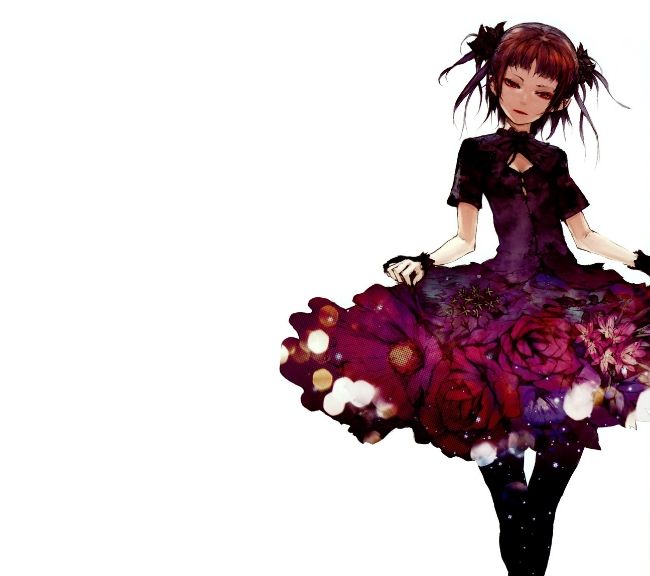 Birth Name:
Li Mei Ming
Nickname:
"The Handmaiden"
Age:
Unknown; ageless.
Physical Description:
The Handmaiden is a diminutive girl clearly of Asian descent dressed in a flowing dress the eyes can never seem to focus quite right on. Her hair is cut short in the back and pinned with lacy black bows at the sides; her hair, while tinted naturally somewhat red, is dark and more of European texture. It's always neat, as is everything else about her. She has a somewhat dainty composure, but there's an odd glint in her eyes— a colorful brown bordering on a muted burgundy. She's never without her gloves and doesn't ever seem to change her style of dress.
Easily classed as 'petite,' the Handmaiden stands just barely over five feet. She's quite proportional, if not somewhat girlish of figure and flat-chested. She could just as easily pass for twelve as she could for twenty-five. She's not particularly intimidating, but her glare has been described once or twice as 'dragonlike.' It would be described that way more often, but for those who can anger the usually placid Handmaiden to such anger as to force her to show her emotions don't often live to see the next few seconds. For such a seemingly innocent girl, her ruthlessness is shocking.
While the Handmaiden isn't known to wear makeup on a regular basis, she's used kohl to rim her eyes and berries to stain her lips, on occasion. In general, she does her best to maintain a more rugged manner of dress. While it might seem counter-intuitive to wear a dress for someone who aims to keep herself practical at all times, she seems to have grown accustomed to her own monotone sense of fashion.
Abilities:
Teleportation
- She can teleport whenever she wants, but she doesn't ever know where to. She can be summoned directly only by her master. If she is injured gravely while she teleports, all existing injuries will only worsen, as her cells have trouble rearranging themselves again if something is wrong with her body.
Martial Arts
- The Handmaiden is extremely well-trained in a number of styles of martial arts, mixing them together with her lightfootedness and flexibility to create a formidable opponent despite her size. Her technique is well-refined; however, she doesn't improvise too well.
Chopsticks
- The Handmaiden carries a pair of ornamental hair 'chopsticks' made of inexplicably strong metal with fine, tapered points and diamonds set into the thick ends. She can use them as weapons.
History
: The Handmaiden seems to be a lost girl searching for a master who abandoned her long ago. She's extremely well-traveled and has an amazing factual memory, but, for the most part, she can't communicate what knowledge she does have. She acts according to a very specific set of morals set by her master and will continue to do so until her master allows her to leave. Oddly, perhaps at Master's bidding, she is unable to remember any memories involving emotions and, as such, had become emotionally detached— though this has made her fearless, in a way.
Equipment
: Her chopsticks. That's it. It's surprising, all the things she can do with them.
Personality
: The Handmaiden is a quiet woman, always cool and collected even if the world appears to be falling apart at her feet. It's clear that she's seen too much over the course of her exorbitantly long life. Li Mei Ming has become quite the jaded girl. Bound to her master, she cannot die without his express permission, and as such, she is both immortal and ageless. To this day, the silent woman wanders the earth a lost soul trying to reclaim the master that made her what she is. While she seems unable to care for others— how could she, when she's seen so many come and go throughout her life?— she's completely devoted to the man who 'created' her, and she'll stop at nothing to find him again.
The Handmaiden comes off as quiet, demure, and servile if not a bit cold. While, to an extent, these are facets of her personality, one might find that she very much contradicts these traits, as well. The Handmaiden tends to do what she wants, when she wants with little regard for who it'll affect, often causing a ruckus simply because she's bored. After living for thousands of years, the Handmaiden's perception of time is vastly skewed, and she needs to fill every second with some activity, be it twitching her feet or playing with her chopsticks, to avoid losing track of time.
Li Mei is also excessively neat— she won't tolerate anything of a mess and will immediately move to clean up anything she deems such. She becomes very uncomfortable and distracted in the presence of a mess.
She can come across as stodgy and old-fashioned at times. While this might be true, this can also be attributed to the fact that she hasn't had a proper friendly relationship in years. She rarely smiles, laughs, or shows any sort of expression, and she tends to be excessively neutral when it comes to spats and disputes. She's quite clever and sly, never one to be duped or manipulated, but she lacks creativity and warmth. While she can perform complex integrals in her head like a 'human' computer, she's impossible to flirt with, and she sometimes has trouble grasping metaphor even though she's extremely attentive and observant.
It should be noted that the Handmaiden is cripplingly shy. Even if she could speak, she isn't one to interact without first having been spoken to. During any sort of conversation, she'll spend half the time blushing and staring at her feet. She doesn't do well in social situations, as she tends to simply stop listening to a conversation or not answer questions asked to her even when she should have no problem doing so.
Other
: She's mute. She also has a terrible habit of falling asleep in terribly inappropriate places, as she has very little grasp of social conventions.