Members of a team that admire the inspiring legend of Suros and worship Radegast as the one that the legend commits herself to.
The Treehouse itself looks shoddy, but is surprisingly well-constructed. It is stationed on a difficult to access cliff edge overlooking a beautiful jungle. With the obvious exception, the place is considered off-limits to humans.
Suros' brothers, Häkke and Omolon, are buried there. Because of their respect for Suros and Radegast, they are enemies of Weyloran and her clan.
With the seven listed as the primary caretakers, the Treehouse has taken up a mantle as a sort of "Pokemon Bed & Breakfast", providing shelter and care for other wild Pokemon who need it- oftentimes for trade for either materials or labour in order to maintain the Treehouse. Most often, the ones who utilize the services are those who have come under the glare of Weyloran and her clan.
THE CARETAKERS
Jakob the *Shiny* Dartrix
(grass/flying) Level 38
The Butler
He is aware of Radegast's lineage, and fancies himself a servant to the family. He is not officially a butler, however, but this devotion has proven strong enough to make him the de facto leader of the Treehouse. He is comically immune to Jolder's advances, though that does not stop her from trying. He speaks not unlike a stereotypical British butler. (_Author's note: I couldn't find a good image of a shiny Dartrix so this'll have to do)
He idolizes Radegast more than most. He keeps it under wraps, but finally meeting the boy has put a spring in his step.
Abilities:
Overgrow and Long Reach. Also comically oblivious
Moveset:
-Razor Leaf - Throws leaf blades like throwing knives.
-Pluck - A savage jab with his beak, quick enough to pick pockets and steal another Pokemon's hold item.
-Synthesis - Absorbs sunlight to regenerate damaged tissue. Effectiveness varies by weather.
-Leaf Blade - A much larger leaf blade, utilized like a katana. Jakob is pretentious like that.
-Astonish - Boo.
-Foresight - Can read an opponent's moves to negate any evasiveness. Also allows him to see the physical properties of a Ghost-type so he can hit it.
Hold Item:
Jolder the Salazzle
(poison/fire) Level 38
The Seductress
Her pheromones are often used to negotiate… well… just about anything that the Treehouse needs to negotiate. She's got a "heart" for pretty much anything, and especially loves to tease males. Her ultimate goal is to break Jakob's obliviousness to her wily charm. If her hiss were any more sultry, she'd be constantly inflicting Infatuate.
Abilities:
Corrosion and Oblivious
Moveset:
-Captivate - Essentially hits on her target. Sharply reduces the target's Special Attack
-Nasty Plot - Her mind is filled with... well... nasty thoughts. Her imagination allows her to optimize her combat effectiveness. Sharply raises her Special Attack
-Venoshock - A poisonous jab with her long, slender claws.
-Toxic - Coats her target in particularly nasty venom.
-Flame Burst - Lobs a flaming grenade at her target, Damages multiple targets.
-Dragon Tail - A savage swing of her tail.
Hold Item:
Doc Holiday the Porygon Z
(normal) Level 42
The Brain
Escaped the computer world with Radegast's help. After parting ways, Doc met Jakob, and decided to stay with the Treehouse. He's the smartest of the bunch, but spouts off a whole lot of nonsense about "facts" and "computer lingo". He's capable of hacking into the toughest of human systems.
Speaks matter-of-factly, and often with suspicion, playful or otherwise. He's a smart cookie, that's for sure.
Abilities:
Adaptability, Download, and Analytic
Moveset:
-Tri-Attack - A synthesized energy blast of flame, electricity, and ice. Has a chance to burn, paralyze, or freeze the target.
-Signal Beam - A synthesized beam of light that can only be classified as Bug-type. May confuse the target.
-Charge Beam - A blast of electricity. Residual current may super-charge his systems and boost his Special Attack. (70% chance)
-Conversion 1/2 (has optimized, or rather, combined the functions so he can pick between them) Can change it's type, essentially.
-Lock-On - Ensures his next attack doesn't miss
-Zap Cannon - A powerful blast of electricity
Hold Item:
Cell Battery
Thoth the Lycanroc
[Midnight form] (rock) Level 38
The Brawn
See Rage… See Rage.
Abilities:
Keen Eye, Vital Spirit, and No Guard
Moveset:
-Rock Throw - Throws rocks.
-Rock Tomb - Throws rocks to damage and possibly slow down the target
-Rock Slide - Throws a lot of rocks
-Stealth Rock - Throws energy-infused rocks
-Scary Face - Throws a rocky face
-Crunch - Throws himself at the target to crush them between his powerful jaws.
Hold Item:
Vorpal the Alakazam
(psychic) Level 40
The Hippie
Lazy, spouts off nonsense, sometimes wisdom, but his psychic ability is no joke. He's often lounging out on the treehouse deck. They say Alakazams have an IQ of 5000, but you'd be hard-pressed to imagine this one is anywhere above the double-digits. Jakob and Thoth have deep respect for him, however.
Abilities:
Synchronize, Inner Focus, Magic Guard
Moveset:
-Psybeam - A focused beam of Psychic energy. May confuse the target.
-Confusion - A blast of Psychic energy. May confuse the target.
-Amnesia - Forgets his fears, (and possibly other things?) raises his Special Defense.
-Recover - Utilizes Psychic energy to regenerate damaged tissue.
-Teleport - "man i just wanna chillax."
-Calm Mind - Smokes a heavy doobie. Nah jk this guy always does this. It boosts his Special Attack and Special Defense.
Hold Item: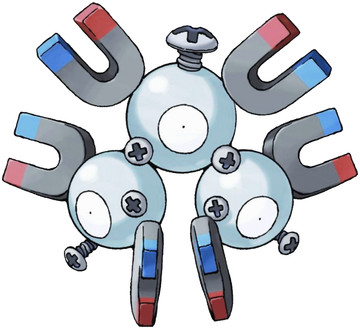 North the Magneton
(steel/electric) Level 58
The Guy Who Actually Gets Things Done
The strongest member of the team, bar none. Also the hardest worker, and also the most sensible one. Even stronger than Metronome the Legendary. He speaks matter-of-factly and robotically, and wastes no words.
Abilities:
Magnet Pull, Sturdy, and Analytic
Moveset:
-Flash Cannon - A piercing laser blast of mirrored light, May reduce the target's Special Defense.
-Zap Cannon - A powerful blast of electricity.
-Thunder - Now reap the whirlwind
-Lock-On - Ensures his next attack doesn't miss.
-Discharge - A dangerous, yet powerful blast of electricity capable of hitting multiple targets.
-Magnet Rise - Utilizing magnetism, renders itself immune to Ground-type attacks.
Hold Item:
Eviolite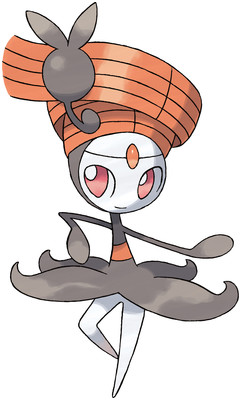 Metronome the Meloetta
(psychic | psychic/fighting) Level 54
The Refugee
Originally the power source of Project Siren, now lays low with the Treehouse. Jakob has proven to be someone she can trust, despite Doc Holiday's knowledge of the Project. Due to her experience, she is difficult to make friends with.
She would never admit it aloud, but she is very grateful, and even a little fond of Radegast.
Abilities
Serene Grace
Moveset:
-Wake-Up Slap - Pimp-slaps her target. Extremely effective to the sleeping.
-Hyper Voice - Fus Ro Dah
-Psychic - A powerful blast of Psychic energy. May reduce the target's Special Defense.
-U-Turn - A quick strike, followed by a rapid retreat.
-Power-Up Punch - Strikes hard with a fist. Boosts Attack.
-Sing - With her siren voice, lulls any who hear her song into a slumber.
Hold Item:THE LAYOUT
The location is covered from the elements by an enormous slab of igneous buildup, forming a natural umbrella-esque roof over top of the small plateau. The only entrance into the cave is the natural opening with a wonderful view of the Akala Lush Jungle.
The climb takes approximately five minutes for an experienced climber even without equipment. It is rather like climbing a tree in that sense.
When one enters the cave, on the right is a clearing, where several metres away, the three markers lay undisturbed. To the left is a rather impressive structure of bamboo, thatch, and synthesized beams. It is a large, two-story house that takes up nearly half of the plateau, and also stands from floor to ceiling. The house has a kitchen with a synthesized potbelly stove, multiple pieces of furniture similarly made with bamboo, wood, and synthesized reinforcing elements. There are multiple rooms containing beds of many types. Most of them were built by the "Caretakers" after the Lord-Regent had gone off on adventure. Next to the kitchen is a pantry, containing Never-Melt Ice used to preserve the multitude of berries that are always stocked-up for the purposes of the Bed & Breakfast.
Upstairs, at the end of a long corridor, is a room with an untouched human-sized bed accompanied by an end table and an "imported" human chair. Above the bed, a crude drawing of the Reginald Coat of Arms is pinned to the wall. The drawing appears to have been drawn by hands covered in feathers. Few go into the room, mainly because the wild Pokemon who do visit are usually busy interacting with the other wild Pokemon who visit, as well as the Caretakers.
Several closets throughout the house contain assorted gear appropriate for the placement of said closets (eg. cleaning supplies near the stairs, cooking supplies near the kitchen, scarves by the door, etc.) Overall it is a surprisingly well-organized human house, only no human has ever been there save for the one who founded it.
Despite the nature of the location, the cave is actually pleasantly cool even on a hot day. It is also highly defensible, and the structures are reinforced and supported by redundancies to deflect any emergency- namely what would happen if the umbrella-esque slab of rock were to break. The place is surprisingly fortress-like in its structure.
Most importantly, in the far back on the first floor, is a shrine. The shrine is a simple pedestal, upon which a withered Dragonite antennae rests. The accompanying plaque and surrounding artwork of varying mediums depicts the atrocities of Demonbreath, in the hopes that history shall never be repeated in Alola or the world.