Mauhasinans are a humanoid race with catlike ears, tails and claws. They are quick and agile with a heightened sense of sight, smell, and hearing. They are also resistant to hostile magic.
Mauhasinans can live up to 150 years.
Mauhasinans breed quickly, pregnancy only lasting four months. Each time a female gives birth she can have anywhere from One to four kittens at a time.
Mauhasinans below the adult age of 18 are refered to as kittens.
Home World:
Mauhasina
Ruler:
Holy Emperess Seki I
The Planet Mauhasina was once home to many tribes and kingdoms that fought for power and land. Out of this rose the Cult of the Sun the followers of the Goddess Bastakia. The Cult as masters of light bending soon brought tribe after tribe, kingdom after kingdom under their heel. It was then that the leader of the Cult named herself Holy Emperess of The Mauhasinan Empire.
Time went by and the Mauhasinans found thier way to the stars and with this brought war. All that fought them fell quickly to the Mauhasinan Empire. Hundreds of years have passed with no real fighting and the Mauhasinans now seek to explore and find new peoples to trade and mingle with. Though they hope for peace they know war can be one misstep away.
Major Planets of the Mauhasinan Empire
Mauhasina- Homeworld of the Mauhasinan people and capital of the Empire, it is said to be a Paradise world.
Desia- A world of mostly ocean it is home to a race of merfolk known as the Desi. The Desi are unable to leave their native planet but are skilled ship builders so they make ships for the Mauhasinan Empire in return for protection
Rax- A swamp world once home to a lizardman race that was wiped out by the Mauhasinans it serves mainly as a dump and prison planet
Atrina- A planet of mostly open plains it was once a human planet until war broke out now a Mauhasinan world known as the bread basket due to the many crops grown here. The few human survivors where taken to Rax as PoWs and slaves.
Kauravi- once the homeworld of the Kaura a race of humanoids with doglike features. The Kaura where hated foes of the Mauhasinan Empire fighting many wars until the Mauhasinans glassed the planet. The planet was left desolate as a sign to all that oppose the Empire.
There are other planets such as gas gaints and uninhabitable rocks but those above are the main ones
Light bending and weapons of light
Light bending is a power many but not all Mauhasinans have. Light benders can control and use light energy to form weapons and shields, and to heal or attack by channeling the light energy.
Weapons of Light are made by mixing technology and light bending to form weapons of war. This range from simple Light Rilfes to huge ship mounted cannons.
Stormlight weapons use light charged with ion tech to render shields and electrical systems offline
Sunburst Torpedoes are torpedoes designed to break though a ship's hull and then explode causing massive damage inside the ship.
Light Shielding
The Light shields of the Mauhasinans absorb energy and magic healing and strengthening them.
Shadowlight
Shadowlight bending, weapons and shields act in the same way as Light Bending, Weapons of Light, and light shields with one major difference. Shadowlight is black as night and has the power to cloak those using it. It is only used by the troops and ships of The Twilight Legion and The Shadowcats.
Kullium Armor
Armor made from Kullium a material found only in the Mauhasinan Cluster. Kullium Armor has shown to be able to absorb most types of energy. Those wearing the armor can also walk through forcefields. In addition, the suit is bulletproof and highly resistant to blunt trauma. The wearer can weather the effects of mines without injury. It cannot, however, withstand the sheer force of a missile or other such heavy ballistic weapons.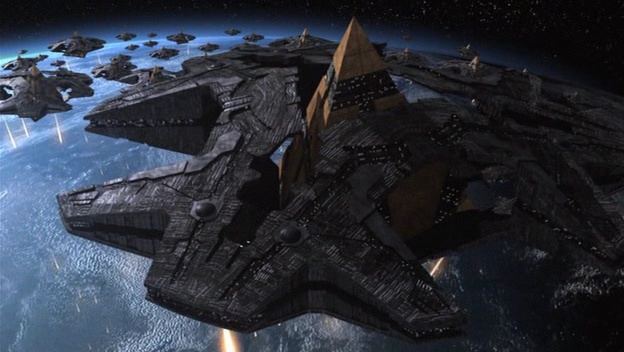 Ship types
Lightbringer Class: Largest ships in the fleet over 20,000 meters long. More like mobile space stations than a ship with many hangers and massive guns
Daylight Class: 15,000 meters long Large battleships with guns all over no hangers
Cloud Class: 12,000 meters long The carriers of the fleet have less weapons but carry thousands of fighters, bombers, and other small craft
Day Class: 9,000 meters long A smaller version of the Daylight Class
Sunburst Class: 7,000 meters long Gun Cruisers with a single hanger
Flare Class: 5,000 meters long Support Cruisers no hanger
Firespark Class: 1,000 meters Fast attack Frigates scout versions have a small hanger normal no hanger.
Transports and shuttles of various sizes
Fighters, Bombers, and Gunships
The Starspheres
Giant moon sized ships that draw in the energy of stars and then store it for use as a high powered been weapon able to blow up whole ships and space stations.
Mauhasinan Army
All classes wear Kullium Armor and have personal Light Shields
Troopers: The basic troops of the Mauhasinan Empire
Marines: Elite troopers that defend Mauhasinan ships and raid enemy ships
Light Benders: Non Priestess class that have the power of Lightbending.
Priestesses of The Sun: Holy Light benders devoted to the goddess.
The Twilight Legion
The Elite and ruthless order commanded by Seki I even before her ascension to the Throne. They are willing do do whatever it takes to win no matter how underhanded it may be. They are masters of Shadowlight technology and Shadowlight bending. All Twilight legion units and ships have the power to Cloak.
All classes wear Kullium Armor and have personal Shadowlight Shields
Twilight Troopers: Elite troopers drawn from the normal troopers
Twilight Marines: Elite marines drawn from the normal marines
Shadowlight Benders: Non Priestess class Shadowlight Benders
Priestesses of The Moon: Dark priestesses that serve the goddess' darker side
The Twilight Guard: The Personal Guard of Holy Emperess Seki I the most trusted and elite warriors in the Empire. They sole duty is to protect Seki I.
Mauhasinan Intel Service
The Spec and Black ops specialists of the Mauhasinan Empire. Commonly known as MIS.
The Wild Tribes
These are Mauhasinans that live in harmony with nature making sure that the Mauhasinan technology doesn't destroy the planet and all is kept in balance. They still use technology including light Shields, Kullium Armor, and starships.
The Wild Ones: armored Berserkers that use melee wrist blades that can rip though armor and cloaking technology
Rangers: Expert marksmen and trackers able to blend in to their surrounding. They also can train and ride animals
Druids: spellcasters that use nature powers as well as shadow light bending