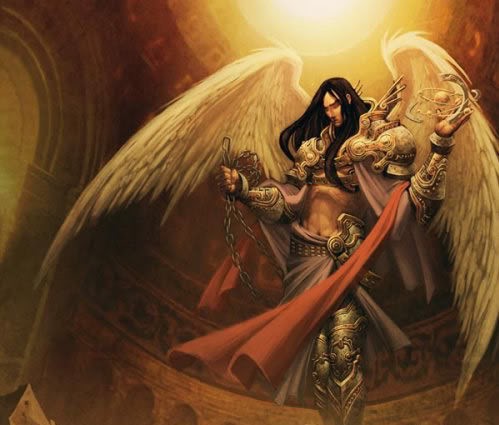 "All that I am, is Truth. I am Forerunner, Creator of the Created...Guardian of all things. And I have slept for far too long"
Name:Unknown
Alias: Paragon
Rank: Forerunner,Creator,Architect
Age: Unknown
Sex: Male
Species: Forerunner
Personality: He tends to observe more than speak. He is a silent companion unless needed but when he speaks through his cold, stone face, he speaks from his Heart. He speaks the Love he holds for those he creates and the ones already created. He cares for all things, Demonic, Angelic but most importantly: He cares deeply for human kind; Like a Proud Father watching his Son at play. Kindness...above all is his core being
Weapons: A Sword and Shield, each with Great and Tremendous Power. With his Right, he may strike at the foes who threaten his beloved Children. With his left, he uses to shield those he loves from the gripping Darkness with illuminating Light.
Sword of the Heavens- This sword forged in an unknown and long lost metal seems to radiate with a glow akin to the very sun itself. This sword cleaves through the darkness like a knife through butter and holds no harm to those deemed innocent of Soul (More to come)
Shield of the Righeous: (More to come)
Biography:
"I? I am Forerunner..Guardian of all that Exists. The Universe has grown careful under our vigilant Watch. Where there is Shadow, ours is a Luminious Sun, Striking Fear into the minds of the Dark Ones: The Primes. We sealed them away long ago, deep under the radiant gaze of Our most Beloved Creation: The Sun. We slept...created our Beloved Caretakers and set them two rules to live by. One above, One Below. One of Light and One of Shadows and charged them with the Balance they so swore to uphold. Now the Balance has been cast aside. The Creations have forgotten their Balance with wish of Hatred. They Fear eachother without end, they Destroy Eachother....and all while the Darkness grows ever Darker in their hearts. I am Forerunner...I am Paragon. And I return at the turn of the Tide"