Their origins are relatively obscure, but sources trace them to the rogue AI Aiyanna-A. The Zero-One Collective is a mechanical juggernaut of cyborgs, machines, androids, and other various holdings. Their numbers are unknown, and their ferocity is limitless.
Overview of Zero-One military units.
---
Zero-One System Assimilator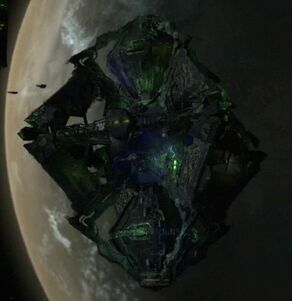 The Zero-One Assimilator is likened to a central Command and Control ship. These massive vessels contain a punishing arsenal of close and long range weapons. A Graviton Flux emitter to overpower local system FTL Inhibitors, and an internal Transwarp array to facilitate the arrival of additional Zero-One ships.
Additionally these vessels contain trillions of Machines with various specialties, and a single Assimilator is capable of overpowering local fleets and assimilating the population of the local system to facilitate further incursions deeper into various factions space. Each Assimilator contains rarely an Overlord class AI, and more often, an Overlord type construct (Generally these are Assimilated military officers, rather than dedicated AIs.)
Specifications;
Size:
500 Miles (804.67km)
Propulsion:
Inertialess
Primary Weapons:
Various projectile and energy weapons
Secondary Weapons:
Various rockets, missiles, and heavy weapons
Capacity:
Trillions of Machines
Designation:
Command Ship
Shields:
Transphasic Graviton, Hard Light, Magnetic, Frequency Oscillation
FTL:
Transwarp, Standard FTL, Hyperspace, Einstein-Rosen
Power Systems:
Quantum Pole Generator
---
A Zero-One Baseship is the dedicated Carrier-Battleship platform, and usually provides escorts to the Assimilator, in addition to providing ship to ship engagements. Base Ships are utilized when local resistance becomes too heavy for an Assimilator to contend with. These are generally commanded by an Assimilated creature connected with the Overlord of the Assimilator.
Specifications;
Size:
1030.69m
Propulsion:
Inertialess
Primary Weapons:
Phase-Pulse arrays, Fusion Beam Cannons, Ion Beam Cannons
Secondary Weapons:
Nuclear Missiles, Conventional Missiles, Rockets, Projectile Weapons
Capacity:
10,000 Sentinels, 500 Fighters, 300 Bombers
Designation:
Capital Ship
Shields:
Transphasic Graviton, Hard Light, Magnetic, Frequency Oscillation
FTL:
Transwarp, Standard FTL, Hyperspace, Einstein-Rosen
Power Systems:
Quantum Pole Generator