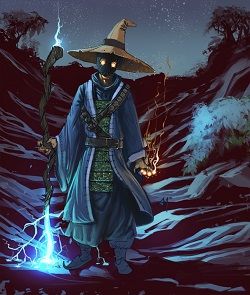 The Beast Conjurer
GENERAL INFO
Full name:
– Tierge Di Grun
Alias/Nicknames:
– Beast Conjurer, Great Black Mage
Gender:
- Unknown
Species/Race:
– Reciennt Kruk
Birth Date:
– Unknown
Age:
- 1200
Descendent(of):
– Reciennt Kruk's Founding Father
Current Residence:
– Tierge's Café and Grill
Job/Profession:
– Mage Assassin, Business Owner
Title:
– Grand Mage Reciennt Yur
Allegiance/Alignment/Clan(s):
– "Nexus Is My Only Solace"
APPEARANCE
Height:
– 5'4
Weight:
– 146lbs
Build:
– Average but Slender
Eye Color:
– Yellow Orbs
Hair Color:
- None
Handedness:
- Ambidextrous
Skin Shade/Color:
– Tar Black
Description:
– To Be Listed
ALTERNATE LOOK/TRANFORMATION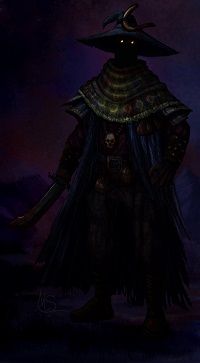 Description Of Alt Look:
– Ancestral Form For Combat in Dire Situations
MENTALITY
Sexuality/Preference:
- Asexual
Sanity:
– Very Sane
Friends:
– Nexus Ver Leth, Zii, Heralding Rymesis
Likes:
– Running His Establishments: Tierge's Café and Grill and Eat Out: Tierge's Restaurant
Dislikes:
– Vidious, Sassin
Hobbies:
– Researching Everyone and Everything Within A 10 Planet Radius
Personality:
– He's helpful, in a sort of indirect way. He will use every other method besides the most conventional. A very stright and too the point person. Doesn't laugh much, nor understand joke. Only the mission, and respect.
EQUIPMENT
Weapons:
– Calls upon creatures and beasts as his weapons
Combat Attire:
– Just the robes he wears, unless he goes Krok Form (His Races Usual Dark Form)
Accessories:
– Interdimensional Staffs
FIGHTING STYLE(S)
General/Preferred Style:
– Magical Combat
Hand-to-Hand:
– Krav Magrav
Weapons Style:
– Mace, and Hachet
Magical Abilities
Chant Magic:
- Chant of Enslavement (can get a captured enemy to tell him what he wants without invading their mind)
- Chant of Overcast
- Chant of Bearing (Can cast upon others a feeling as if they are wading through drying cement)
- Chant of Double Dreaming (can multiply himself up to 3 other selves, all with equal strength to the original.)
Rune Magic:
- Rune of Absorption
- Rune of Demolition Amplification (destructive spells are doubled in power)
- Rune of Gravity Manipulation
- Rune of Paralysis
- Rune of Repulsion
- Rune of Invisibility
- Rune of Binding
- Rune of Acceleration
- Rune of Slow
- Rune of Pain (For every wound inflicted, the pain doubles. Four hits is 16x the pain.)
- Rune of Reverse Reality (Reverses the reality of left, right, up, and down.
- Rune of Overcast (Can cast beyond limits)
Elemental Magic:
- Fire-Ice Dragon
- Frost Metal Dragon
- Acid Metal Dragon
- Diamond-Titanium Dragon
(Much more coming, just rushing)
Psychic Magic:
- Telepathy – This is preferred method of speaking, as is his race normal tongue
- Telekinesis – His telekinesis is weaker than most, only able to move items as big as a car, but struggling along the way
Conjuring Magic:
- Dragon Summons – He summons dragons regularily, unable to think of better creature to battle with than this. He learned to do this from Heralding
- Beast Conjure – Often times, he summons rougue werewolves and vampires who have to obey his command, due to the spell's nature of possession
(more to be added)
Space/Time Magic:
- Warp – The limit on this is dimensional, and distance oriented. If it's Interdimensional, then it's only able to implement if the dimension is next the current one Tierge resides in. He cannot skip them. As for distance, he can only go 10 miles at a time. So, he usually walks.
- Space/Time Cancellation – Cancels Time Travel and Manipulation Temporarily in a certain radius
Curative Magic:
- Heal
- Restoration
- Revive
HISTORY
Family:
– To Be Listed
Known Languages:
– Many, but can only speak them fluently through telepathy
Personal History/Background:
– To Be Listed