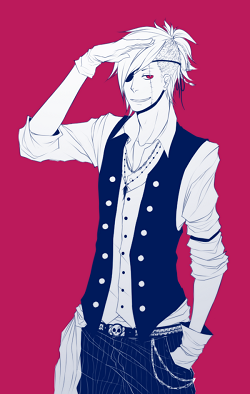 GENERAL INFO
Full name:
– Ubsynth Refferand
Alias/Nicknames:
– The Dealer, Elysium Mover, Galactic Menace, Shadow Dealer, Ghost Dealer
Gender:
- Male
Species/Race:
– Were-bat
Birth Date:
- Unknown
Age:
- 3400
Descendent(of):
– Werewolf and Bats
Current Residence:
– Sol Avenue, among other places
Job/Profession:
– Dealing Drugs Galactically
Title:
- Dealer
Allegiance/Alignment/Clan(s):
- None
APPEARANCE
Height:
– 5'8
Weight:
- 223
Build:
– Lean Muscled
Eye Color:
- Red
Hair Color:
- Orange
Handedness:
- Left
Skin Shade/Color:
- Pale
Scars/Tattoos/Piercings:
-
Description:
– This is a man hell bent of making money through selling drugs. Even if the drug doesn't sell, he finds a way to make it happen. A man of affirmative action, and loves to get his hands dirty, especially when paid well enough to do it, and when there is drugs involved. There are a many number of ways he's been described throughout history, one is of a bat-like creature that flies and rips the eyes of his victim out. He only does that when he can't stand to look you…Another is of a tall man, dress in a pinstripe suit. That is his formal attire. He usually wears whatever helps him become incognito.
ALTERNATE LOOK/TRANFORMATION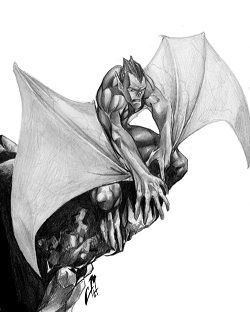 MENTALITY
Sexuality/Preference:
- Gay
Sanity:
– Insane to a degree that is fearful
Friends:
– Only the shadiest of people
Likes:
– Everything drug oriented.
Dislikes:
– Anything not money related
Hobbies:
– Making people suffer through his deals, when they don't involve his benefit.
Personality:
– Ruthless and cold hearted, he doesn't take prisoner, hostages, nor pleas. HE takes blood, blood money, and drugs…that is it. You ask of anything else of him, there had better be one of those three things involved. He is notorious for his clean, and elegant work. Incognito to the highest degree, he prefers to outsource his hits on others, but will do it if they involve some fun, and enough money involved. Scum of the lowest scum, as far as mindsets go. You would live another day encountering this man, but if you know a single drop of information about him, you may not live to see the next two seconds pass.
EQUIPMENT
Weapons:
– His claws, and information. A couple of guns as well…
Combat Attire:
– Normal outfit he is wearing.
FIGHTING STYLE(S)
General/Preferred Style:
– Claws or Guns, you choose.
Hand-to-Hand:
– Claw to Claw you mean?
Weapons Style:
– Guns…and more guns. Maybe a bullet or 500..
Special Abilities/Affinities:
– Shadows, more on that later.
STYLES OF MAGIC (To Be listed Soon)
Chant Magic:
–
Rune Magic:
-
Elemental Magic:
-
Psychic Magic:
–
Conjuring Magic:
–
Enchantment Magic:
–
Space/Time Magic:
–
Arcane Magic:
-
HISTORY
Relationship Status:
– The only relationship I have is with the shadows, and money..maybe the drugs from time to time, but they sell so fast, it's short lived.
Family:
– If you know any of this, your already dead.
Known Languages:
– Ask about it, I'll make sure you learn in the afterlife.
Personal History/Background:
– If you know anything about my life, you know you would only benefit from not knowing…