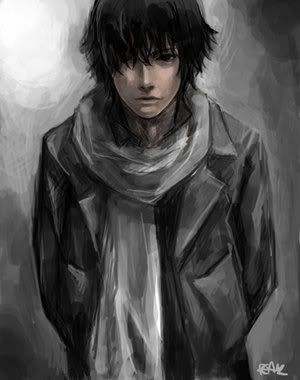 Venture's Biography:



Name:

Venture (Pronounced as Ventura) Norman


Meanings:

Venture (Good Fortune) Norman (Invaders of Normandy)


Birth

Date:

October 31st, 1988


Age:

21


Height

and

Weight:

5' 11", 170 lbs


Zodiac:

Scorpio


-Strengths:

Loyal, Passionate, Resourceful, Observant, Dynamic


-Weaknesses:

Jealous, Obsessive, Suspicious, Manipulative, Unyielding


Homeland:

Germany


Good

traits:

Approaches a situation in caution, Keeps his opinions inside, Never slanders people, Rarely ever causes a scene


Bad

traits:

Disappointing, Hardly speaks of feelings, Keeps emotions out of everything, Never in a good mood


Root

language:

German


Known

languages:

German, English, Italian, Polish, Celtic


Friends:

None


Family:

Julieta (Sister)


Associations:

Chess club, Writing program, Journalism


Prized

Possession:

Worn out deep cream color scarf that is always being thrown around his neck, no matter where.


Favorable

Quotes

: 'No.', 'Alright?', 'Will you cut that out. Now.'

Appearance:


Hair:

The darken brown hair hangs just above his eyes, and covering some of his ears. In the back it is closer towards his neck and shoulders. It always has a shaggy look, almost like rolling out of bed and never touching it.


Eyes:

His eyes hardly stand out from the normal. They almost blend in to his brown hair. The only difference is that near the pupils, they have some tint of moss green to them. His expression is always of a dull or unenthusiastic one, his eyes looking closed more


Skin:

The color of his skin is of an olive color. But no one would be able to determine that because of the excessive clothes he wears.


Body:

With all the bulky clothes, you would not see any body type at all. He stands at a bit taller then most, but still not of the tallest. Venture has toned and cut muscles, with a scar that goes down his neck, across the carotid artery.

Personality:
To say that Venture has a personality would be an overstatement. Hardly does he show emotions, or feeling. Which makes me a rather boring and dull person. But what it really comes down to, is that Venture would much rather go on with life feeling nothing inside. He had been the one being bullied around during school, and outside of school. His father was rough, thought Venture was more along the lines of 'weird', then a normal child would be. So it was obvious that Venture was neglectic more then his sister. Which would explain for a lot of his 'dis-functional' traits. He hadnt not always been like this when he was a child, there was a bright smiled boy years ago. Sadly, that is dormant now, deep down inside him. The only thing he feels for is the safety and protection of his sister. On harm done to Julieta could cause an out break of emotions. Who knows what Venture could be capable of if someone mistreated his sister. Only way to find out would be... to try.
Julieta's Biography:



Name:

Julieta (Pronounced as Juliette) Norman


Meanings:

Julieta (Youthful, Downy) Norman (Invaders of Normandy)


Birth

Date:

February 28th 1991


Age:

18


Height

and

Weight:

5' 3", 135 lbs


Zodiac:

Pisces (Fish)


-Strengths:

Compassionate, Adaptable, Accepting, Devoted, Imaginative


-Weaknesses:

Oversensitive, Indecisive, Self-pitying, Lazy, Escapist


Homeland:

Germany


Good

traits:

Bubbly personality, Not phased by anything, Friendly to anyone to her, Enjoyable to be around


Bad

traits:

Too trusting, Never giving up on people, Having bad judge in characters, Slightly obnoxious


Root

language:

German


Known

languages:

German, English


Friends:

Many


Family:

Venture (Brother)


Associations:

Tap, Jazz, Youth programs, Photographer


Prized

Possession:

The cherry blossomed barret that is always pinned in her wavy chocolate hair.


Favorable

Quotes

: 'Oh please?!', 'That's amazing!', 'Come on Venture, lighten up already!'

Appearance:


Hair:

Her hair is a milk chocolate color that seems to shimmer and shine more than Ventures does. The hair is choppy, angled, and cut very thin. The length went just below her shoulders, and a bright flowered barret clipped her soft bangs back to the right side.


Eyes:

Her eyes are a butterscotch color. The feeling of warmth is what you get when you look her in the eyes. There always open and alert with everything going on around her.


Skin:

The skin is always a peachy/pink color, filled with life. Her cheeks always glow of an off color of more red. Looking like she is always blushing.


Body:

Wearing dresses, always gave her a curvy body that one could not deny. Everything about her seems bright and perfect. Julieta would make you think that she could do no wrong.. Which might actually be the case.

Personality:
Sure Julieta looks wonderful and innocent on the outside. But is that really who she is on the inside? Most of the time yes it is. Dont doubt that she could have her own special edge. Taking no for an answer is just something Julieta doesnt believe in. Even when it comes to her brother. This personality isnt always the best when it comes to despicable people. Thats where her brother comes into play. No one could ever harm her, and whether Venture admitted it or not, Julieta knows he wouldnt want her innocence tainted. Just as much as Julieta is important to Venture, Venture is important to Julieta. Family is very important to her, and she wouldnt be afraid to step up to the plate and defend what is hers. Most people would underestimate Julietas free spirited soul, and how easily she truly gets along with anyone. Problems, she doesnt even know the meaning. But be sure to watch your step when it comes to her brother.