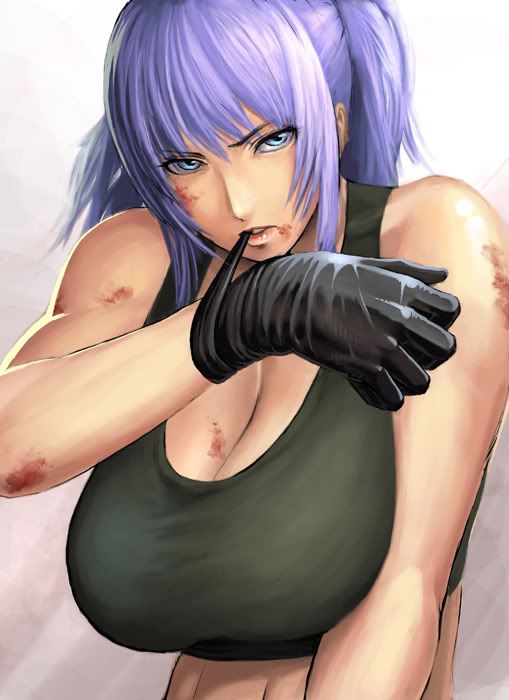 ~--~Essentials~--~
• Birth Name: Viola Strife.
• Alias (es): V
• Actual Age: 23
• Apparent Age: 20
• Date of Birth: 4th February, 2322
• Place of Birth: Midgar.
• Lineage: Human/Soldier
• Occupation/Class: soldier/mage
• Alignment: Neutral.
• Martial Status: Single
• Element: Mind/Space
• Birth Sign: Aquarius
• Status/Current Location: Gambits Bar.
• Quote: "Can't spell manslaughter without laughter."
~--~Vitals~--~
• Height: 5' 3"
• Weight: 135 lbs.
• Hair Color: Amethyst
• Hair Style: Long.
• Eye Color: Icy blue.
• Dominate Hand: Right
• Skin Tone: Pale.
• Skin Condition: Smooth, Well taken care of.
• Apparent Physical Condition: Excellent
• Actual Physical Condition: Good
• Voice: Hypnotic, authoritative, spell binding.
~--~Status~--~
• Strength: Demonic strength
• Power Classification: Higher demon
• Speed/Reaction: Uncanny
• IQ- 150
• Blood Type: O+
• Religion: Reincarnation.
• Continuum Belief: Infinite Looping Continuum
• Primary Residence: Gambits bar.
• Primary Discipline: Telekenisis, atomic manipulation, Long blade, stealth, range, duel wielding.
• Sub-Discipline: Blood Magic, Hand to hand, staff.
~--~Persona~--~
• Intellectual
• cocky.
• Insane
• homicidal
• Spontaneous
• Chaotic
• Eccentric
• Slow to anger.
~--~Features~--~
• Tattoos: None.
• Scars: None.
• Unique Characteristics: Skin, Hair and Eye
~--~Innate Abilities/Spells~--~
• Innate Abilities:
o Death Essence – This is the energy in which Viola uses to power his spells and abilities. The price for using such energy is either his blood or another.
o Atomic level manipulation: Can bend o manipulating things on a atomic level. From air to skin cells. The powers below are byproducts or secondary skills gained from this one.
 Cell Regeneration (Takes hours to heal wounds of sufficient magnitude.)
 Body Part Replacement/Reattachment (So as long as the body part isn't obliterated.)
 Immunity to disease
• Innate Spells: Viola gained these three spells as innate spell-like abilities through the Spell-Like Ability learned through becoming an Archmage. Each of these Innate Spells can be cast a total of 6 times per day without using up spots for Viola to prepare other spells. (Exp. Can use either of these two spells a total of six times a day altogether.)
o Spider climb.
o Telekinesis.
~--~Non-Innate Abilities/Spells~--~
• Non-Innate Abilities:
o Archmage psychic knowledge.
 Spider climb/silent walk.
 Cat like reflexes and balance.
 Spell-Like Ability [See Above; Innate Spells]
• Non-Innate Spells: All these spells fill Viola's Spellbooks. These spells are in Viola's spellbook and he can only cast a fraction of these spells per day and only those spells in which has prepared that morning.
o Resistance
o Detect Poison
o Detect Magic
o Read Magic
o Flare
o Light
o Ray of Frost
o Disrupt Undead
o Touch of Fatigue
o Mage Hand
o Mending
o Energy Drain