[WANTED]

For acts of terrorism against Terra.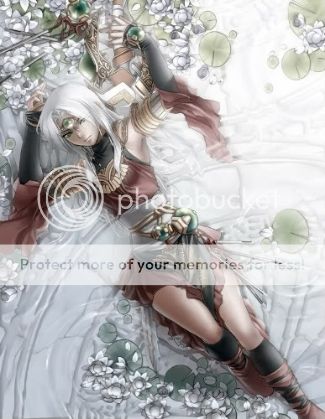 *This Artwork was not created by me. It belongs to shilin of Deviantart.
Name: Jacquelyn Rose
Alias: Whisper, Alessia, Airlia, Pythia, Whisp, Blackwing, May
Age: 26
Species: Human/Ethereal
Race: Isirian
Place of Birth: Lorhill, New Haven
Nationality: Naturalized Aschen Citizen
Occupation: Aschen Special Projects Division
Current Residence: Caprica City, Langara

Jacquelyn is just a wisp of a girl standing at only about five feet tall, and weighing roughly a hundred pounds. Her pale skin, light blue eyes and white hair give her an almost ethereal appearance, but the gauntness of her cheeks adds an almost sickly touch to what might have otherwise been an attractive woman.

Jacquelyn's family line is mingled with ethereal blood, though the influence has become diluted through the generations leaving the story as little more than a family legend. While believing themselves human, those of Jacquelyn's family frequently present with a certain spiritual affinity and psionic capabilities. Whisper is no exception and her harrowing experiences on Terra have developed once dormant and passive abilities into something more formidable. How she implements these abilities varies greatly, though almost all of her abilities have psychic or spiritual origins. Empathy, emotional manipulation, tampering of sensory input, telekinesis, telepathy, and planar shifting are among her key abilities.

Due to suffering from dissociative identity disorder, Jacquelyn's personality is highly variable and subject
to changing without warning. She is currently employed in the service of the Aschen Empire; though, the
definition of employed is greatly a matter of perspective for this unwilling servant.