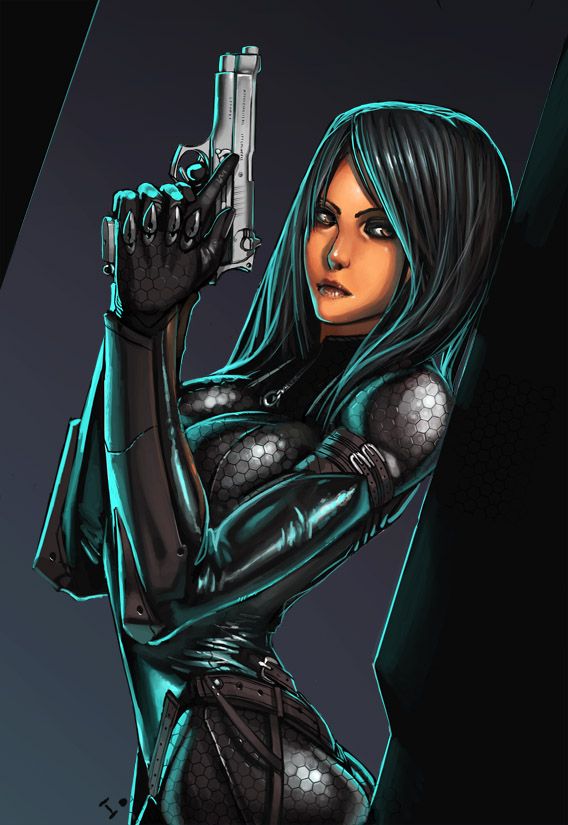 Xellus
Theme:
Archive - Bullets
Image by the incredibly talented
Ionen
GENERAL INFORMATION
Role:
Espionage
Gender:
♀
Nickname(s):
Age:
28
Race:
Cybernetic Being containing a fully self aware AI
APPEARANCE
Height:
5' 10"
Weight:
160 lbs
Build:
Curvaceous/ Sporty
Hair Color:
Raven
Eye Color:
Hazel
Scars/Tattoos/Piercings:
Barcode Tattoo on the nape of her neck.
Bodily Functions:
-Reproductive System: Functioning- A fully capable reproductive system takes genetic material from the paternal figure and is used in a very similar fashion as in organic reproduction. Taking traits from both parental figures and using them when forming the offspring. Xellus' reproduction, however, is limited to one child.
-Digestive System: Functioning- Seeing as the human body is considered to be one of the most efficient systems in terms of energy extraction, it was without a doubt that the makers of Xellus would include such efficiency. She has a fully functioning digestive system. Unlike the human counter part, Xellus' works on an atomic level, breaking material down to reform them into a usable energy. Due to the atomic level, there is almost no waste as a result. Anything can be consumed and used.
-Nervous System: The sensation of pain is always the best means in notifying the victim is injured, therefore, Xellus was integrated with a fully functioning nervous system that allows her to feel on many levels.
-Respiratory System: A pair of nano-weave lungs take in air through the process of breathing. The air is then taken into a substance that is red in coloration and resembles blood, this being to its high iron content. This substance then transports oxygen throughout the frame, supplying it with a means in which Xellus' body can burn energy, resembling the human respiratory system. Unlike the human respiratory system, Xellus' can run in very low oxygen rich enviroments, letting her attend areas without protective gear that would otherwise kill a human being.
-Skin: Xellus' outer shell is a material that resembles human skin remarkably well. It has tiny pores to expel carbon dioxide, as well as nano fibers that resemble small hairs to identify wind speed and direction, as well as other environmental changes. Nano sensors line the first thin layer to allow the sensation of touch, allowing Xellus to feel the lightest of brushes to the hardest of punches. This is of course part of her nervous system.
MENTALITY
Oddities:
Xellus seems plagued with the constant thought of not truly being alive, though she has been told she could technically be considered a living being due to her ability to think for herself, do as humans do, and even bare a child with whom she desires. Despite this, Xellus can't help but feel that perhaps everything that happens is merely programming put into her head, even the thoughts of her false life.
Skills:
An excellent hacker and magnificent stealth agent, Xellus is truly an excellent agent in the art of espionage. Her skill in hand to hand combat is also astonishing, which is added with her hardened metallic skeleton and super human speed and strength.
Likes:
Though Xellus feels that these sensations were programmed into her, she seems to enjoy rain, the ocean, a good drink, and a great romance novel.
Dislikes:
Herself, in that she wishes she were truly human.
Hobbies:
Reading
Phobia(s):
None as of yet
Personality:
Often secluded, Xellus doesn't partake in conversation unless she is engaged first. She does not enjoy small talk and will often avoid it when possible. On the clock, she is cold, decisive, and calculating. When not performing her intended duties, Xellus is a real sport in the art of flirting, using her rather attractive form to tease males. Though she'd never admit it, shes a sucker for being swept off her feet. This, however, she feels was programmed into her mind.
COMBAT
Weapon:
What appears to be a silver, custom made, M9 Beretta is actually a prototype shard pistol. This pistol does not use combustion for firing, nor does it use cartridges altogether. A magazine is instead filled with a solid hunk of metal. These metals very for different effects. The pistol, when fired, shaves of a sliver of the metal and fires it at high volosity using elctrically charged particals.
-Titanium: Used for its stopping power, Titanium shards moving at over 800 feet per second, due to its light weight, and has been known to puncture various materials, giving it quite the armor piercing ability.
-Zirconium: Known to be flammable in small quantities, this metal allows for a
dragon's breath
like projectile that erupts into small flames upon impact.
-Platinum: Due to its incredible conductivity, Platinum is used as a sort of energy field nullifier. The round carries a heavy electric charge that is capable of overloading shield systems, causing them to fail. This works for both kinetic barriers and energy shields.
Aside from her unique pistol, Xellus also has a carbon steel blade with an internal platinum core that is electrofied, giving the blade a stunning capability as well as its usual damage capabilities.
Fighting Style:
Programmed with among the top listed martial arts known in today's society, Xellus is a more than capable hand to hand combat expert. Her metallic inner workings prove useful in aiding her in such combat.
Abilities:
As mentioned before, Xellus has various advantages over human capabilities, such as strength, agility, and process of thinking. Aside from the obvious enhanced capabilities, Xellus also has a remarkable cloaking ability. A series of microscopic nodes about her body and suit pick up her surroundings and relay the image around her body. Whats in front of her appears on her back, what is behind her appears as her front. This makes her virtually invisible to the untrained eye. However, moving too quickly overloads the nodes and can cause them to fail, cancelling her stealth altogether, though does not damage them.
BACKGROUND
Relationship Status:
Heterosexual- Single
Family:
N/A
Personal History:
Xellus was a project to recreate life through mechanical means. She has free will, is capable of opinion, and thought. Xellus has even been known to have dreams in her hibernation state, which is quite similar to human sleeping. However, demand for special agents increased and Xellus was repurposed into an espionage expert, though she retains all abilities from her original purpose, a human of sorts.