Name: Yoru No Tensh
Nicknames: Yuro, Black sheep, Yoyo
Birthday: January 8
Age: appears to be 19, true age is 2340
Race: Fallen Angel
Language (s): Latin, recently has been gifted as to be able to speak and understand English.
Height: 5'2"
weight: 122 lbs
sexual preference: Straight
Appearance: see picture.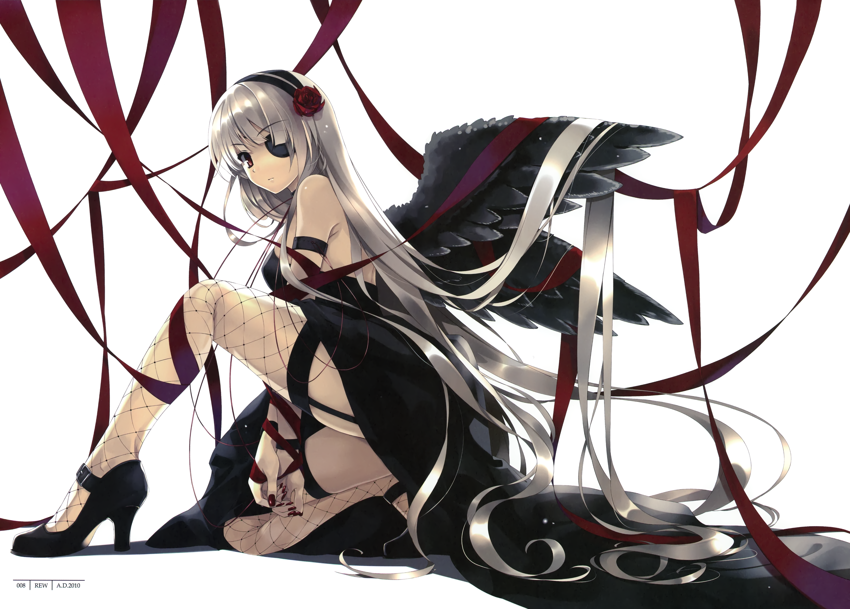 not my drawing, unfortunately I couldn't find the true artist.
favorite song:
Vater Unser
Personality: Yoru is actually quite nice, shes caring, though shy by nature. Yoru does have her moments of being a cold harsh individual.
Heaven's gates are not as strong as all seem to think. Once, a demon sought to prod for a means to enter the angelic realm in order to cause great chaos. Unfortunately, he found it. The demon stalked about the angelic world until spotting a victim. An angel by the name of Tasura found herself in the demon's lustful eye. After a conflict that nearly ended both sides, the demon overcame the angel and had his way as his prize. The results of the demon's horrid deed the conceiving of Yoru. Though Tasura never took the unborn child to be a curse, in fact she accepted the developing babe. Over the period of her pregnancy, Tasura poured all of her energy into the child, ridding as much of the demon that resided within the child. However, as a result, Tasura ended her immortal life upon Yoru's birth. The result was that the babe should be born an angel, but with a deformity that eventually lead to her banishment, as well as her father's origin. Yoru was born with wings of black, rather than the angelic white. This was seen as an impurity, and the young angel was banished from the heavens. Yoru then sought out her father, whom rejected her for what she was, an angel. A result being the patch that Yoru wears, having her eye been cut. The eye still resides within her head, but bares a poison that casts the whites of her eye as black as her wings, the outline of her iris a gold, and her pupil a mere outline of the same precise yellow, but in a slit like shape. Now Yoru wanders the mortal world, stuck between to plains that reject her for what she is.