--------------------------------------------------------===========Pokémon Trainer Database Profile===========-----------------------------------------------------------------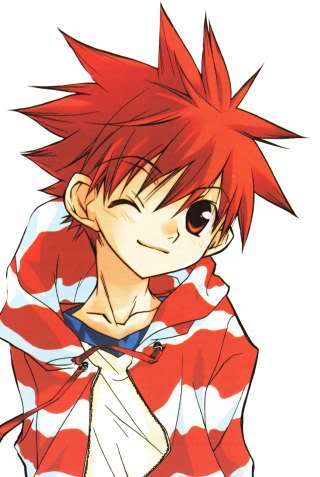 Name: Zane Bell
Age: 10
Occupation: Trainer
Personality Traits: Eccentric, friendly, energetic, adventurous.
Additional Description: Red hair, red eyes, has a Pokémon tooth shaped rock with some inscriptions on it he once found while traveling with his grandfather the Champion Alder hanging around his neck, usually wears casual clothing such as sneakers and what not, has a red and white striped hoodie he also wears. He also wears some goggles as well, and keeps some clothes for any weather situation.
Zane only has one preference with Pokémon. He has to like them, and they have to be friendly at least in some way with him. While Zane loves a good battle, he also cares about his Pokémon, and packs more medicine then anything else. Alder also taught him about all sorts of PokeItems, so he carries around a small arsenal, barely having any room for clothes or food for himself.
History: For most of his life, Zane was raised by his grandfather, for a variety of reasons. One of them was that his mother disappeared when he was three, and his father later when he got a lead he never shared about where his missing mother was. As a result, Zane grew up around Pokémon a lot, since Alder was busy a lot. This allows Zane a greater understanding of how Pokémon communicate. He can never know what they say with 100% certainty, at least not right now, but he always gets the general idea. Some people think he would make a great Pokémon reporter, analyst, or doctor, due to the fact he understands them so well...though sometimes it can seem like he doesn't understand anything at all...
He has several Pokémon Partners. These are the current ones:
PokeName: Oshawott
Nickname: Otto
Stats:
Health: +++++
Attack: ++++++
Defense: ++++
Spc. Attack: +++++
Spc. Defense: ++++
Speed: +++
Evasion: +++
Attacks:
Bubblebeam
Water Gun
Surf (cannot carry others though)
Slash
Tackle
(Unknown. Will be revealed when needed or if asked by Ruula officials) (it is a water type move)
Special Ability:
Torrent (Powers up Water Moves when hurt significantly)
Shell Armor (prevents Critical Hits)
Held Item: A matching Pokémon Tooth shaped Rock with inscriptions on it, identical to the one Zane has, Zane found them both. Gives bonus power to attack and Spc. Attack so long as he and Zane are not fighting and are on good terms with each other. The strength of that bond does
NOT
increase or decrease its power, only the bond's existence matters.
Personality: Oshawott never is inside its Pokeball so long as he can help it. This is partially because of his nature, being playful and silly, as well as caring and authoritive. On occasion, Oshawott will actually be leading Zane around, since Zane has no sense of direction. He also pulls pranks on him repeatedly, and will use Water Gun on Zane to keep him bathed and clean, making him both responsible and pranksterish, because he always gets Zane's clothes soaking wet and forces him to dry them and change. He will also do it whenever Zane says something stupid, or when he makes a witty remark about Oshawott. Its occasionally wondered which one is the trainer.
Other: Oshawott is exceptionally strong for a starter, but also has a lot of control. He can hit Zane with a water gun just strong enough to bother him, without causing him any physical harm or damage.
Pokename: Emolga
Nickname: Sparks
Stats:
Health: ++++
Attack: +++++
Defense: ++
Spc. Attack: +++++
Spc. Defense: ++
Speed: +++++++
Evasion: +++++++
Attacks:
Thunder
Electroball
Thunderbolt
Double Team
Aerial Ace
Quick Attack
Special Abilities:
Static and Motor Drive
Held Item: Magnet
Personality: Emolga is quick and hyper, and is always full of energy. As a result, it is often getting itself, and subsequently the others, into trouble. Additionally, Sparks and Otto often have verbal fights, because Sparks only takes commands from Zane, and sometimes it might ignore them unless in a battle. Sparks always comes through in the end though, and makes sure never to disappoint. However, it can be extremely tricksterish as well, and despite their feud, will work with Otto to prank people, including Zane. They have no qualms about embarrassing him. However, if anyone else tries to mess with him, or hurt him or Otto in any way, Sparks will jump into the attack if need be to save them.
Other: While not as strong as Otto, much like other Emolga, Sparks is exceptionally fast. This Emolga was given to Zane by his grandfather, Alder, and he chose it because it was the best he had, and one of the friendliest. While still young, this Emolga is quite exceptional, as should be expected of a gift from the Champion.
Pokename: Litwick
Nickname: Simmer
Stats:
Health: +++++
Attack: +++
Defense: ++++++
Spc. Attack: +++++++
Spc. Defense: ++++++
Speed: ++
Evasion: ++++
Attacks:
Shadowball
Confuse Ray
Fire Spin
Flamethrower
Minimize
Psychic
Special Abilities:
Flash Fire and Infiltrator.
Held Item: None ATM
Personality: Simmer was met on Route 2 being chased by a Simisear named Baston. Zane and Otto fought off the rogue fire Pokémon, but ended up losing because Baston was a much higher level then Otto. Sparks tried to jump in, but Simmer decided to defend her new friends since they had been hurt trying to help her. A friendly treeko named Darrgh stepped in as well, and the two teamed up and beat Baston. Now Simmer travels with Zane as his Pokémon, and Darr is following them as well. Simmer is extremely grateful for everything her new friends have done for her, and she is extra impressed with his ability to communicate. On occasion, Simmer shows affectionate feelings for both Zane and Otto. She will also do anything she believes will help protect them.
Other: Simmer's strength is its defense, special defense, and special attack. In other words, Simmer can take the hits, and deal out some powerful special attacks. This means it is better at fighting from a distance, unlike her knight in shining Armor Otto, who prefers close quarters combat.