Name: Zeilia (Z eh lee uh) or Sund'arget (soon-d ar-jet) - Moon's Shadow
Race: Dragon
Age: 3,203 (Age appearance in human form is early twenties)
description: See pictures below.
Personality: Usually friendly, sometimes not in a good way, her friendliness rather twisted and eerie, but thats just the way she is. Her demeanor can change in a heart beat as she suffers from a case of Schizophrenia, but its rare that it occurs. Though she has her moments, Zeilia has been known to be quite civil and well mannered, just as long as her temper remains in check.
Human form
(Art belongs to
Sakimichan
on Deviant art)
Dragonic humanoid form.
(Art belongs to
Sakimichan
on Deviant art)
Dragon Form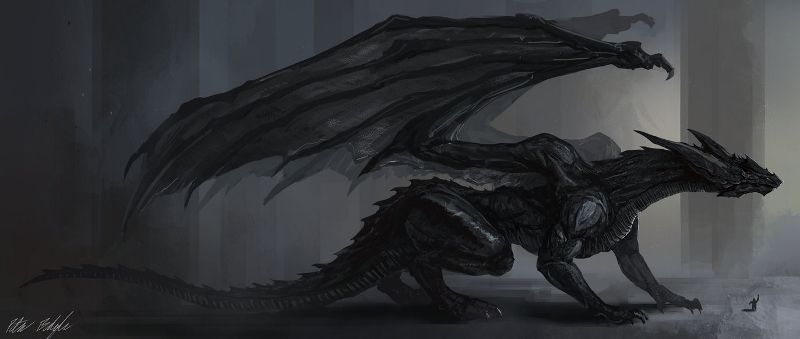 (Art belongs to
peterprime
on Deviant art)
Daughter: Alliza
Little Alliza is the result of misconduct done by one of Zeilia's own species, a forced mating was intended to make the dragoness bonded to the intruding male, however, Zeilia was already bonded to a dragon, Ichiro. Though of different species, the bond still held, but as a result of the offending dragon, Alliza was conceived. Now she is raised with no knowledge of her blood father, only that Ichiro is the only one she has.
History: Little is truly known about Zeilia, only that she is bonded to the dragon known as Ichiro, and is rather happy with the different species. Luckily Zeilia had bonded when she did, for during one of her kinds great migrations another dragon took to liking her, only he was more for the forceful traditions. He tried to take Zeilia for his own, but found that no bond could take place as she was already taken. As an act of lust the dragon would do the unthinkable and force himself physically upon her, thus the conceiving of Alliza. It was with a heavy heart that Zeilia returned, baring the news of the event to tell her true mate, that she was pregnant with an infant not of his blood. Despite the means in which the child was brought into this world, both Ichiro and Zeilia accepted the child, as it was impossible for the pair to have a child of their own. Thus began the dragon family.