Welcome to Gruul Winery,
Home of Terra's Famous Gruul Wine.
Would you like a job application, or a quick tour?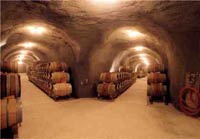 The winery itself resides deep in the mountain, and is always cool and slightly damp.

Every single room and chamber has been carved out from the solid stone, and impressive feat to admire once you begin to realize the inner vastness. From the outside, the winery is just an open entryway with an ascending staircase. Gruul Winery isn't even marked, or very impressive in appearance. This is mostly due to the discreet and hard working nature of the people of Gruelle.
This is a winery, a place of employment, not an entertainment facility!
On the interior, Gruul Winery is a labyrinth designed for the efficient manufacturing of Gruul brand wine. In the upper levels, the darberries are processed and cured. Rotten ones are tossed away, down a chute and out the cliff side, into the ocean. As the select fruit that made it past screening, the darberries work their way down through the mountain. By the time they reach sea level, the darberries have gone from being fruits of the Smeer Caverns to a delicacy in a bottle.
At the base of the mountain is another door, this one with the capabilities to seal air tight. A dock also carved from stone exists down here, jutting reverently into the ocean. During high tide, the door & dock are completely swallowed by the sea.
0 posts here • Page 1 of 1