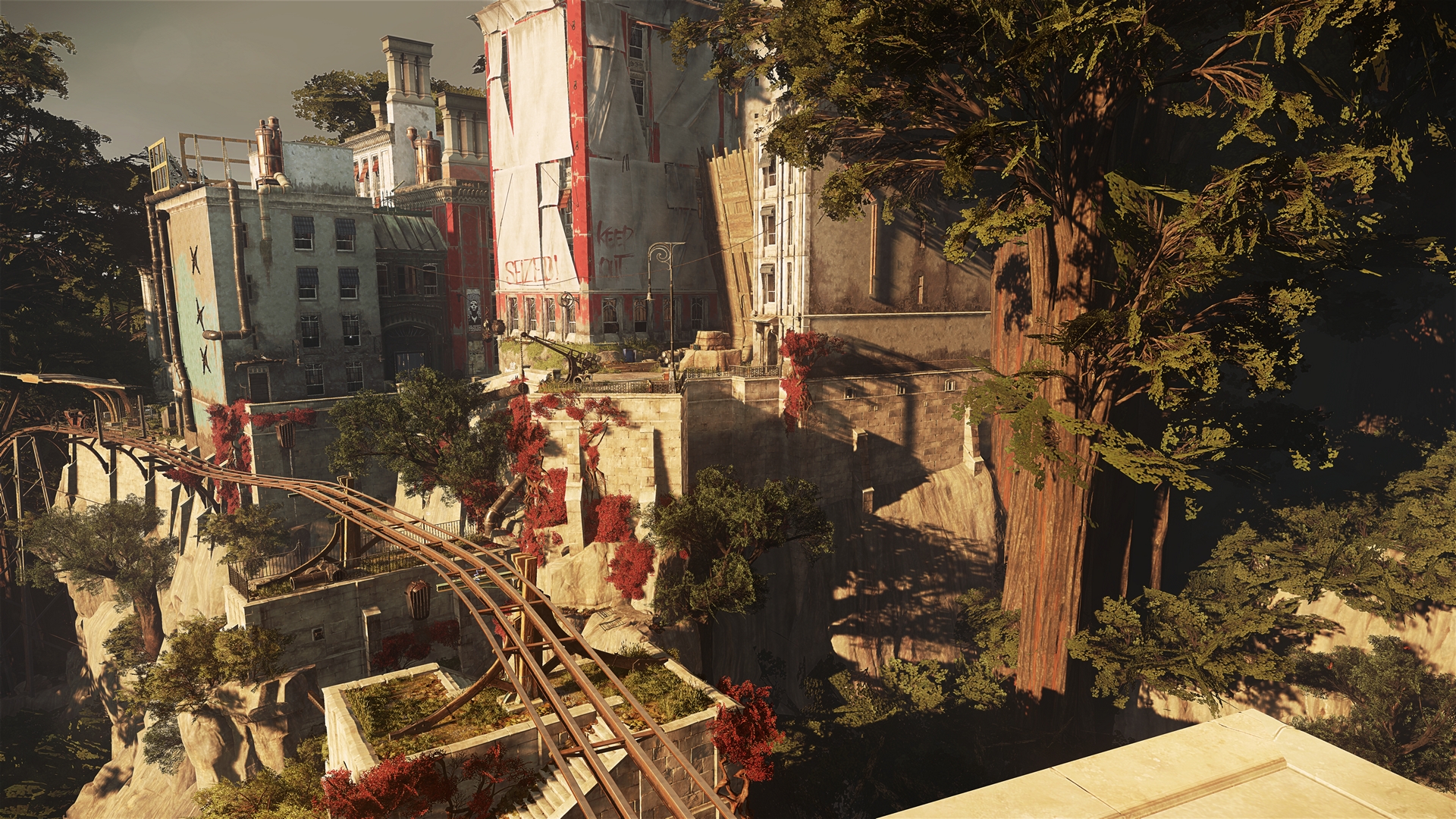 This city has everything. Skyscrappers, various other buildings with rooftops that you can run and jump across, magic and science working hand in hand, it was a place that you could really enjoy. Of course, there was the occasional Demon Beast that got inside and on the loose, and sometimes even a huge swarm of Demon Beasts would swarm inside the city to invade, but between the residents and the guards, they are usually crushed fairly quickly.
The center of the city is probably the Plaza, which connects the Plaza's active market area, to a large scale park with a rather nice fountain at the center, to the Government Castle, to the various other businesses and streets.
There are even Portal and Warp pads for those coming in and out of the city through such methods, and magical beasts can even be sold as pets. There are even people who sell Apps that allow one to cast spells!
It has many points of interest, from the Adventurer's Guild HQ, which also houses the famous bar Destara, which is frequented by people of all types but especially those of Adventurer. Requests can be put up here for all kinds of tasks, and also can be used for large scale meeting involving the development and safety of various regions of the planet. There are usually enough high ranking adventurers here to fight off an entire invasion, domenstic or foreign to the planet.
There is also the Universal Port, for both navy ships, space ships, and other kinds of vessels. It houses some of the navy and defense forces, and is capable of fitting multiple Super Dreadnaughts thanks to Space Folding Magic and Technology.
Additionally, one of the major central points is also Astrius Academy, which is often full of action, education, mischief, and adventure. From a student's project or experiment, to the Headmaster's whimsical side, to Pan Dimensional Anomalies spitting out the occasional monster trying to invade this world through the Academy for some reason, Astrius Academy is a shield, place of training, place where innocent normal children receive education, and a place where specialists can go to refine and experiment on any possible subject*.
*Experiments that result in the Academy getting destroyed are banned on principle.
Astrius Academy is always accepting and desiring more students though, its funds coming from the success of it's students, and very generous donations who want to see this talent flourish (and then scout them for their own gains).
Uptown, there is the Governence Castle, where the Royal Family lives and the government operates out of. There are also high end homes of the wealthy, such as Vitas, as well as a Dragon Knight Academy.
On the south end, there is a famous and popular beach that has maintained the standards of bathing culture from the old times, from nude bathing to various recreational activities, it is a popular spot in the city. There is also a cafe, Shialio's, known to serve some of the best coffee and tea in the city. The place has since expanded to take up an entire block on a street, allowing it to serve all types and provide a wonderful array of seating arrangements.
On the east side, there is the Watchgear United HQ, which produces various forms of combat gear on military, adventurer, and civilian markets. There is also the famous water park Merios, where one can expect good laughter and good soaking.
Downtown, among some nicer lower income neighborhoods, there is also some areas known to have criminal groups and gangs around, and also rumors of a Black Market type location also persist around the area. Various homes, appartment buildings, and such exist in the area, as well as areas to house, employ, and help refugees.
(More to come soon!)