There are many different paths one could take on their journey. But the one
TRUE
path, is the one that makes you stronger, regardless of destination. The path that YOU choose to go, that has obstacles that fate decides to put you through on your journey. This is the basis of the Multi-Dimensional Pathway. Much like fate, and the path you choose, this is a road, that leads to ALL ROADS. You can get lost on the path forever, or you could walk for 30 seconds and end up where you need to be. The one true fact, and core truth of the Multi-Dimen Path, is that it leads to where you
NEED
to go. Not always where you
WANT
to go.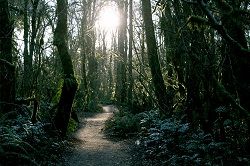 The wonders of this path, is that it can be dangerous, or harmless. This all depends on the principles of a simple formula. The pathway itself is nothing but a space-time overlapping continuum, that interrupts the dynamics of the warped area loop distortion. What that means, is that this is a road that was meant to be a spell to make people walk in circles. But failed, and accidentally warped itself into something that was balanced and greater than anything ever imagined...taking a life of it's own, this being an
all
connecting road. The interesting thing about the road, is that since it's creation 4000 thousand years ago, its been expanding itself into different dimensions, area, worlds, galaxies, and even time periods. All of this being an accidental bi-product of a prank, from one wizard plotting against another. This is a place of lustrous wonder, for you could find yourself, or anyone else, with the right direction. But realize, in a place so alive, anything is possible, as well as anything could happen.
The Multi-Dimen Pathway has, in effect, taken on a life of it's own. Weaving its will around those walking through it. People who venture through, need know where they are headed. They need a vivid picture in their mind, so that they will end up in the correct place. However, if the Pathway itself, sees the need to place you in an entirely different area/place/galaxy or time period, it is because you need to see something important. But beware, venturing into this pathway, as you should well know, will be challenging for the fact that it overlaps places where dragons, trolls, wayward wizards, criminals, runaways, lost souls, undead, and everything in between, roam. If you are looking to train, do it elsewhere unless you know what you are doing. If you are looking to pass through, have someone with experience doing so, help you along. For you
WILL
find yourself wishing you had.