The Aschen Confederation Core Worlds. Home to the most populated worlds in Aschen space.
---
Star Systems:
Pan'Chek System (The Imperial Capital)
Pan'Chek
Spectral Classification:
G3V
Pan'Chek is a main sequence star within the Cygnus Arm of the Milky way Galaxy, it's a typical yellow dwarf star that has eleven planets.
---
Ayla
Composition:
terrestrial, rocky. Distance to star keeps this tidally locked planet with a super-heated daylight side, and a freezing nighttime side. This world is rich in deposits of strontium, trinnium, titanium, silicon, magnesium, and many other resources valuable to the Empire. However, mining is costly and extremely dangerous.
Rotation:
Tidally locked.
Average Temperature:
Temperatures on the daytime side of the planet are well into the thousands of degrees, with the temperature being hundreds of degrees below freezing on the night side.
Atmosphere:
A thin atmosphere comprised mainly of volcanic gases.
---
Eris
Composition:
Eris is a terrestrial planet with an extremely dense, and highly corrosive atmosphere. Eris' atmosphere is 96% Carbon dioxide, with sulfuric acid rain. The planet is similar in composition to the planet Pangar.
Rotation:
145 Langaran Days
Average Temperature:
507 °C
Atmosphere:
Extremely dense and corrosive atmosphere.
---
Pangar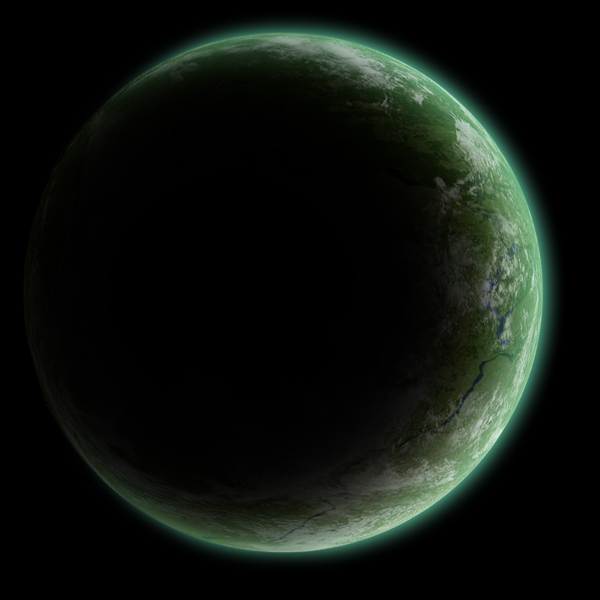 Composition:
Pangar is a lush, extremely young and fertile jungle planet rich in mineral resources, and is sometimes called the 'breadbasket of the Empire' due to it's excellent agricultural output. Pangar is a sister planet to Langara, and the two orbit eachother as a double planet with a center of mass being between the two planets. This results in a wide seasonal change on both planets given their different transits around the system's star. Pangar's atmosphere is three times denser than Langara's atmosphere, and it's greenhouse effect gives it a very stable, warm climate.
Rotation:
30.5 Centars
Average Temperature:
27.9 C
Atmosphere:
Nitrogen, Oxygen, and Carbon Dioxide, extremely dense.
An example of Langara and Pangar's Orbit.
---
Langara
Composition:
Langara is a cool, fertile, and rugged planet that, like Pangar is fairly geologically young. Langara's atmosphere is much thinner than Pangar's, and is roughly equivalent to Earth's Atmosphere in composition. However Langara is much cooler on average given it's distance from the Sun.
Rotation:
26.6 Centars
Average Temperature:
10.3 C
Atmosphere:
Nitrogen, Oxygen, and Carbon Dioxide, trace gases.
Setting
1 Characters Present
Tag Characters »
Add to Arc »