Default Location for The Neighborhood
---
---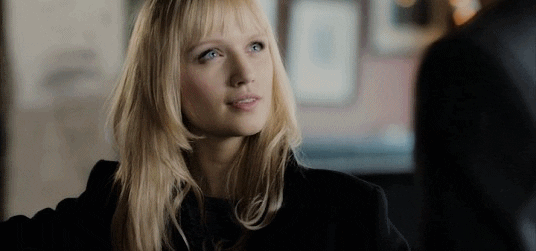 ---
---
Hedda was awake. Her fierce blue eyes blinked in the darkness, staring at the red straight numbers that illuminated in front of her. They read 3:27AM. With another blink, 3:28AM. She sighed, letting out an audible breath of tension. Her eyes wandered for a moment, trying to make out the dark shadows of the room. Across from her was a large window, the thick curtains were drawn, making the room even heavier. A sliver of light shown through from the street lamp, creating a crooked line that stretched from the ceiling across the bed and just barely brushed the floorboards.
Emma. Hedda needed to become Emma in the morning. A gnawing pit flipped in her stomach as Hedda shifted in the bed. Her blue eyes now studied the face in front of her. He had dark hair that was usually well kept, clear olive toned skin, creased smile lines, and mysterious chocolatey eyes. He was handsome, in that suspenders and glasses kind of way, but it was enough for Hedda to make it believable. She had argued for separate beds, but Hedda's handler quickly nipped that argument in the bud. Bonding was vital to the success of the mission.
There was nothing more that Hedda wanted than to be alone. Was it too much to ask for a solo mission? Thinking about this she rolled her eyes. Yes, it probably was.
"Play nice."
was all her handler could say before sending Hedda to this God forsaken cul de sac. Granted, it had only five days, but she could already tell that this was not going to be some walk in the park.
Hedda rolled over again, facing away from him and closed her eyes.
---
---
It was a Saturday. Some civilian in the neighborhood was throwing a welcoming bash for the Wallermans. Emma had met her briefly upon moving boxes into their new home. The woman's name was Georgia. Georgia and Greg Gilbertson. How quaint. Emma stood in the kitchen, staring at a recipe for 'belly stretcher salad,' which really wasn't a salad at all. Whipped cream. Marshmallows. A variety of fruits. Walnuts. Bananas cut up on top. Emma shook her head. Cooking was not her strong suit. She let out a sigh of annoyance. She could kill a man twice her size in under 20 seconds, but ask the girl to follow a recipe and you're screwed.
Emma looked around for a moment, self-conscious that Alan might see her struggling.
"Okay."
she said to herself. Emma's clean hands reached for the apron with a trendy cacti print on it. She effortlessly tied the ends behind her as peered down. She frowned. After second thought, Emma shrugged her shoulders and tried not to smile.
A knock at the door interrupted Emma scooping out a tub of whipped cream. Instinctually she wiped her hands on the apron, though there wasn't a trace of misplaced food. Emma opened the door to find Georgia.
"Well, hello!
She said in a chipper tone.
"Hon,"
Georgia started
"I just wanted to tell you that I invited nearly everyone on the cul de sac. It's turned into a really neighborhood fling!"
Georgia exclaimed with her frail hands thrown up in the air. She was a petite woman, with a subtle twang in her voice. Standing at about 5'2 and plump as a peach, Georgia clearly had the body of a woman with more than three kids.
"Oh,"
Emma said, thinking about her cover.
"That is just the sweetest thing you could have done for me and Alan."
Emma looked over her shoulder, with the idea of Alan magically appearing at the right moment.
"So,"
Emma cleared her throat.
"Who else is going to be here?"
She asked sheepishly. Trying to hide her true intentions, Emma leaned against the door frame with big curious eyes.
"Anyone I should... watch out for? You know?"
She asked in a hushed voice, bending down slightly to get closer to Georgia. The short woman laughed.
"Oh honey, no. All the new folks in this neighborhood are just down right fantastic. The Jacobs, the McKenzies, the Sheffields. Every one of them. Nothing to worry about my dear. My kids run around the neighborhood and I know they're safe. I can see how you might have your guard up though, with wanting a baby and all,"
Georgia reached her hand out and grazed Emma's empty stomach. Emma awkwardly jutted back before turning the reaction into part of a nervous laugh.
"You can't be too careful,"
she said. Looking behind her again, then out at the lawn Emma was purposefully distracted.
I really must go. There's a only a couple hours, and I was just making up something for the barbecue... and... Well..."
Color rose to Emma's pale cheek. Blushing was a skill she was particularly good at. Emma whispered this time,
"I'm ovulating.
Georgia grinned at Emma before turning around with a wink.
"You go and give that boy some fun!"
All Emma could do was mumble some agreement before slamming the door. She stood with her back to the door for a moment.
"Alan!"
She called in a guttural quality. Emma took off the apron in a rush. It was time to do some research.
---
1 posts here • Page 1 of 1