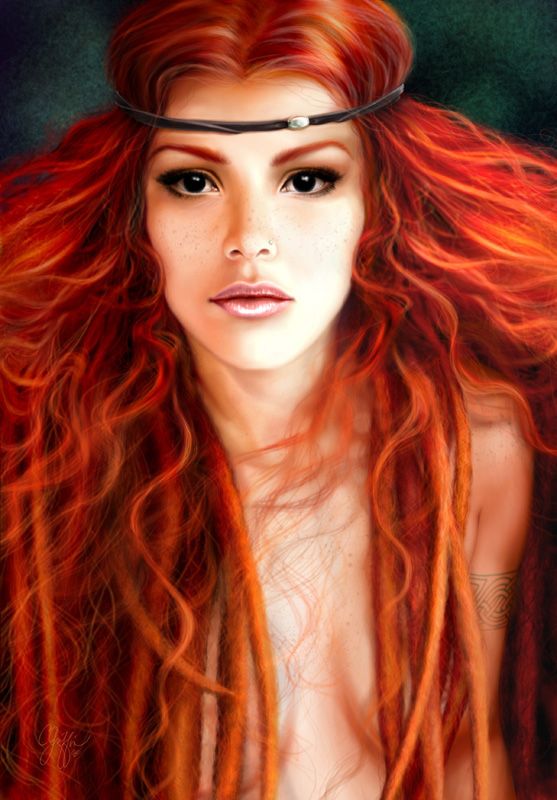 What is Bliss if you are too Ignorant to understand Woe?
---
---
---
---
---
---
---
---
---
---
---
---

---
---
---
---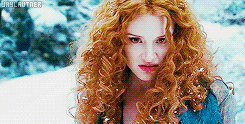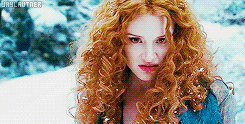 Hair Color:Flame red

Eye Color:Black

Height:6'1

Tattoos:One small celtic knot arm band. She also has a large celtic piece that runs down her back and around her legs.

Piercings: Ears

Scars: none

Description: Tall and slender, she stands above average men and women, as if her eyes weren't intimidating enough. Her flaming hair hangs in variations of loose waves and small dreadlocks down to the tops of her thighs.She sticks to greens, blues, and blacks when she wears normal casual wear. However, her favorite style is the modern couture and she has very expensive and sophisticated taste.
---
---
---
---
---
---
Seraphine Is a full-blooded woman who demands respect and, more often than not, received it in abundance. She is no where near the oldest living vampire, but her age has matured her like fine wine. She is calm and calculating in battle, but if crossed, she is extremely sharp-tongued and sharp-witted. She has a strong sense of justice and will do whatever it take to do the right thing for her and her people, despite those who would say otherwise. She often keeps to herself, finding it boring in her old age to maintain relationships with others.
Oddities:
-Severe fear of starvation
-Extremely neat

Likes:

A full stomach

Hypnotic, meaningful music

Philosophy

Playing the violin

Her brief moments in the sun

Dislikes:
Those who would harm her people

Spiders

Ignorance

Drama

The reactions when humans see her

Strengths and Weaknesses
Character Skills/Talents:
Stealth and Espionage

Small weapons and bow

String Instruments

Persuasion/Seduction

Character Flaws/Weaknesses:
Long Period sun

Starvation of any kind

Two-handed or Heavy combat

Her Loneliness

Secrets:How she became a vampire
Fears/Phobias:Arachnophobia
---
---
---
---
---
---
---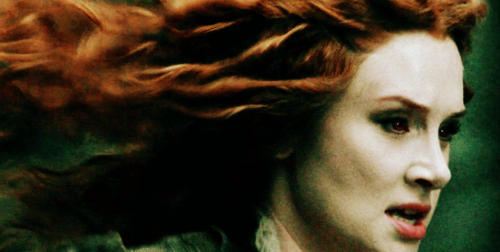 Biography



Place Of Origin:Shores of Ireland

Birth Date:August 15, 1369

History:
Seraphine grew up in a rather large kingdom on the stormy shores of Ireland called the Northern Ui Neill. There were times when we had plenty and there were times when we had very little, for it was very cold and the sea was treacherous. Connor Allanach, our leader and my grandfather, led with both an iron fist and a gentle hand. He was a kind man and would always tell Seraphine many stories of sea monsters and vikings and distant lands ripe for the taking. He sometimes even told her of her mother, who died in childbirth, and her father, ever the adventurer. She would always listen in awe as girl and a young woman to the same stories her Grandfather told. But one day, the stories stopped, her grandfather grew ill after the stress of a recent war with an enemy clan. Soon, he succumbed to his sickness, leaving no male heir, only Seraphine.
Seraphine's grandfather had an advisor, a snake of a man, who had always wanted the title of clan leader. After the death of her grandfather he finally got the chance. All of her life, Seraphine was taught how to be a leader and all the ways she was expected to act. However, the night before the feast that would mark her as the new leader she was taken in the night. She fought all she could but it was no use, the arms around her were like chains that she had no hope of breaking. She cried from the realisation of the fate of her people and of her own mortality.
Soon after traveling for what seemed like hours, Seraphine was dropped roughly to the ground with the sack she was carried in. Shen she was uncovered by the bag and laid eyes on her Grandfathers advisor. "Traitor." He laughed and knelt down and brought his face close enough to where she could smell his rancid breathe. " If I were you I would shut that pretty mouth of yours before I remove your tongue personally..." He looked me up and down," Or at least put it to good use." He chuckled and she gagged. "You will not get away with this, snake." She spat, it landing on his face. He became angry and slapped her so hard she saw stars. "You pathetic child. You think anyone can stop my plans now? You?" He grabbed a handful of her hair and drew her up against his engorged form. "When I am done with you, you will feel it in the afterlife..."
And it was no time before she woke up in a strange cottage. No marks, not wounds of any kind, but...thirsty...
---
---
---
---