Sick of it I Skillet
Name:
Fabien Madalle
Nickname:
None
Age:
seventeen
Sexuality:
Heterosexual
What are you:
Were Wolf
Human Appearance:
http://images6.fanpop.com/image/photos/ ... 00-290.gif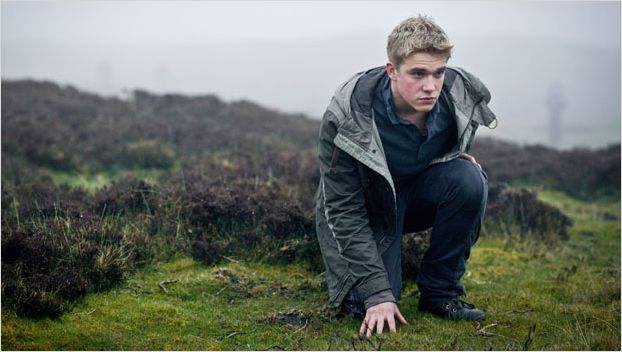 http://images6.fanpop.com/image/photos/ ... 00-300.gif
Wolf Appearance:
Fabien's wolf form is very similar to Jordan's.
His legs almost become like a deer's leg, his face and body get covered with a light, blonde colored coat of fur,
his blue-ish green eyes turn yellow, his feet become like a wolf or some other kind of strange creature's,
and his hands, are covered with a coat of light blonde fur. His nails become almost diamond hard, and his
canine teeth become much longer, but not vampire long.
Eye Color:
Green-ish blue
Hair Color:
Blonde, with some brown streaks
Height:
Six foot one
Weight:
One hundred and fifty-six pounds
Personality:
Fabien is very reserved, quiet, and very anti-social.
He'll only talk if he has to, and when he does, he makes it quick. If it's another wolf, he'll spend as much time as he can to talk.
Fabien can joke around easily to just lighten the mood, if he's feeling awkward. He's mainly serious, but he knows when to joke.

At first, he'll seem rude and like he's not giving a sh*t about anyone, but it's just that he doesn't know
how to communicate very well with others. But when you get to know him, you'll see the kind, caring, lovable guy he really is,
it just needs to take some time.
Power(s):
Fabien first of all has the normal powers for his kind.
Acute sight, hearing, super speed, super strength, and the ability to shift
between his human form and wolf form at will .
Telepathy:
Fabien also has the ability to read minds and communicate through mind links,
just like the rest of his kind. The stronger the relationship, the stronger he can communicate.
Fabine is also not very skilled with this ability yet, and he has to master it.
Cabin #:
T.B.A.
Likes:
+ Meat
+ Climbing trees
+ other wolves
+ running
+ Loud music
+ Girls
+ Being free
+ Respect
+ Sports
+ Sweets
+ Candy
+ Animals
+ The outdoors
+ His I-Pod
+ Video games
+ Boating
+ Sleeping
+ Cuddling
Interests:
Fabien likes, sports, swimming, doing anything that has to do with sports, soccer, foot ball, basket ball,
rock climbing, climbing trees, showing off, and being with other wolves.
hobbies:
Fabien loves to, paddle boats, playing guitar, and playing the drums,
and if showing of counts, then yeah, showing off.
Dislikes:
X Nekos
X Cats
X Jocks
X Racists
X Stareotipical people
X peppy people
X Not being respected
X Bullying
X Abuse
X Know-it all's
X Jerks
X Not being able to listen to his music
X Not able to play his video games
Crush:
T.B.A
( Him and Jordan do have a small past. But, we can talk about that later)
Enemies:
T.B.A.
History/Bio:
Fabien's history isn't that important. He was raised in the woods,
so he could pretty much survive by himself, like he's been doing for the past few years.
But, let's go back a few years, Fabien was born into a small pack of were wolves. His parents were both wolves, so that makes
him a pure-bred. Fabien was trained day and night, with weapons of every kind, and of course, just hand to hand combat.

By the age of twelve, Fabien's pack went to go hunting, and left him in charge of the rest. While the others were gone, his pack was
attacked by another pack, Fabein escaped due to his mother sacrifising herself for her son. Fabien ran all the way to where the others were
he told them what happened, and they returned back to their home. When they arrived, everyone was dead, including his mother. The pack leader
blamed Fabien for not coming sooner and banished him from their pack.

Fabien was forced to leave and live in the woods as a rogue. He lived on his own for five years, until he came to Camp Keystone.
He decided to stay and live there, it was some place safe. Fabien wasn't sure about this, but will this help him, or will it only make it worse
for the poor rogue? ( More will be revealed as the RP progresses.)
Other:
Fabien has his
pack's marking
on his right shoulder blade. And he has
another tatoo
on his back.
#3
http://images6.fanpop.com/image/photos/ ... 00-650.jpg