◉Full Name◉


Toshiko Hatakeda



◉Nickname(s)◉


Tosh



◉Age◉


16



◉Class (Year)◉


Third Year



◉Personality Type◉


The Natural Type



◉Sexuality◉


Heterosexual



◉Likes◉


Strawberry/Coconut anything, Butterflies, School, Reading



◉Dislikes◉


Dogs, Bodies of water, Having no personal space, Arrogance



◉Strengths◉


Intelligent, Used to being alone, Makes friends easily, Tennis



◉Weaknesses◉


Swimming, Opening up to people, Shy, Cluts


---




◉Personality◉


Stubborn | Shy | Intelligent | Loveable

Though she doesn't mean to be she us a very loveable person. No matter who it is people always seem to like being around her even if she doesn't want them to. She is a very private person when it comes to her personal life so not many people know about her other than her academic performance. On top of that she is very shy but still she makes friends so easily. She never knew why people wanted to be friends with her since she rarely spoke unless spoken directly to.

She is extremely smart for her age. She takes her education very seriously and won't let anything get in the way of getting the best she can possibly get. Alongside this she is stubborn. It takes a lot for her to change her mind from one thing to the other.



◉General Background◉


Tosh was an orphan most of her life since a young girl. She doesn't remember her parents much but she dreams about them all the time. She was taken in my an older woman when she was 12 years old and has been with her ever since. She couldn't imagine her life without the woman in it. The woman was kind and caring and did everything she could to provide for Tosh. In return Tosh helped her run her café.

Later on the woman became too old to care for the café so Tosh took on the responsibility of keeping it open. Business wasn't the best but it was good enough. With the café and the woman to care for Tosh had forgotten to reapply for a scholarship at the all girls school just a few blocks from her home so instead applied for one at the all boys school further down and got in. The scholarship paid for pretty much everything, the only requirement, other than being a boy, was that she join one if the many clubs available.


---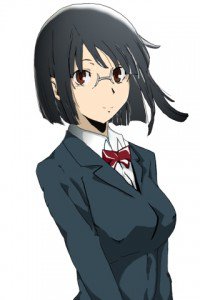 ◉Other◉


Dialogue Colour:

#A661C7


Thought Colour:

#6E1888