Full Name: Blaze Samantha Dare
Goes By: Blaze
Role: Kenaz
Appearance: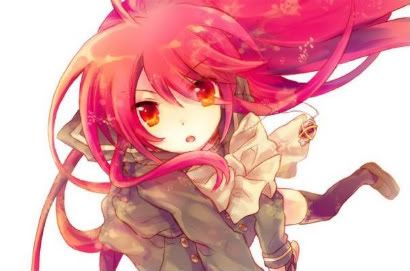 Description: As a jaguar, Blaze has a shining red/gold fur, with a white underbelly and black rosettes. Her eyes are deep pools that sparkle with mischief and creativity. They are the color of azure-blue but have a tint of violet. However, when she uses her power they turn a fiery red with an upside-down orange moon at the bottom. Her build is strong but slim, with a perfectly shaped face. Her rosettes are black, but look silver when she's under moonlight. As a human, she's your right off the bat red-head.
Species: Jaguar (witch)
Age: She is 17 years old. She appears as 13 when in her human form, and appears as 7 months when as a jaguar. (Check the history)
Gender: Female
Personality: She is extremely imaginative, and her never ending ides always come in handy to those around her, but mischief is there too all right! She loves to trick and maniplulate people, and like they say, practice makes perfect! She likes to look on the bright side of things, but she also believes she has to. When her mother died when she was a cub, she was so saddened she nearly pushed herself to the point of death. But because of that she is now almost always optimistic. She is
very
hyper and enjoys new adventures. Has a fierce quick temper. Blaze has a deep fear of water since it is what killed her mother.
Traits in common with power: She can imitate someone perfectly and read peoples movements.
How far they have developed in Power: She can track anyone up to 10 miles from her good enough, as well as read their movements. Her imitating is perfect, in which she can never be recognized as someone else. Her shape-shifting is strong but rather clumsy, if there is not strong sunlight in the air, she could accidentally flicker back into her jaguar form.
Weapons in Posssion: poison-coated needles.
History: Blaze was born as a jaguar and lived her life as a regular cub, exploring and getting in trouble. But one day, she woke up to find herself as a human. Turns out she had a trace of Hecate's blood within her and thus was a witch. She can switch her form to look human, but prefers to spend her time as a jaguar since she spent most of her life in that form. Her mother soon died, and Blaze was devastated, pushing herself to a state of almost dead. But she got over it, though it's still a touchy subject. She lives in an apartment and often walks to the forest a few miles from her town to visit the animals there.