---
---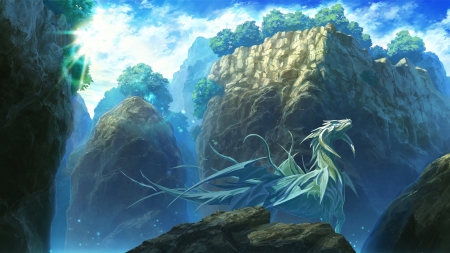 ---
A feud brews between The magic wielders and Paranormal Creatures.
It all began when those with magic became skeptic of the Paranormals motives of living in the same region.
They believed soon the paranormals would turn on them and try to gain their powers.
---
---
Oyrian, a world much like Earth, yet also the exact opposite. Mountains stand tall and firm, life flourishes through every gap and crack, seasons change, and creatures live among us peacefully. Even so, there is so much more to this world than meets the eye. All water is fresh water; no oceans. There are five seasons instead of four. You have your regular Spring, Summer, Fall, and Winter; but there is another called Blona. Blona is a time where the world is enveloped in a soft shade of purple. Lavenders, plum, wine, royal, Orchid, eggplant; if you can name it, it's there.
The reason why we have this fifth season, is simply because of another addition to our world: Two moons. When they cross at the end of winter, their different shades and rays of light intertwine, making nights longer. The sun is only up for three hours. Blona lasts for 2 months. Most survive, but just like Winter, people struggle to stay warm and may die.
---
---
Humans live in towns while most of the Paranormals wander around the country and the world. Elves and werewolves can either travel or stay in a one place for a longer period of time. Vampires need human blood so they usually live somewhere near humans. Blood Angels are naturally group oriented, because of their small population. They usually stay in one place. The ordinary humans without magical powers can be for example soldiers, mercenaries, farmers, hunters, craftsman, anything you think suits to medieval. Mages can have another occupation too.

There's no electricity, fire gives warmth and light. There's no plastic or cars, fastest way from place to place is by horse.
Most of the towns are small and simple. There's more villages with lovely wooden houses than big cities with high stone walls and castles.
---
---
Mages have to study magic. Magical abilities aren't something you inherit.
Especially light and dark magics are hard to learn and it takes years to master them.
Mages use spells and they have to cast them first. More powerful the spell, more time the casting takes.
The mages don't have wand or staff because it would be a huge disadvantage. Paranormals could just snatch it quickly from their hands. They're faster and stronger than mages after all.
Plant controllers can't create plants from nothing. They can control the plants around them.
Not all of the humans are mages, but all mages are humans.




---




---





*There's plenty to choose from. I'm not adding anymore, so please do not ask.*






Yuni: Leader of Paranormals
Fallon: Leader of Mages
Alric: Leader of Humans


Magic wielders

:

Mages can be either Mystics or Elementalists. No super strong abilities that will kill everyone!

Mystics

can either control the force of gravity and the power of the cosmos. Mystics use either light or shadow magic.

Elementalists

can wield a variety of elemental attacks. They take advantage of their enemy's opposites. Elements you can use: fire, water/ice, plants and earth.

Mages vulnerability depends on their magic. For example: water > fire, fire > plants, plants > water

Other: Even though every creature is vulnerable to some kind of plant, it doesn't mean plant controllers could always win. They must have this plant on their possession. They can't just create it from nothing.


.


Vampires

:
Abilities: Strong and fast.
Strongest sense: sight
Vulnerable to fire magic, silver and mistletoe
Other: If they're too long without drinking blood they can't control
themselves and will attack on humans. Elder the vampire, better
they can control their blood lust. Even the oldest vampires have to
feed every three months.



Elves

:
Abilities: Accurate and fast.
Strongest sense: sight
Vulnerable to dark/shadow magic, rusty iron and lemon acid
Other: If you call them by their true name, they
have to obey you. They're immortal (never age past a certain limit),
but can be killed. Learns/adapts slower than humans. Not efficient
in hand-to-hand combat



Youkai

:
Abilities: Varies
Strongest sense: Varies
Vulnerable to plant magic, bronze and chinaberry.
Other: Anything that lives long enough (animal, plant, weapon,
instrument, etc.) becomes a Youkai. Youkai are friendly or not based
upon a human's thoughts toward them.Demons:
Abilities: Strong and accurate.
Strongest sense: hearing
Vulnerable to ice magic, holy/blessed weapons/chains, and waterlily
Other: Can transform between human and demon forms. Depending
on the demon they have either wings, tail, horns or claws. If they
have wings, they can fly.



Werewolves

:
Abilities: Fast and strong.
Strongest sense: smell
Vulnerable to light magic, silver and wolfsbane.
Other: Can transform between human and wolf forms. Have to transform
into wolf when it's full moon. Only few of the strongest wolves are able to
control themselves.



Regalia and Master (Must control two roles)

:
Abilities: Human/creature using a spirit as their weapon
Strongest sense: Touch
Vulnerable to water/ice magic, gold, and mint leaves
Other: Can transform between weapon form and human form. Must
feed your weapon like a normal human. You are connected with
your Regula, therefore you both share a mind.


---




---





Code: Select all

[center][font=ADD HERE][color=ADD HERE]
[size=300]NAME[/size]
[size=250]"NICKNAME" (optional)[/size]
[/color][/font][/center]

[hr][/hr]
[center]PICTURE[/center]
[hr][/hr]
[b][color=ADD]Name: [/color][/b]
[b][color=ADD]Race: [/color][/b]
[b][color=ADD]Age: [/color][/b] (optional but preferred)
[b][color=ADD]Gender:[/color][/b]

[b][color=ADD]Appearance: [/color][/b]
(eye/hair color, height, weight, outfit etc.)

[hr][/hr]
[center][size=250][font=ADD][color=ADD][quote]QUOTE[/quote][/font][/color][/size][/center]
[hr][/hr]
[b][color=ADD]Skills:[/color][/b]
[b][color=ADD]Weapons:[/color][/b]

[hr][/hr]
[center]PICTURE[/center]
[hr][/hr]
[b][color=ADD]Personality:[/color][/b]
(optional but preferred)

[b][color=ADD]Bio:[/color][/b]
(optional)

[b][color=ADD]Other:[/color][/b]
(optional)
X Fair Play
X No God-Modding
X Death WILL happen. Be prepared.
X At least two paragraphs per post. If there are any problems, contact me
X To prove you've made it this far, when you ask for a spot, put your character's favorite food.
X Post at least twice a week.
Taking place in...
There are no characters in this universe yet!
0 posts here • Page 1 of 1
0 posts here • Page 1 of 1
Arcs are bundles of posts that you can organize on your own. They're useful for telling a story that might span long periods of time or space.
There are no arcs in this roleplay.
There are no quests in this roleplay.
Here's the current leaderboard.
There are no groups in this roleplay!
Welcome home, Promethean. Here, you can manage your universe.
Arcs are bundles of posts from any location, allowing you to easily capture sub-plots which might be spread out across multiple locations.
You can create Quests with various rewards, encouraging your players to engage with specific plot lines.
Settings are the backdrop for the characters in your universe, giving meaning and context to their existence. By creating a number of well-written locations, you can organize your universe into areas and regions.
Navigation
While not required, locations can be organized onto a map. More information soon!
There are no groups in this roleplay!
There are no characters in this universe yet!
By creating Collectibles, you can reward your players with unique items that accentuate their character sheets.
Once an Item has been created, it can be spawned in the IC using /spawn Item Name (case-sensitive, as usual) — this can be followed with /take Item Name to retrieve the item into the current character's inventory.
Give your Universe life by adding a Mob, which are auto-replenishing NPCs your players can interact with. Useful for some quick hack-and-slash fun!
Mobs can be automated spawns, like rats and bats, or full-on NPCs complete with conversation menus. Use them to enhance your player experience!
Current Mobs
No mobs have been created yet.
Locations where Mobs and Items might appear.
You can schedule events for your players to create notifications and schedule times for everyone to plan around.
Add and remove other people from your Universe.
Orphanage
By marking a character as abandoned, you can offer them to your players as pre-made character sheets.
How can you sit idly and let your life pass you by?
Although it's important to listen, you have to talk once in a while.
The Forge
Use your INK to craft new artifacts in The Oyrian Feud. Once created, Items cannot be changed, but they can be bought and sold in the marketplace.
Notable Items
No items have been created yet!
The Market
Buy, sell, and even craft your own items in this universe.
Market Data

Market conditions are unknown. Use caution when trading.

Quick Buy (Items Most Recently Listed for Sale)
There are no characters in this universe yet!
None
Discussions
Topics

Replies
Views

Last post
Most recent OOC posts in The Oyrian Feud
Ahaha, do we wait for more people or should we just start? It's been a few weeks now;;
This is the auto-generated OOC topic for the roleplay "
The Oyrian Feud
"
You may edit this first post as you see fit.