God Name: Charoum
Creed: "And so it shall be said that every war is born of his very nature, the evil in men's hearts and the evil that follows after. When they wake in cold sweats to the sound of their own screams and shadows playing about the walls, they come to realize that no soul can escape the battlefield, the carnage, the desolation. Every man and creature that peddles with him will be reborn in a pool of blood, drowning in terror and shame."
Title: Night Terror. The Wicked Seed.
Gender: Male
Alignment: Chaotic Evil.
Portfolios Governed: War, Nightmares, and Anguish.
God Appearance:
In his true form, Charoum is veiled in a graying black color of elegant design. He is covered in scaly leather, adorned with light metal, arranged in layers set apart from one another, with the metal branching out and creating the illusion of design to his being. A mask covers the lower half of a face hidden, where a drooping hood adorns the rest of his face in shadow. If this all were to be removed, it would be revealed that his skin is of a gentle gray color, his eyes the darkest black, yet the addition of smoky grays revealing an immense amount of depth to them. A saddening beautiful display of scars trailing the features of his face and body in deep, scraggly gashes a tone paler than the pigment of his skin. His wild and messy hair of the same black as his eyes. There would be a solemn contemplation about his being making his otherwise charming features that of pain and misunderstanding to the viewer. This form is 6'2" in stature, lean and toned in muscle composition.
His second form, is a depiction of him by mortals. Charoum's mind is in constant struggle with the beast, known only as Ichabaud. This looming sixteen foot beast ripples with muscles and snarls with the anticipation of their next victim, they are composed of three heads, all of which are enemies united only by the body they're forced to share, and thusly the risk of them ripping themselves apart is equally as dire as the chance of them seeking a misplaced vengeance upon the world. The fur is knotted and gruff, dark in color. The skin thick and the fangs long and crooked in their arrangement about the massive jaws of Ichabaud. The eyes seemingly lifeless, wisps of torment about their shade.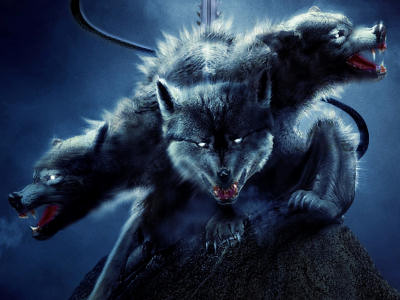 Personality: Charoum has been known to silently attend the battles of mortals, slaying without hesitation and without side, for no rhyme or reason. It can be noted that he shows little sign of enjoyment or even acknowledgment, but rather a cruel understanding of the constant fighting as fate. In company he is mostly quiet, but lacks any conception of being underhanded or sly, as if deceiving those around him is beneath him. It could be discovered that he is willing to be protective if the need were to arise, and though it's hardly played upon, he has an understanding of honour and respect in battle and conversation. He is mannerly and civil. Yet divided and outcast by the fact that by his nature he has conflicting goals and aspirations. Quick to battle and join the fray of a battle, he loses his sense of sides quickly and goes about it with an indifference. He is heavily conflicted within himself.
His lack of fear is often interpreted as courage, and his lean body and keen senses and speed make him an excellent combatant with an instinct for it. He's naturally agile and prefers to be confrontational in combat, as he does in conversation.
It could to the observational be noted that he's slightly anxious when it comes to civil conversation, nervous when it comes to formal forms of justice, and absent minded in a slow paced environment. Though he tends to step on rights and boundaries set by his kin, this is just for lack of understanding and an avid confusion.
Opinion of Mortals: Charoum can only create things he deems fit for war, as a child confused and unstable this often casts him into an unnoticeable darkness about himself. His people would reflect this, and his understanding of them and care would come in the form of emotionally neglectful and tough love, but love regardless. If he were of a mind, in subtle ways he appeals to his people and wishes to give them aid, though unfortunately this often comes with dark consequences and sometimes deadly endings.
God's Domain: N/A
God's Territory: N/A
Symbol(s): N/A
Special thanks to Wake for the template.
History
Mortals; N/A
Charoum's personal history; N/A