Crymadolos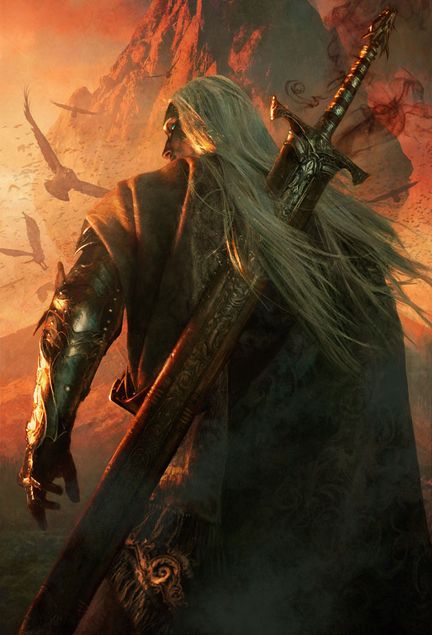 God Name:
Crymadolos
Titles:
The God of Pain, The God of Tragedy, He Who Suffers, Spreader of Misery, Lord of Tragedy, Lord of Misery, Bringer of Tragedy, He Who hides in the Fog, The Shrouded Lord, The Wounded God, The Divine Pain, The Divine Pain in the Ass, Slayer of Hope, Thrasher of Dreams, The Miserable God, The Unknowable One.
Creed:
" …Suffer as I do..."
Gender:
Male
Alignment:
Hovers between Chaotic Evil, Neutral Evil and True Neutral
Portfolios Governed:
Pain, Misery, Tragedy and Fog
---
God appearance:
The Lord of Tragedy appears as a large man with long, unkempt, stark white hair and is clothed in black armour. He has dark skin and a pair of permanently blood shot, sunken and unnaturally light blue eyes. He wears a heavy cloak with a hood, that he prefers to keep over his head, to try and hide his face, which is usually stuck in a grimace and frequently twitches as pain works his way through his body. His body, although well-toned and muscled, is covered in wounds that never heal and can never be healed, that constantly leak out the black bile that is the god's blood. He keeps these wounds bandaged and hidden away under his armour, but one look at his pain ravaged face would reveal that they exist. Surrounding him from all sides at all times are strange, wispy trails of fog. These wispy trails seem to almost vanish when one focuses on them, yet when one were to see them from the corner of one's eye, or simple pass their gaze over them without paying attention they appear as thick chains, chaining Crymadolos to the very ground. On his back he carries his great sword, Torment.
---
Personality:
As one look at his annoyed and pinched expression might suggest, Crymadolos is a grim individual. He accepts no platitudes and no compromise, believing only his path to be the correct one to follow and most, if not all, others to be wrong or flawed in some manner. Although this dislike of others their ideals and ideas comes mostly from a distinct disinterest and lack of confidence in others, beyond what benefit they might have for Crymadolos personally. He spends his life in constant pain and torment and it reflects in his personality. He is immensely fatalistic and believes he and all beings who are intelligent enough to understand the concept are meant to suffer. Despite his fatalistic attitude, he is also extremely wilful and seeks to change his fate, yet his efforts seem thwarted at every turn. He is highly cynical, failing to see any good anywhere, causing him to regard everything and everyone with suspicion. He is cold, uncaring and takes out his rage at the indignity of his suffering at the very realms themselves. Despite his occasionally violent temper and otherwise cold regard of all others, he only seeks an end to his pain, yet finds himself incapable of doing so. Something which only throws more fuel on the burning pyre that is his quiet rage. He is also fairly anti-social and reclusive, preferring to keep his own company instead of seeking out others, a character trait only exasperated by the fact he is imprisoned on his island, incapable of leaving.
---
Opinion of Mortals:
Crymadolos cares nothing for mortals. Those who pray to him will see their prayers fall on deaf ears. Those that seek to appease him will see their efforts crumble to dust. For to receive the God of Pain's regard is to invite eternal suffering and misery upon oneself. That said, he will occasionally make use of mortals, but only to further his own plans. To Crymadolos, mortals are tools and tools only. The one exception to this rule are his three children, who he seems to cherish. His lack of interest in mortals has given his mortal followers and regular mortals both quite a bit of leeway in what names to bestow upon Crymadolos, hence his great variety of titles.
When the relation is viewed from the other side, Crymadolos is not seen in a very good light by mortals. His dominion over seemingly negative portfolios has lead most mortals to see the God as a curse on the lands, a being whose presence only brings misery, pain and tragedy into their lives. Naturally, Crymadolos' name and its many variations have quickly become a favourite swearword for when things go bad. Surprisingly, the few that do follow Crymadolos' are fanatic to nearly insane degrees, despite the misery and pain he bestows on them. To these unfortunate few, pain, misery and tragedy are facets of life to be savoured and spread whenever possible.
Opinion of Immortals:
Crymadolos cares little for his 'siblings' and would not care if they all disappeared. His only interest in them is their lack of pain, something which both interests and infuriates him.
---
Symbol:
Eyes crying tears of blood.
Equipment:
Torment - the Sword of Pain
, the mighty great sword of Crymadolos. Capable of inflicting immense pain from even the slightest of scratches.
Miserable Incense
, ordinary looking incense sticks that will release a sweet smelling smoke once lit, that dull the senses, relieving any who inhales it of their pains. Provided that person is a god, a mortal might find his senses so dulled they simply fall asleep, never to awaken. However, even this smoke can only take the edge of the pain of He Who Suffers.
The Chains of Crymadolos
, magical chains fashioned from his own power and pieces of his body, Crymadolos carries these chains with him wherever he goes. When he is calm these chains appear to be nothing more than wispy trails of fog, barely seen when focused on them, yet seeming to take the shape of thick black chains when one were to spot them from the corner of his eyes. When Crymadolos attempts to move, these chains become visibly more solid, though they only hinder his movements when he attempts to leave his island.
God's Domain:
A small island, eternally shrouded in fog, where Crymadolos is lord and master. Where mortals cannot hope tread without falling prey to the pain of the Wounded God. Where even the gods themselves cannot tread without being influenced by the pain and misery of the god that resides there.
---
History:
When a god is born from the magic that is a divine spark meeting a divine seed the process usually goes off without a hitch. Yet, in Crymadolos' case, it was not to be. Even before his birth he was marked by wounds. Indeed, the very divine seed that would grow to be Crymadolos was damaged during the cataclysm. This damage made it incapable of completely forming the Lord of Tragedy. When Crymadolos finally came into being he was already covered in wounds that would never heal, could never heal. These wounds would cause him pain every day, with no relief in sight. As one might expect from such a difficult birth, many things were set in motion. Even as Crymadolos trashed and writhed in pain during his first moments of life, the pieces of his body that fell off formed to be mortals, Crymadolos' first creations. And these creations would betray him. Making use of the power that leaked out of the Wounded God they chained him to the very place of his birth, so they might still his trashing and stop him from further injuring himself. Unbeknownst to them was that these chains, made from the same pieces that had formed their own bodies and infused with the gods power over Pain, would become so powerful that even the god from which these pieces came could not break them.
These chains have held him on the island of his birth from that moment on, to hold down Crymadolos so that he may stew in his misery and suffer alone.