Equallis
and
Disballis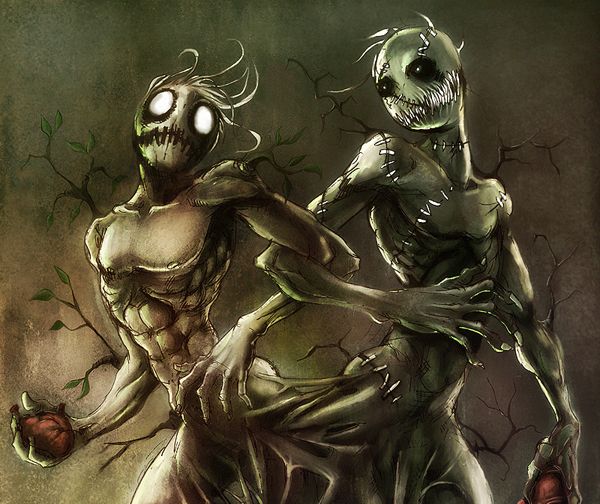 God Name:
Equallis and Disballis
Titles:
The Twin Scales, The Divine Balancer
Creed:
"Without evil, there is no good. Without light, darkness would not exist. There must be balance in all things."
Gender:
Male (Equallis) and Female (Disballis)
Alignment:
True Neutral
Portfolios Governed:
Balance and Duality
God appearance:
Equallis and Disballis seems to be two separate creatures whose arms are forever interlocked and whose legs are grown together.
Equallis appears are a strange creature that seems to be made from living wood, with small branches growing leafs, flowers and even fruit. It is not unsual to see small birds land on these brances to take a bite from his fruits, or to see insects land to spread the pollen of his flowers. His face would be considered fearsome by most, with its large inhuman mouth and pupil less eyes. Despite its superficially fearsome appearance his face can only said to be both kind and caring and any who would take a look into his eyes would feel the peace that is hidden there.
Disballis is an odd creature that appears to be formed from dead wood, sewn together in an attempt to keep its body in one piece. If Disballis' body ever bore fruit it has long since fallen off, leaving only dead branches in its wake. Disballis' body seems to actively repel both insects and animals, as they all seem to avoid going near her body. Disballis' face is even more fearsome than that of Equallis, with many large, clearly sharp, teeth sprouting from her mouth and tiny glowing eyes. Yet, if someone took the time to gaze into those tiny orbs, they would only feel at peace.
Personality:
At first glance Equallis and Disballis might appear as two separate gods who have taken to working together. Equallis is eternally positive, calm, forgiving, creative and a force of good. Disballis is eternally negative, energetic, unforgiving, destructive and a force of evil. As one might expect the two clash on almost everything, and they can often be found arguing with one another. Yet they are in fact opposing sides of the same god, whose dual nature is reflected in Equallis and Disballis.
If one were to look past the façade of duality and look at the true god underneath one would quickly see that Equallis and Disballis are in perfect balance. They make up for each other's faults to create an entity that is neither good nor evil. As a pair, they are a truly neutral creature that is prone to contemplation and discussion. They are slow to judge and unwilling to do so without knowing all the facts. Although separately they are capable of expressing a wide range of emotions, in union they might appear emotionless, as all their emotions are in perfect balance, not one winning out over any of the others.
Their infighting is the gods own process of going through the facts and forming an opinion. Their dual nature of good and evil also makes their decisions as a pair completely impartial, with no favouritism shown to either side of the argument. Naturally, the result of their fighting always ends in consensus, something the god highly favours. And despite appearing as two separate beings, they are utterly incapable of acting, or even conversing with another being, independently.
Opinion of Mortals:
Although Equallis and Disballis have great interest in mortals, they are not particularly fond of them. A mortals tendency to swing to one side or the other instead of remaining in balance, both interests and frightens them. They do care deeply for those who live their lives in balance. They also have a weak spot for all farmers, who must live in balance with both nature and animals in order to ply their trade.
Symbol:
A scale in perfect balance with a stylized heart suspended from the left side and a skull suspended from the right side.
Equipment:
Mirror of Duality
, which, despite its unremarkable appearance, will reveal the opposing side of whoever looks at his or her reflection in the mirror. Good people will see their evil side and evil people will see their good side. The more on sways to one side of the spectrum, the clearer the reflection of their opposite number will be.
God's Domain:
They prefer forests and swamps, but their domain would be anywhere where there is balance, especially during the Twilight hours, when the sun has not quite set or risen and the skies are in the perfect balance of day and night.
History:
The Divine Spark that would become both Equallis and Disballis lay dormant for a long time, as the world remained in balance. It first stirred when other gods began to walk the earth, creating at their whim and creating fundamental changes in the balance of the world. Yet there was no need personify balance, instead it would passively work to maintain it. This changed when the cataclysm happened. The sudden destruction of so many mortals and gods shook the delicate balance of the world. In retaliation, the Divine Spark gave birth to Equallis and Disballis, to restore balance in a damaged world.