God Name: Kalimdor Menethil
Titles: The War Bound, The Storm hand of War, Death's Brother, The Thunderer
Creed: "The thunder of war shall consume all things and when the rains finally stop the strong shall arise to forge the battles of the future."
Gender: Male
Alignment: Chaotic Neutral
Portfolios Governed: War, Storms
Description: The God of War and master of Storms is an imposing figure. Lightning seems to crackle around him at all times and the rolling of thunder can be heard swaying to his emotions. His eyes light bright blue with electrical energy when he invokes his great power. He is the true war god, reforged after the previous God's death in the Cataclysm. The power of the storms weather the fiery temperament of war creating a God to truly behold.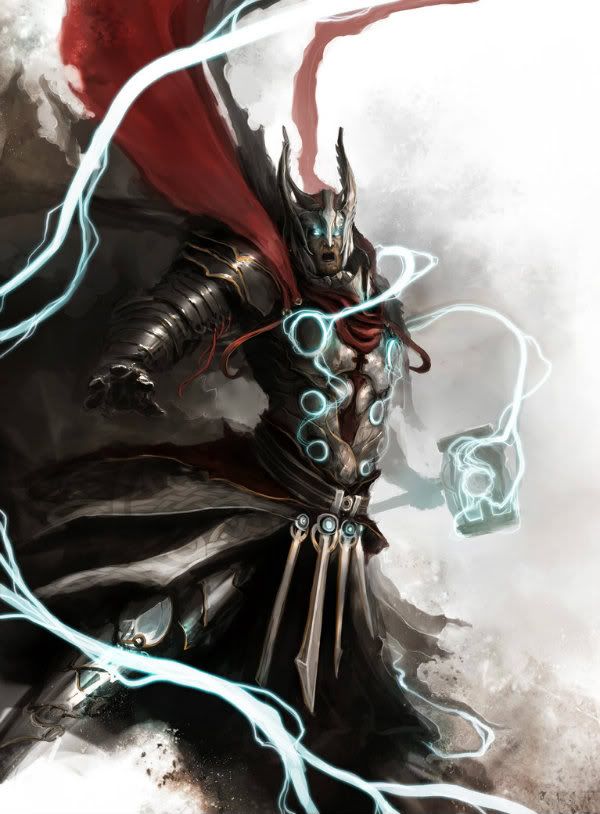 When Kalimdor takes a mortal form he appears as a large, golden haired warrior. In this form he is a wandering warrior who goes where the battles are the greatest. He challenges the greatest foes and seeks the greatest glorious all the while reveling in the battles around him. It is in the fires of combat that Kalimdor finds his true followers and grants them his favors.
Territories: Kalimdor Menethil claims dominion over War and Storms. With his might mortal armies march off to battle and the skies open to let loose their heavenly power.
Symbol:
This is the symbol of Kalimdor. A depiction of the Kalimdor's chosen weapon his mighty hammer Ragnarok. Followers of Kalimdor wear this symbol in the hopes of being granted strength and skill in battle. sailors are often known to wear this symbol as well in the hopes that the storm god will keep the skies clear during their voyage. Kalmidor's symbol is worn by the strong or those who seek strength. Worn by warriors and those who honor those who do war.