Name: Torsc
Creed: "Progress is paramount, above all else."
Title: The Immaculate Engine of Progress.
Gender: Male.
Alignment: Neutral/Good.
Appearance: Stands nine feet tall, and from the neck up, he appears as an average humanoid figure, though further inspection will reveal this flesh to be exquisitely crafted metal. The vast majority of his body, however, resembles a massive humanoid Machine, with the Embers of Innovation resting within his chest.
Personality: Cold, calculating, and always to the point. Prefers to avoid drawn out conversations with others, instead favoring his mysterious works in the ways of Artifice.
Opinion of mortals: Admires those with the Intelligence and Initiative to push the boundaries of Science and Artifice ever forward, and scorns those who turn their backs on progress, be it out of fear or superstition.
Domain: A gargantuan, mechanical Citadel that lies hidden within a truly colossal network of caves and caverns that crisscross through much of the known world, with the only known entrance laying somewhere in the icy north.
Portfolios Governed: Artifice and Progress.
Symbol: A stylized Gear with a Thunderbolt in the center.
Holy Artifact: The Embers of Innovation, eternally burning coals that lay in his chest, which burn hotter depending on the amount of knowledge and creativity that is currently possessed by the collective creatures of the world. Serves as an infinite power source, so long as there is sentience within the world, and while he does not need it to live, he can use these embers to more efficiently power his many wondrous devices.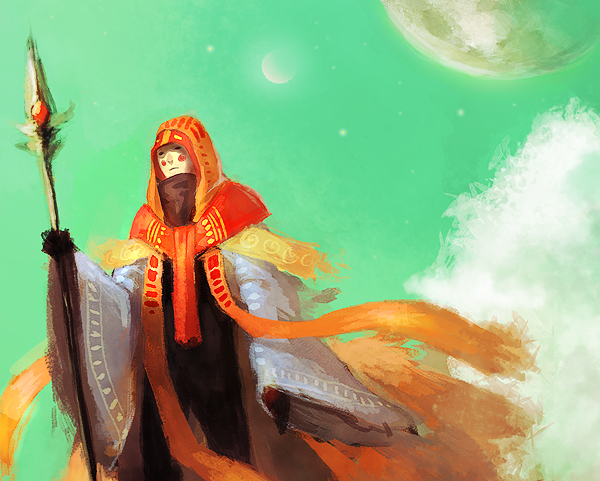 Name: Riomu
Creed: "Freedom is the greatest gift any could possess."
Title: The Resplendent Mistress of Nomads.
Gender: Female.
Alignment: Neutral/Good.
Appearance: Stands eight feet tall, and is almost always seen wearing a mask, and her robes, the Vestments of Exemption. A select few claim to have seen her without her vestments, and describe her as a lean and athletic humanoid woman with dark skin, short shock-white hair, and eyes as pitch black as those painted on her mask.
Personality: Flighty, and prone to losing interest in whatever she happens to be doing after a moderate amount of time. Unsurprisingly enough, she enjoys traveling of all varieties, be it alone or with a group.
Opinion of mortals: Recognizes the right of all mortals to possess freedom and will adamantly defend any mortal or group of mortals at risk of being subjugated or imprisoned.
Domain: No set home, but the closest place she has to a stationary home is the vast desert in the southern part of the known world, a place where many nomadic tribes and roaming cities lay, driven to these lands by those who would see them bow before an ideal they do not believe in. Though, it is not unknown to see her passing through towns the world over on especially rare occasions.
Portfolios Governed: Travel and Freedom.
Symbol: A stylized, sideways eye with two avian wings to either side of it.
Holy Artifact: The Vestments of Exemption, the very robes which she is always seen wearing, which prevent her from being kept within any prison designed by any individual. No matter how long it takes, so long as she is in possession of these vestments, she will be able to escape any prison she is placed in. She can also use these vestments to break bindings that have been placed on other beings, be they mortal or otherwise. The time it takes to break any bonds may vary depending on complexity, ranging from moments to millennium, but if it binds, these can most certainly break it. Aside from this, it also allows the user to open portals in much the same way as her predecessor, Miurcrost, though these Portals have a corona of bright Orange light, as opposed to prismatic Green.
*I claim neither of the images above. Don't remember where I got them, but I'm sure I could find out if anybody had a problem with me not providing a link.