Though it is uncommon for Alteez to visit or even speak with the other gods, she has been known to make several personal appearances at certain times. Notably when she finally returned to the world in earnest, and proclaimed herself having come back from exile.
Alteez possesses a very large figure, though thin and gaunt in appearance, she is a physical embodiment for the realm from where she comes. The only aspect of her appearance that possesses substance is her flesh, as it is a matte white color with a tinted ivory sheen. Her hair and dress are one in the same, easily becoming one with the seam of her own body, and being represented as a near void in space. Instead it looks as though one is staring into the night sky and can slowly watch as the stars dance within her visage. Two ivory forearms hang from thin sleeves, with crimson nails that tip each finger, and her dress slides down to become one with the floor on which she stands. The most dominant feature of the goddess is the large circular ring of white fire that drifts behind her, creating an actual void of space, bridging her realm with the one she currently stands in. The ring holds a static position behind her at all times, and only moves at her behest. When the goddess arrives in or leaves a realm, it is always through this conduit.
Alteez's crimson eyes and rosie lips are the only things about her appearance that belies a true feminine form. Though after that her form becomes more alien, showing no true facial features, lacking eye lashes and brows. The opening in her chest is more akin to a wound, and shimmers with a crystal like sheen, surrounded by four indentation within the flesh.
Territories:
The lower plane, (The white spire)
Symbol:
A piece of black crystal, containing a glowing star.
---
Personality:
Methodical and controlling.
One could easily misunderstand what it is that Alteez shows for her subjects in place of love as just that, however she is far past the point of giving that much emotion to those that serve her. Instead her rule over her followers is that of a tyrannical mother figure, who loves and dotes upon her children, only so far as they are obedient, and orderly. So long as everyone concerns themselves with the rules of law, and never oversteps those bounds, they are safe from her ire.
Equipment:
Astral Form
- Alteez does not choose to change her form ever, seeing as it was the first she ever took to make contact with her original disciple. Despite everything else that has come, and gone in her existence, this one physical form is her most favored. Choosing to never differ from what it is she chose over a millennia ago. Despite being visible and possessing mass, this form constantly shifts from the incorporeal into the corporeal. Strikes against such a form normally fail to do lasting damage, or proceed to pass through into some strange land beyond. Though combat has never been her forte in the past, Alteez is capable of creating intense blast of starlight from her body, and anything caught in the blast is either completely charred or incinerated outright.
The Star Sword
A broadsword with a thick transparent, red, crystal blade. Supported with double handed onyx haft, with silvered guards and handle.
- The first artifact bestowed upon Alteez's chosen in the first years of her rise. It was able strengthen the resolve of its wielder and increases their strength. However in the fall of the age it was removed from its owners dead hands after a vast betrayal, as of this moment its location is unknown.
The Book of Midnight
A thick tome that is bound in slates of darkened leather, that constantly feels warm to the touch. Both the cover, and back of the book are dotted in several gem studded eyes that are able to move and track to each one's content.
- The second artifact bestowed upon the first chosen, this book would allow its holder to easily catalog knowledge and instantly recall all they and their for bearers had ever learned, by displaying it on it's pages. Currently being held in the protective vault of a rather ostentatious aristocrat.
The Eternal Key
A large clear, crystal key the size of a large fist which seems to be filled with constantly moving smoke. Possessing a likeness of Alteez on the handle and several floating metal rings encompass the arm, and freely move along its surface but can never be separated from the key.
- This was the last artifact bestowed upon the first chosen, and was used to congratulate him on his triumph in founding his own kingdom. It grants eternal youth and vitality to the one who possesses it, physically bonding with its owner. This was unfortunately what proved to be the downfall of his kingdom, as the eldest of his sons soon began to cannibalize all that he had created. The Kingdom fell into darkness soon after, as the key was lost and the kings bloodline scattered into the winds.
Moradini:
Though the goddess is unsure if she created these beings or not, did not detract from the fact that she excepted them as her own, as she began to watch them grow, and with her guidance this race managed to grow from nothingness. Into a certified race of builders, warriors, thinkers, and explorers over the span of several centuries. All with the realization that they would only want for life within the desert that helped raise them, seeing as the race almost never explored beyond the reaches of their barren home. Because all that they required was there for them, rich mountains of minerals, and lush plants that sprung up around every oasis to be found. Despite the voracious creatures that stalked the dunes of the lands outside their homes it was a near paradise that they forged for themselves. Until the first long absence of their goddess proved to be a stepping stone too high for them to traverse, and their society fell into near total anarchy.
Only when she returned, and chose a champion to lead them did things begin to look up once again. Only for her to realize that their nature was harder to keep in line than she could ever fear. Resulting in the final fall from grace for her so beloved children.
Appearance: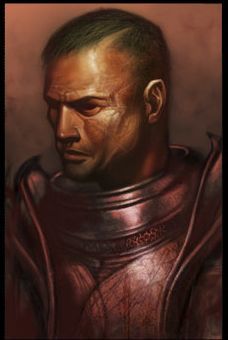 Each member of the Moradini are blessed with a strong constitution, and staunch figure. Their skin color can range from sun scorched leather, to a near olive like complexion that belies their years in the sun. Men usually rest on the darker side of the spectrum, however that is just a vast majority, and hair color for the entire race can be just as varied. Though it is not unusual to see men with short cut hair as a common sight and woman wearing long braids, decorated in stone beads.
---
In the beginning of her life Alteez was nothing, not even a name, just floating among the waste of the sky. Her knowledge was of the void, and so was her being, and so alien was her presence that the first time she stepped upon this world she saw below. She did so in a manner that would reshape the land, and distorted its features into a vast, nearly shapeless desert. As she looked out upon this land, uncaring of the destruction she had just caused, Alteez sought to fill it with life as she explored the extent of her control upon this place. The goddess was powerful and almighty, like those that came before her, and the light that poured forth from her turned the sand to glass in her wake. It was then that she noticed the life that existed there in this desert, though weather it was there before she arrived. Or a direct result of her own action upon this world she did now know, nor care. But it was interesting to see them scuttle about in the day, and night, avoid the wild things of the land, then hunting them in turn. A form of life that interested her the more she watched them, periodically watching over them in her time going back, and forth from her realm, and theirs. There were years where she would be a verdant part of their lives, given advice, and secrets of the world, helping them to grow. However there were times when she would remain gone for more than a decade, drifting in her solitude high above them, and keeping what little of a watch that she could managed.
It was on one of these vast distances that she heard a lingering voice in the darkness to draw her attention, as there was a disheveled ruler without a crown or land to call his own. He was drawn out of his home, which for some time had been descending into darkness thanks to the evil left behind by the first dark one. He wished so hard for a way to bring his land back under a form of rule and semblance of balance, that his tears called forth this creature from the deepest reaches of the stars.
The first time he saw her was enough to threaten tearing his mind asunder, until she took a form that he could comprehend, and she felt pity for him, offered a tool to help him achieve his dream. A sword that would allow him to rally more to his side, and return with the strength to take back his lands. This was a task that would take him but a few years to complete, because with the blessing of his returned goddess he was able to easily overcome the loose bands of warriors that destroyed his homeland. Afterwords he wished for the knowledge to govern his kingdom fairly, and she granted him another boon in the form of a book that would assist him in his endeavors. This allowed his kingdom to grow with great speed, and it became evident that Alteez was becoming more attached to her followers, as she became more attached to him in turn.
Nearly four decades had passed and the growth of his kingdom, which had been raised from the barren sands of a desert. Now spanned a great portion of the burning sands and dominated it as a brimming utopia. The king now an old man was on his last years as a ruler, and called to his goddess as he had in the past. He wished to be there for his children, and to be there to ensure his kingdom would not fall into ruin like it had before. She waited on her response, and returned to him after a fortnight only to agree to his request that if she did this, he would give her something in return. Though the details of this bargain are unknown, the old king ascended to the alter of the stars that was built to honor her, and when he descended its stairs he was now a young warrior of youth like in the years when he first met his goddess. It was near this time that all of the things he worked to build began to fall apart, as his children began to see this as an affront to their chances to rule. They would not stand to see a king that could eternally sit on the throne, and deny them their birthright. So the great king was betrayed, and his lineage managed to rest the power of immortality from him with some time, and a blade. So it was that Alteez was forced to watch as her own followers soon began to nearly cannibalize their own realm after the king was deposed.
The events that followed forced a change within the goddess, making her adjust the way she viewed the humans on the world below. She ceased to care weather her former followers were cared for and happy, only that they followed to rule of law. All attempts to reign them back under control were met with disillusion as they continued to splinter into separate factions, further loosening her grip on them, and eventually the land fell into complete chaos again.
In response Alteeze flung herself into existential exile in order to further remove herself from such tragedy, and for the last few millennia has been asleep among the void that she came from.
Until something once lost was found.