Asher Lucian Evans
---
---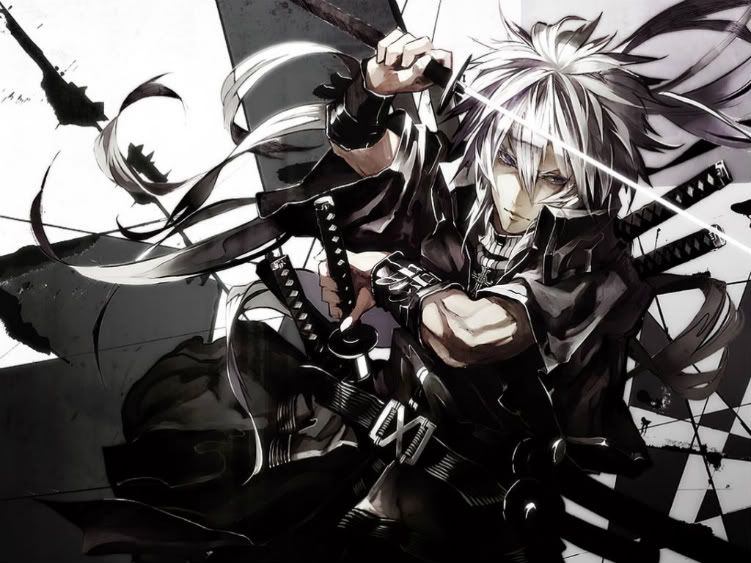 ---
---
Name:
Asher Evans
Gender:
Male
"I've lived for at least a thousand years... not once had I even THOUGHT like a woman..."
Physical Age:
18
Actual Age
2000+
"A thousand by your calendar, two from my perspective."
Time:
Sometime in the Middle Ages to 2018 A.D.
Written Description:
Asher is 5"8'. He has white skin with a light tan, and he has a slight muscle build as well. Asher has silver white hair and two icy blue eyes that can penetrate whatever mask you wear. He wears a dark green cloak that reaches from the bottom of the face to his knees and blue jeans. His shirt inside the cloak is orange with an insignia on the heart area and the back. The insignia is pure black, and its shaped like a fire entrapped in ice. It's also shown on the back of his robe, if he's wearing it (which he is most of the time).
Asher's eyes move about in every single second, taking in the immediate surroundings. They calculate every movement, every reaction, and every gesture that people make. He gives off an air of authority, wisdom, and the attitude that would say "Stay the fuck away from me if you value your life."
In some cases, Asher's hair would turn jet-black, and his eyes would turn crimson red. At that moment, his dark side has taken over.
In rarer cases, Asher is seen to have gray hair and two differently colored eyes- both colored from each other the two colors mentioned above.
Role:
Past
Sexual Orientation:
Heterosexual "You know how Christianity looks down upon homosexuality? I don't, but that doesn't mean I myself am gay."
Nationality:
European (as accurate as I can)
"I've lived for so long, traveled over so many lands... It's safe to say I forgot."
Race:
Immortalis (as explained in other)
Job:
n/a
"I'm living through several generations, kid. I have to 'die' and be 'born again' to get another job. Then there was the Great Depression and then... UGH."
Height:
6"1'
Weight:
130 lbs.
Abilities:
Elemental Manipulation: As an Immortalis, you are allowed to gain control over certain elements, like in Avatar: The Last Airbender. You also gain a title, such as "The Master of Temperature." Using this power takes away energy, much like in a regular RPG's Mage class. Not only this, but when used, the elements affected are only the ones near the user. This means that Asher can't go Roy Mustang on enemies (look him up if you don't get what I mean *finger snap*).
(for roleplaying purposes, if you look at other "Asher Evans Immortalis"s, you'd see he has more powers. I'm toning it down in order to make him not so OP.)
Ice Manipulation:
Asher's most mastered element. Used in conjunction with his attacks, Asher displays his mastery by freezing objects and creating ice. Asher is also able to lower the temperature. Though, he can't use it in high temperatures and, to prevent ice melting, Asher must focus on substituting the melting ice with more.
Fire Manipulation:
Asher's second most mastered element. Used in conjunction with his attacks, Asher raises the temperature slightly and creates fireballs. Though, that's pretty much what he can do with this power.
Shadow Manipulation:
Asher's third element, though most limited. Asher can control the shadows and use them as objects, creating a kind of weapon out of them (Masamune for Soul Eater fanatics). The thing is, however, is that Asher can't use this power often. This drawback will, again, be explained later in the character sheet.
Passive Abilities:
Strategy:
Asher is able to think on his feet, being flexible and adaptable in battle. Asher usually holds back at first to see his opponent's strategies, then use counter measures and strike back, hard.
Immortality:
This isn't "total immortality" that you want from Shinron. No, this only affects Asher's lifespan and vulnerability against death-sentencing situations. Asher is able to live, if let alone, an infinite amount of time. However, if something such as a demon or another Immortalis were to cross him and try to kill him, he WILL be killed. This is explained later, AGAIN.
Dark Side
Not really an ability, more like a curse. Asher, gaining control over the shadows, has now developed a dark side named Lucian. Using Shadow Manipulation too much results in the Dark Side slowly corrupting Asher and taking over. Once this happens, Asher must have to fight against the dark side and win his body back.
Weapon:
Frigid Inferno:
A representation of Asher's discipline. The handle is normal, save for the flame incased in ice insignia on the hilt. However, the uchigatana's blade is unique, and was made using Asher's powers himself. The blade is made purely of ice that never melts. Inside the blade was a line of molten lava, unable to escape the confines of the ice (note that the lava is only for SHOW. It can't be used as heat purposes nor can it melt objects like actual lava).
Infernal Blizzard:
The reverse of Asher's blade, ONLY appearing when Asher's dark side takes over. The lava has now broken through the ice, only leaving a few spots (for a lack of a better word) of ice on the lava blade. It can't burn through opponent's defenses because it's only for show.
Elemental Tags:
Asher uses a set of exploding tags, the effect only known before the explosion by the color of the tag. Red tags are normal explosive tags, while blue tags create ice. Black tags, however, are the equivalent of flash bangs, making the victims unable to see temporarily. Asher can will them to explode, but even then Asher needs to know if it's safe to do so. Note that Asher does NOT have an unlimited number, but 10 of each type.
---
---
---
---
Personality:
"Alright, alright, alright. But I'm not saying it again, got it?"
At first glance, you'd see Asher as a cruel man. When addressed to, Asher would end the conversation as quick as possible in a cold tone. He also prefers to be isolated, leaning against the wall in parties and not going into the crowd to dance. Asher doesn't care about petty things like breaking a nail or something; he cares about breaking an arm.
If you can manage to hold a conversation, Asher can hold one for you. You can ask him some things, but he won't reveal too much about himself. Rather, he'd stay silent and let the silence speak his unwanting to talk about himself. However, you can already tell, if you converse with him long enough and get into YOUR personal life, that he does care for other people, and that he is extremely intelligent.
During battle, the bloody rose blooms, and Asher can show you his actual side. Decisive, cunning, showing great wisdom. He's calculating as well, and can think on his feet quickly. His caring for other people leads him to wish to protect civilians, hinting that he wants to protect others. Asher doesn't want any casualties in the civilian side nor within his allies.
As an enemy, Asher can lie as much as he wants. He's mastered the art of subterfuge and lies, especially in a new level. Ever tried living multiple generations' lives using different identities? Asher can hide himself easily within history. Lying to one person isn't a problem to him. He's good at keeping a poker face as well.
However, if you're a girl... you'd be able to get the upper hand on him in every aspect of life. Asher can't fight girls, and he usually stutters and messes up near attractive girls. He's also easily seduced in most cases, making him an easy target to flirt and get your way with him.
The closer you are to Asher, the more of his true side you get to see. Despite his cold and calm demeanor, Asher is still a human. It's the fact that Asher still makes jokes and still feels fear that makes him human. You wouldn't be able to see it if you're a stranger, but when you're his friend, you get his human side.
If you are in a relationship with Asher, you have access to his inner and personal thoughts. He's basically sad and prone to reminiscing, especially with what used to be the good times. He's also afraid... afraid of losing everyone he cares about, which explains his isolationism.
Likes:
+Roman Catholicism (original religion)
+Seeing the people gaining power over their lives
+The wise and elderly
+Anime and Manga "What? A thousand year guy has to find SOMETHING to do..."
+Martial Arts
+Weapons
+The new technological and medical advances "My... Humanity has come such a long way...."
Dislikes:
-Tyrants.
-Selfish people who gain at the expense of others.
-At times, God.
-Demons.
-Anyone who picks on his past.
-His life that lived too long.
Fears:
~Losing those he cares about.
~Not being able to do a thing if a horrible ruler rises.
~Using his control over shadow too much, to the extent of letting Lucian run rampant.
Talents:
"My strong points? I'm not one to reveal them so easily... Maybe in a fight, yes."
+Asher is an expert at swordsmanship. His work with the sword is as deadly as his magic.
+Speaking of magic, Asher mastered fire and ice spells.
+Asher can remain calm in the worst situations.
+Asher has a photographic memory as well as a pair of good eyes that can see the weak points of something easily.
+Asher is able to strategize mid-battle and think on his feet.
+They don't call him the Voice of Treason for no reason. At one point he voiced out against tyrants and called for revolution. He still retains his ability through persuading others.
Flaws:
"Please... That would be dumb to tell you them."
-Asher is love-shy (meaning that while he is searching for love, he's practically afraid to advance in a relationship).
-Asher isn't very sociable. He has little to no skills in the social area.
-Around women (particularly the attractive ones) Asher usually messes up in his movements and speaking. His concentration is easily broken, and Asher is also easily seduced.
-In battle, if there are civilians, Asher tries to get the battle away from them. If not, then protect the civilians even if it means taking the its.
-Elements manipulated can only be the ones near the user.
---
---
---
---
Bio:
Asher was born in a hidden time period of the Middle Ages, one that was ruled by the Immortali. Everywhere in Europe was under the control of the tyrant, Julian Lucifer, the Devil's Master Immortalis. No one was safe, not even Asher. Asher lived in a village hidden deep in a forest. The village was made self-sufficient in order to reduce the need to go outside or to bring in outsiders. For the most part, it was safe for the residents of the small world that they lived in... until Julian cast an eye on them. Everything went to hell after that, as Asher's village was burned to the ground, and not a single resident was spared. This included Asher, who was killed by the leader of the small party of Devil's Immortali himself.
Asher had been revived as an Immortalis after that, along with two other people, both of which are his friends. All three were recruited by a man named Damion Howard, who was the leader of an army of rebels. Under his supervision, the trio trained and became stronger rather quickly. This brought morale to the troops, and the whole army was practically ready to charge into the castle. Then, tragedy struck.
Damion Howard had been killed by a Devil's Master Immortalis, leaving the army in chaos and in low morale. How can they face the tyrant now? They don't even have a leader. There was no hope for them, until Asher, who had been trained by Howard in case something like this happened, stepped up and named himself the new leader of the army, calling himself the "Voice of Treason" against Julian. The army's morale slowly climbed up, and eventually they all had gotten prepared once again. The rebels finally charged into the castle, bringing every single ounce of strength with them. Sadly, the tyrant saw this coming and rigged the castle to explode. Only half the army remained alive after the battle. Morale was low again, many had died, many injured, many mourned. On the way back to the base of operations, the tyrant himself had showed, and killed 1/3 of the remaining army. Enough was enough, and the trio of Asher, Aero, and Eliza had challenged Julian. They won after a hard battle, and the Devil's army had dispersed.
Asher was crowned king, which he actually didn't want. His first order of business was to track down the Devil's Immortali and kill them. The first order was never completed, as the targets had disguised themselves as God's Immortali and sparked a revolt on the humans' side. Asher tried to settle it peacefully, sending in his two friends (Eliza was now his lover, and they had became a romantic couple) to become diplomats. They never came back, as the Devil's Immortali gave the humans a way to kill the God's Immortali's troops. Asher had stepped down from the throne without a word. It wasn't worth it anymore, not to him. He can't injure the humans, but they can injure him. Asher might as well give the power over to them.
And thus, the God's Immortali's reign had ended so soon after it had started. God had hidden away the age of the Immortali, and pulled the earliest "Men in Black" by erasing all of the humans' memories of the race. Only Asher remained, but as a hidden vagrant. The only thing worth living for him, was the progression of human society. Asher lived through history, fulfilling different roles. A troop from World War I, a slave working in the mines, or a gentleman from Great Britain, Asher lived as many people, but still kept that one identity to himself: Asher Evans.
2013
Asher had roamed the earth far too long. Everything's the same now. To him, what has been keeping him alive- the curiosity of following the advancements of the human race- had fallen. It seemed now that everyone was doomed to violence and sadness in the towns. It was time to move on and try to find some way to live again. However, before that could actually happen, one more incident had occurred.
Asher watched as New York began to shake and crumble, an unnatural earthquake shook through the popular city. A beam hit him, knocking him out. When he woke up, nothing was the same anymore... at least in Japan. He hasn't been in that country since the Cold War.
---
---
The Immortali are a race that was erased in history. It was made by God and the devil, in desperation to protect or destroy the human race during the Middle Ages. The whole race is split into 2 sides, God's side and the Devil's side. Both sides are made from those that had died, and swore that they would defend the humans or kill them. They all get the ability to control and manipulate certain aspects of an element. Sometimes it's a passive ability, such as control of Air allows you to run faster. usually it's open control, like using water and light for healing or creating icicles out of nowhere.
Each side is split further into 3 ranks: the normal, the Elder, and the Master. These ranks each have their own max point of how much you can manipulate. The Master can control the most aspects of each element. However, light does not count toward this restriction for God's Immortali, and darkness is the same for Devil's Immortali.
The entire Immortali race can control the age of their own bodies, and are not affected by the sands of time. Their bodies can withstand many death blows before dying, but anything that is supernatural would mean that the Immortali are vulnerable. This includes angels, demons, spirits, and themselves. Immortali are the most vulnerable to each other.
In some cases, Immortali can control elements that relate to their side or their opposite side. (i.e. Asher has control over darkness, or the shadows) Because of controlling the other side's element, they develop a split persona that embodies values against the host's. In most cases, this alternate side would try to take over the host, especially after using the required element too much. The alternate persona looks like its host, but has some minor changes in appearance (silver hair turning black, for instance). At this moment, the host must fight for his/her body back, but it may happen again.
There are also rare times in which this "dark side" would willingly lend power to its host. The host gains a mix of both his/her appearance and the dark side, as well as a somewhat unrestricted use of the element. However, this is countered by extreme exhaustion once the moment has gone by, and the user is left vulnerable.
---
---
Relationships:
Damion Howard:
"My mentor, and the one whom I inherited the title 'Voice of Treason' from..."
After Asher died, he had resurrected into an Immortalis. The thing is, however, is that he had nowhere to go. Damion is also an Immortalis, and also the leader of a rebel army. He recruited Asher, housed him, fed him, and practically taught Asher everything he knows today about battle. You can say Damion was Asher's father figure.
Eliza Lassar:
"... I don't want to talk about her..."
Eliza was Asher's childhood love, and that love carried on throughout his entire life in the rebel army. She stood by his side, comforting him, and she loved him back after turning into an Immortalis herself. She was lost again in a diplomatic mission, which caused Asher so much grief that he stepped down from the throne he once took.
Aero Lance:
"You can't complain about your family being airheads, but your friends.... Yeah."
Aero was Asher's best friend in Asher's early life as an Immortalis and human. He was missing in action during a mission under Asher's rule. However, Asher did see a reincarnation of Aero many times, implying that he died.
Character Thoughts Towards Others:
Aria Deomon:
"I have no idea what you are talking about..."
Yuu Kokonosuke:
"I don't know her either...."
[url=http://www.roleplaygateway.com/roleplay/the-paradox/characters/mikasa-clark]
Mikasa Clark:
[/url]
"Are you done yet? I'm getting bored of this game..."
Riye Wakahisa:
"..."
Kei Wakahisa:
"So is this some kind of brother to the last person?"
Patrick Iodne:
"Sounds Irish, but I'll need to see him to make sure."
Joshua Edward Rowan:
"I told you I don't know these people... now would you st- stop. 'Joshua Edward Rowan...?' I've heard rumors about this one guy... Almost got a mission to exorcise him, but, I only was told that through rumors. I never met him though, so I'm not sure if he actually was the infamous demon people know him to be..."
Naomi Kosatsu:
"Hell should I know?"
Lei Eton:
Asher sighs.
Ariana Ahikito Kaizuke:
"Listen; I don't know any of these people. Stop bringing them up."
Ryu Koizumi
"Who are you talking about...?"
Ian Emanuel Erian:
"I said stop giving me these names DAMNIT! My patience runs so long.... Especially with you."
Casimir Uri Tripp
"Who...?
Maya Tsukiji
...
Bernard Carrion Talon
...Eh...?
---
---
Theme Song:
Draw the Emotional - Septtete for the Dead Princess Remix
Lost Prophets - Everyday Combat
Rise Against - Savior