---
---
---
---
Name:
Ian Emanuel Erian
Gender:
Male
"... Really?"
Age:
18
Time:
3400
Written Description:
Ian is blonde with blue eyes. He has pale white skin, though it's conflicted with the dark clothes he wears. Usually, he is seen in public with a pair of jeans and a hoodie, a random T-shirt is what was under the jacket. Ian wears a warm smile that can remove any hostility towards him, and even the air he gives actually calms down most people. In rare times, there's a mischievous glint in his eyes.
Role:
Future
Sexual Orientation:
Heterosexual
Nationality:
"..."
He's a ghost. Ian has not associated himself with any of the warring nations, nor would he associate himself with the neutral ones.
Race:
Future
Job:
Soldier
"Want another grave filled? Give me a call."
Height:
5"6'
Weight:
110 lbs.
Abilities:
Wire control:
This is one of Ian's most prominant traits- his ability to control several wires as if they are an extension of his body. These wires are able to cut into steel and cut through weak defenses. They serve as a versatile weapon, trapping opponents, tripping them to buy time, or practically cutting off a few limbs. It seems, however, that if a string is cut, there would be some injury happening on Ian's body. The more strings cut at a time, the more wounds Ian gets. Cutting too many strings would theoretically cause death, but not even THAT has been tested out to similar subjects.
Ghostly Movement:
Ian is able to move stealthily through any area, not any noise. However, he's not going to be able to attack so effecitvely should he be attacked concentrating on stealth.
Passive Abilities:
Slow Down:
Not really slowing down time, but during battle (and especially if Ian's looking through the scope of a sniper rifle), Ian's brain has the tendancy to slow down time, somewhat helping the assassin concentrate in focusing into his target.
Eagle Eye:
Ian, as a sniper has developed a pair of excellent eyes. He can spots a ladybug on a single blade of grass from a hundred miles away. It's hard to hide things when conversing with him.
Weapon:
Blink:
A sniper rifle, standard model for all military snipers. Ian's sniper rifle, however, is able to aim a mile away and is extremely devastating, even to armored targets such as tanks. Testing with thick metal shows the bullet penetrating through 9 inches with one shot from this rifle.
Twin Firestorms:
A handgun, modified to shoot more rounds per minute than any other. This doesn't go well against armoed enemies, but it can be useful in a fight with machine guns.
Nero:
A sword that can cut through most steel that tries to guard against it. Ian uses this sword in the case of having to fight up close, though he's not too good with the sword.
---
---
---
---
Personality:
Ian is warm and welcome to any stranger that approaches him. He is a great friend, and he basically makes a ton of jokes (even if they are horrible). And, yes, he will prank friends. He can get things done easily, and he can if commanded to. As a soldier, Ian is loyal to the end, especially to his friends. He follows the motto "No man is left behind."
Of course, Ian is also more used to receiving orders rather than taking them. He's not used to the leadership spotlight, so... he can faint if everything falls upon his shoulders. But, should a friend be in danger, Ian is not hesitant to give his life to protect them. In fact, should push comes to shove, Ian can get serious enough to act outside his zone of comfort, and maybe be temporary leader.
In battle, Ian likes to play it safe from a distance. He rather snipes down opponents (or at least weaken them) from a rooftop. He likes to make a lot of traps if being chased, or if he's camping. Ian knows how to play from mid-distance, but that's it. Up close, Ian is vulnerable to attacks, even with his sword. He isn't that good in close-quarters combat, especially when empty handed.
Likes:
+Sniping
+Shooting Ranges
+Anime and Manga
+Video Games
+Jokes
+Playing Pranks
Dislikes:
-Lame senses of humor
-Fighting up close
-Using a non-long ranged weapon
-Having to confront problems
-When plans go wrong
Fears:
-Being forced to fight hand-to-hand
-Allies dying
-Himself dying
-Being out-gunned and out-numbered in a gun fight.
Talents:
+Excellent marksman
+A gamer
+Guns are his life
+Ranged combat
+Loyalty to his friends
+Trapping
+Wire control
Flaws:
-Horrible melee skills
-Sometimes jokes are just plain horrible
-Damamging wires are damaging to Ian himself
---
---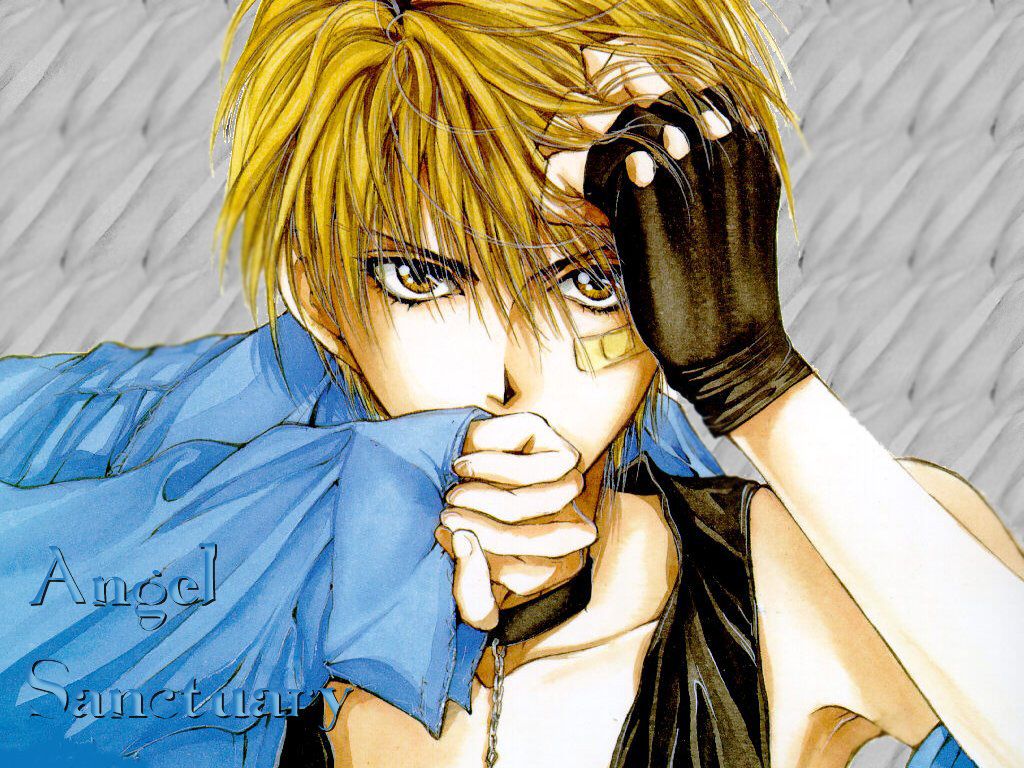 ---
---
Bio:
A world of warfare calls for desperate measures. Earth had gone into war with itself, and governments are taking unlawful extremes to win the war.
Ian was apart of this. As a child, he was a recluse, playing video games and watching anime and reading manga. Of course, he attnded school, but Ian never really was sociable. It wasn't until his later childhood that a friend got him to go out into the world.
This friend was Devin. She practically dragged Ian out of his room (with his parents' approval) and forced him to play with her friends. Surprisingly, it was a blast to him, and Ian came out more and more until he became the greatest friend anyone can have.
Of course, in his early teenage yers, things went haywire as the government began to recruit younger people into the army so that the army would be able to continue to fight. Ian was drafted and, to his dismay, was forced to go through the process.
Boot camp was hell for the young man. His age didn't give Ian any special priviliges. However, another person named
Mikasa
inspired Ian to work harder. One of the people in charge if the boot camp,
Ellen
, caused Ian to be prepared for war.
With Mikasa, Ian mentally created a one-sided rivalry between them. Even though he never made any moves to get her attention, Mikasa noticed his behavior and tested him repeatedly. They eventually respected each other, and were determined to not leave the other person behind in the hellhole.
After boot camp was over, they were seperated for most their time in the war. It wasn't until Ian made it into a certain division that Mikasa was also in. They smirked at the sight of each other's faces, and they nodded at their promise again. Leave no one behind.
And so, Ian's term in the division brought the two together, but at the end, Ian had to leave Mikasa to go to a team dealing in stealth. Most of his missions consisted of sabotage and sneaking in to get intelligence. Ian quickly grew accustomed to doing certain movements to keep himself hidden, and he was able to fit in easily amongst the members of the team.
Of course, everything went wrong when an earthquake struck the team's next mission location- in the middle of it, too. Ian was knocked out, only to wake up in a completely different period...
Other:Relationships:
Ellen Vince:
"Huh... I wonder if I should curse him or thank him."
Boot camp instructor, made Ian able to go into battle and fight without being able to faint at the sight of so much blood. Of course, he still gave Ian hell.
Devin Waltz:
"Ah... My first actual friend."
Close childhood friend, though he didn't follow Ian into the army. Devin allowed Ian to be sociable, unlike his past self.
Mikasa Clark:
"I've seen her around."
Ian smirks.
Ian and Mikasa went to the same boot camp, urging each other to keep going throughout the program. They had a sense of loyalty to each other, and are not willing to leave boot camp without their friend.
During the war, they met again on the same division, Ian assigned as a sniper while Mikasa had the front lines. Again, they showed their support and loyalty to each other, as well as the rest of the division. They helped and comforted each other in times of need. Their friendship stayed to the last moments of the division, when they had to go their own ways.
Character Thoughts Towards Others:
Aria Deomon:
"I have no idea what you are talking about..."
Yuu Kokonosuke:
"I don't know her either...."
[url=http://www.roleplaygateway.com/roleplay/the-paradox/characters/mikasa-clark]
Mikasa Clark:
[/url]
"Hm...? Mikasa...? Where have I heard of that name bef- WAIT. Mikasa CLARK?! Where is she? It's been so long since I've seen her!"
Riye Wakahisa:
"Sorry."
Kei Wakahisa:
"Er...."
Patrick Iodne:
"..."
Joshua Edward Rowan:
Ian shrugs.
Naomi Kosatsu:
"Next."
Lei Eton:
"Seriously? Who are these people?"
Ariana Ahikito Kaizuke:
"We're done? Good Lord that was awkward!"
Ryu Koizumi
"Is that... an anime character...?
Asher Lucian Evans:
Ian facepalms.
"MORE?!"
Casimir Uri Tripp
"Who...?
Maya Tsukiji
...
[url=http://www.roleplaygateway.com/roleplay/the-paradox/characters/bernard-carrion-talon]
Bernard Carrion Talon
[url]
...Eh...?
---
---
Theme Song:
The Crystal Method - PhD
Waterflame - Ricochet Love
Joe Satriani - Attack