"Abraham Lincoln once said that at the end of the day, it's not the years in your life, but the life in your years. So, why live every day afraid of the unknown?"
Astronomical || SVRCINA | Deeper || SVRCINA | Ghost || Jacob Lee | Oceans || Jacob Lee
____________________________________________________________________________________________________________________________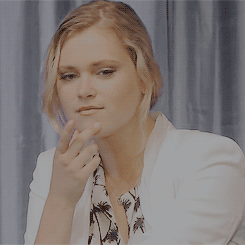 NAME
Kalani Ferryn Piers
NICKNAMES
ஜ

Kala

//

Common

//

Used mostly by friends back on earth. Kalani usually goes by her full name with other people who are not good friends



ஜ

Kalie

//

Uncommon

//

Used by her mother before she died. If Kalani lets you call her Kalie she really trusts you. Her sister is the only other person allowed to use the nickname
AGE
Twenty four
BIRTHDAY & ZODIAC
// February //ninteenth //Pisces //
GENDER
Female
SEXUALITY & MARTIAL STATUS
Heterosexual

//

Single
DIALOGUE COLOR
#A6D785
____________________________________________________________________________________________________________________________________
---
APPEARANCE
---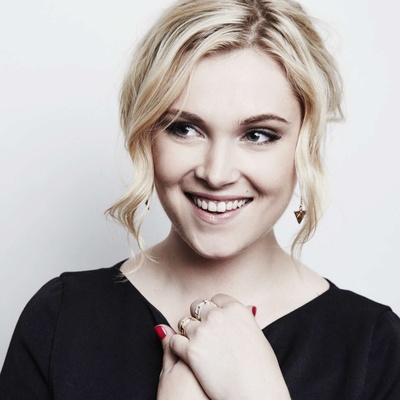 HAIR
Kalani has beautiful blonde hair that falls in waves a couple of inches past her shoulders. She has occasionally cut it short, but prefers for it to be longer.
EYES
Kalani's eyes are a stunny blue that usually catch peoples attention first. Depending on the light here eyes can darken into a more sapphire blue, or lighten to more of a grey blue.
HEIGHT & WEIGHT
About average 5' 5"

//

110 lbs
ETHNICITY
American

//

Australian
____________________________________________________________________________________________________________________________________
---
PERSONALITY
---
Kalani has always had an unchallenged love of the world around her. Most would say she loved the world with a childlike innocence that she never lost. When her mother died that shifted a little bit, but she still tries to see the best in everything and everyone around her.


Kalani has always been what most people would call an open book, she doesn't try and hide anything. However, she isn't as open as she would seem. She always says that she is an open book, you just have to ask the right questions. If you don't ask her, she won't tell you. Especially if it has anything to do with what happened to her mother. Kalani never fully processed her mothers death. It's often an extremely hard topic, because of the trauma. She doesn't like talking about it.
Kalani has always been a little bit sarcastic, and is historically known to be a stubborn as a mule. If you want her to change her mind you better have a ten-page essay on why she should change her mind. Along with that stubbornness comes her independence, she tries not to rely on anyone for anything and often that makes it hard for you to offer her help if you think she is struggling, and makes it even more difficult for her to reach out for help in times of need. 


Growing up Kalani has always had a thick skin, very little fazes her and it truly does take a lot to upset her in anyway. She can count on one hand the amount of people who have seen her cry, and that number gets even smaller when it comes to who has seen her fully breakdown. 


Kalani has been very hurt in the past by ex's and even people she used to call her friends. Despite that she still wears her heart on her sleeve, and if she loves you, you will know. She would go to the ends of the earth for someone she loves, to hell and back even. If it came down to it, she would take a bullet for those that she cares about.
Kalani has quite the adventurous side to her as well. She loves to explore and see new things, climb to the top of mountains and see the world. She has a wild heart, and that wild heart and he love of adventure is what brought her to the Avalon.
____________________________________________________________________________________________________________________________________
---
DETAILS
---
LIKES
ஜ

Music - Kalani is musically inclined, though her instrument of choice is the piano she can also play the Cello, and Flute.
ஜ

Midnight walks - Kalani has always loved the stars, she finds them beautiful, distant, gentle, but powerful at the same time. She will and has stayed up for hours simply looking at the night sky making midnight walks a regular activity when she is unable to sleep.
ஜ

Reading - Kalani has always been an avid reader. She can often be found deep into a good book if she isn't working or doing research
ஜ

Changing seasons - The seasons are Kalani's favourite thing about earth is its changing seasons. She loves seeing the world go from cold dry and dead in winter, to green, lush and full of life in spring, to the hot days of summer, and the ever changing leaves in autumn.
ஜ

Oversized sweaters - When buying a sweater of any kind, Kalani usually goes for a size that she knows is a bit big for her, or far too big for her. She loves curling up with a book and a cup of tea, in soft pyjama pants and an oversized sweater.
DISLIKES
ஜ

Loss - Ever since her mother died, Kalani has had this fear of those she cares about dying. Loss is one of the things Kalani hates most about life. Loving and then losing.
ஜ

Feeling of Helplessness - Kalani doesn't like relying on anyone around her. Therefore, the sense or feeling of being helpless makes her stomach twist and turn.
ஜ

People who think they are better than everyone else - Kalani's journey to the Avalon showed her that every person is equal, that every person matters whether they have a medical degree, or are a farmer. People who think they are better than others because they have more money or have a better degree make her skin crawl.
ஜ

Spiders - Kalani is a huge arachnophobe. Any kind of spider no matter how big or small will make her leave the room.
____________________________________________________________________________________________________________________________________
STRENGTHS
ஜ

Clever - Kalani is a fast thinker, whether it be to get her out of a situation or solve some sort of problem.
ஜ

Determined - Kalani doesn't give up on anything easily. That is if she gives up on it at all.
ஜ

Trustworthy - Kalani is good at keeping other peoples secrets. She is the kind of person that would take a bullet for you without thinking about it.
ஜ

Brave - Very little scares Kalani. She has been in a few dangerous situations in her life and they have barely fazed her. She's the one that runs back into a burning building.
FLAWS
ஜ

Stubborn - Kalani is an extremely stubborn person. If her mind is set on doing something, it takes a lot to change her mind.
ஜ

Pushes herself too hard - Kalani is a very hard worker, but she doesn't always know when to stop. This often leads to her running herself into the ground, making her prone to getting sick, and being completely exhausted.
ஜ

Mental health - Kalani has anxiety which can fluctuate in severity. She rarely takes care of herself mentally and tries her best to ignore it which can often worsen her symptoms.
QUIRKS
ஜ

Lip biting - More often than not, lip biting is a symptom of her anxiety. Though Kalani can also be seen biting her lip when she is extremely focussed on something.
ஜ

Talking to herself - Kalani is used to dictating everything she does. This results in her talking to herself as she works, since she is used to talking to a speech to text device for her work.
____________________________________________________________________________________________________________________________________
---
HISTORY
---
[center]
Kalani is the oldest of two children born to Lucah Piers & Emily Piers. Even as a child her parents had high expectations of Kalani. She came from a very long line of world renown surgeons, doctors, and researchers. Schooling has always been the most important thing in Kalani's life. It came before friends, after school activities and sometimes even her family. Thats how her parents chose to raise her, and it turned Kalani into a very studious child, but it also had its consequences. Kalani quickly turned into a perfectionist, everything had to be perfect or it would cause her anxiety, a problem she has never really gotten over.

Unfortunately, when Kalani was twelve, her mother, her six year old sister May, and herself were involved in a motor vehicle accident. They were hit by a drunk driver and the car rolled three times. Kalani's mother died at the scene, while Kalani and May survived. The loss of her mother really hit Kalani hard. While both of her parents were strict and had their standards, Emily was a little bit softer with her girls. Her father never was. It was always about business with him. With her mothers passing, Kalani lost that little bit of softness in her life.

As she grew up, Kalani became more and more like a mother figure to her sister May. While her father threw himself into his work and was hardly ever around, leaving the two girls with a nanny, Kalani would help her sister with her homework, help cook dinner, and get her ready for bed. Kalani grew up a little bit too fast and lost a good chunk of her childhood, but it made her a very mature and determined person. It taught her that she could get through anything and do anything she put her mind to.

After graduating med school at the age of 23. Kalani went on to work as a trauma surgeon at one of the worlds best hospitals for a year. Half way through that year, she heard about the Avalon, and the 120 year journey that 5000 people were given the opportunity to take, to start a life on Homestead II. Kalani decided that she was going to apply to be one of the passengers. It was her next great adventure, she could make a difference somewhere else. She was placed into a hibernation pod at the age of 24.
____________________________________________________________________________________________________________________________________
---
FAMILY TIES
---
ஜ

Lucah Michael Piers

//

Father

//

Forty-Six At time Kalani was placed into the hibernation pod

//

Alive



ஜ

Emily Josephine Piers

//

Mother

//

Thirty-two at time of death

//

Deceased



ஜ

May River Piers

//

Sister

//

Eighteen at time Kalani was placed into the hibernation pod

//

Alive
---
---