~
~Ningen no Kami~
It's 2073, you're walking home from school, and you notice that there are weird black chunks in the walls and ground and that the sun is orange. You've constantly been hearing screeches in your ears from time to time, and then you curiously stick your hand in one of the black chunks and remove it, only to see that your hand has disappeared. You begin to freak out, like any normal person, and then that's when everything around you begins disappearing into the deep, endless, darkness. Screaming in terror, you try to move your disappearing legs as your body is being deleted. Just as the last cell of your body disappears, your eyes snap open and you realize you're in a giant tube filled with bio-water, which is what keeps you alive. You see that your hair is freakishly long, and that you're also stark-naked. You look around and see six others, just like you, who are also waking up in terror, and naked, but luckily, their hair is their personal curtain. You float there and try to figure out your whereabouts, the situation, the time, and most importantly, how to escape.
~Humans~
The jingle of your house keys ring in empty, desolate, cold, building called your home. Your mom/dad is still at work, apparently doing some important high-maintenance project, and he/she is a world-renowned scientist. You silently slip past the maid who's unaware that you've returned home, and go to your mother/father's office in curiosity. Of course there's a hidden safe that has the newest IRIS security system and being the curious teen you are, you open it using a fake eye that your mom/dad has prepared just in case. As the door silently swings open, you see the usual, a huge bundle of cash, And slip some in your pocket. You carefully push aside the cash and you find a chrome cube with one big button on it and of course, you grab the object and press the button. A hologram screen appears and it's apparently the rumored prototype iCube by Apple. After aimlessly looking through passports, IDs, passwords, the usual. Until you find a unit called Project Ningen no Kami [TOP SECRET]. You tap on the hologram and of course, a password pops up. You go back to the password unit and find the password for Project Ningen no Kami, which is "Cho Jintekina", and then that's when you find out. There are six teens, all around your age, that have been raised as a new human species, Ningen no Kami. Horrified of how perfect they are bound to be and most likely to be used for evil purposes, you plan on stripping them of all of their inhuman qualities.
Okay, if you didn't understand the introduction and the summary, then here's all the info you need!
~Ningen no Kami~
You are referred to as the "Ningen no Kami", a new species of humans that human themselves have created. Ningen no Kami are humans that are basically good at everything, but not perfect, just to keep the human in you. The Shikenkan is the "womb" that has been raising you from since you were simply an embryo. Of course, scientists have genetically altered you to look beautiful in every aspect, but you are a purebred of a certain race (YOUR CHOICE!), so your previous personality and looks no longer exist. You were designed to be "born" once you have turned 18, but unfortunately, you have left the Shikenkan prematurely, so you are "born" with faults, which vary on severeness and type. Luckily and unfortunately, during your first attempt to escape, a scientist caught you, giving you a shot that will gradually deteriorate your lack of emotions, BUT the speed of deterioration varies on the severity and weather your body is rejecting it strongly. Either way, the medicine will find its way to work.
~Humans~
Now here's where there's another type of people well known as the "villains." (Haha, lame joke, I know.) Well, they do not have to be necessarily EVIL, but you DO dislike the Ningen no Kami, your impression on them being outsiders of the world since they are man-made. Deep down inside, you actually ENVY the Ningen no Kami for being so perfect, and as a result, you mistake this jealousy as hate. You believe that the Ningen no Kami have distorted personalities since they are not human (in your prospect), and mistake them for being evil. Thus, you plan on hunting them down with the information that is concealed within the iCube, and of course, you will be meeting others like you.
Setting
Okay, this RP will begin in early January, and will of course be in Tokyo, Japan. The big difference is that, this Tokyo has gotten quite out of hand, to the point where rape is basically normal, which makes most normal girls strong in order to protect themselves. Of course, there are police, but they don't seem to helpful right now, and the yakuza? They no longer exist. Nowadays, fashion is a bit more on the eastern side, but is like a mash-up of western and eastern style clothing, though western clothes tend to be more popular. School begins during the spring, as usual in Japan, and the biggest trend? Watching live fights. Flights take about half the time as it did back in 2012, and cars are more ecofriendly, but costly ever since the United Nations officially banned gasoline-powered cars back in 2046. It's quite normal to find a gun in a middle-schooler's backpack for security purposes, but can only be used if the special danger detecting lock is off.
School
~Seisei-Hofuna Academy~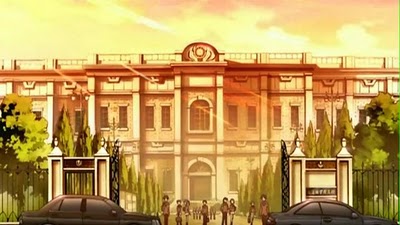 Humans MUST go to school at least at the beginning. They are free to drop out, and Ningen no Kami are free to join school using their amazing abilties. This school is well-known for having the elites, the rich kids, and the famous. 90% of the school is made up of rich kids, of course the Humans of this RP are in the 90%. In this Academy, you can go to any class, any time, as long as you pass the daily requirements each teacher gives (ex. You must be in class for 40 minutes and pass the daily quiz) and you go to at least 4 different academic classes. As for electives, you have:

Orchestra
Band
Choir
Art
Culinary Arts
Study Hall
Photography
Dancing
School starts at 9:00 AM and ends at 4:00 PM. There is a charter school bus to avoid getting pestered and harassed for money, or you can walk home, or you can take your private vehicle.
Home
Well, Humans get to have expensive mansions, and Ningen no Kami will find some way to survive. So GOOD LUCK. :)
Q: Do you accept reserves, and if you do, for how long exactly?
A: Why yes, we DO ACCEPT reserves and reserves last for 2 DAYS. If you would like a 1 day and 1 DAY ONLY extension, please PM me!

Q: When will the RP start?
A: Once the characters have been all turned in, JUST TO MAKE SURE, I will do a role call to make sure that the people are DEDICATED and will be able to post!

Q: Will we have weapons? >:3
A: YESSSSSS. >:33 That's why there's the tag "action."

Q: What is the most recommended website to find anime pictures beside Google Images?
A: Why that would be zerochan.net! THAT WEBSITE IS AMAZING I TELL YOU.
~Ningen no Kami~



Male 1: Specialty: Sports- Inoue Shin (TnevdaNai)

Male 2: Specialty: Technology- Karasu "Crow" Hōno (Annaky)

Male 3: Specialty: Combat- Susumu Riku (Ashes-6695)

Female 1: Specialty: Culinary- Ryori Miki (SunniBunny)

Female 2: Specialty: Music- Hitori Ayumu (Tsukiakari)

Female 3: Specialty: Art- Ayano Aoi (DreamerOnTheStars)
~Humans~



Male 4: Talent: Photography- Masanori Satoshi (Skwidge)

Male 5: Talent: Sword Fighting/Engineering- Shirasaki Yuuka (Mat_z6)

Female 4: Talent: Singing- Mai Hishima (Adoda)

Female 5: Talent: Gardening- Oren Kovalenko (VitaminHeart)
HERE IS THE SKELLY:
~Ningen no Kami~
Code: Select all

Name:

Nickname:

Role:

Age (14-17):

Gender:

Appearance (Whatever ISN'T in your picture like your general facial expressions):

Love Interest: TBA

Sense of Fashion:

Height:

Weight:

Color:

Occupation:

Likes:

Dislikes:

Fears:

Hobbies:

Catchphrases:

Fake Life History (The life you lived up until the truth was revealed):

Secret:

Severity of Faulty Emotions(Explain):

Picture:
[img]INSERT ANIME PIC HERE[/img]
~Humans~
Code: Select all

Name:

Nickname:

Role:

Age (14-17):

Gender:

Appearance (Whatever ISN'T in your picture like your general facial expressions):

Love Interest: TBA

Sense of Fashion:

Height:

Weight:

Color:

Occupation:

Likes:

Dislikes:

Fears:

Hobbies:

Catchphrases:

History:

Secret:

Picture:
[img]INSERT ANIME PIC HERE[/img]
1. NO GODDMODDING.
2. Post at LEAST ONCE a week!
3. No Mary-sues!
4. Be ORIGINAL.
5. Feel free to have forbidden love of ANY type besides falling in love with your violin or something.. o.o
6. Write AT LEAST a paragraph.
7. Cursing MUST be cenored. (ex. Sh*t!)
8. Rather... Graphic/Rated R scenes are allowed, but please ONLY SHOW THE BEGINNING, then black out.
9. BE FRIENDLY! :D
10. Be LITERATE! :3
Arcs are bundles of posts that you can organize on your own. They're useful for telling a story that might span long periods of time or space.
There are no arcs in this roleplay.
There are no quests in this roleplay.
Here's the current leaderboard.
There are no groups in this roleplay!
Welcome home, Promethean. Here, you can manage your universe.
Arcs are bundles of posts from any location, allowing you to easily capture sub-plots which might be spread out across multiple locations.
You can create Quests with various rewards, encouraging your players to engage with specific plot lines.
Settings are the backdrop for the characters in your universe, giving meaning and context to their existence. By creating a number of well-written locations, you can organize your universe into areas and regions.
Navigation
While not required, locations can be organized onto a map. More information soon!
There are no groups in this roleplay!
By creating Collectibles, you can reward your players with unique items that accentuate their character sheets.
Once an Item has been created, it can be spawned in the IC using /spawn Item Name (case-sensitive, as usual) — this can be followed with /take Item Name to retrieve the item into the current character's inventory.
Give your Universe life by adding a Mob, which are auto-replenishing NPCs your players can interact with. Useful for some quick hack-and-slash fun!
Mobs can be automated spawns, like rats and bats, or full-on NPCs complete with conversation menus. Use them to enhance your player experience!
Current Mobs
No mobs have been created yet.
Locations where Mobs and Items might appear.
You can schedule events for your players to create notifications and schedule times for everyone to plan around.
Add and remove other people from your Universe.
The Forge
Use your INK to craft new artifacts in The Perfect Race. Once created, Items cannot be changed, but they can be bought and sold in the marketplace.
Notable Items
No items have been created yet!
The Market
Buy, sell, and even craft your own items in this universe.
Market Data

Market conditions are unknown. Use caution when trading.

Quick Buy (Items Most Recently Listed for Sale)
Welcome to Tokyo.. Will you survive out here looking like that little gaki..?
Welcome to Seisei Hofuna Academy! Safety is guaranteed on campus grounds, so please refrain from using weapons of any kind.
Discussions
Topics

Replies
Views

Last post
Most recent OOC posts in The Perfect Race
There have been no posts in the OOC topic for this roleplay!