• Twenty two years old • Female • Demisexual • Singing Doll- Bassist •
---
---
---
---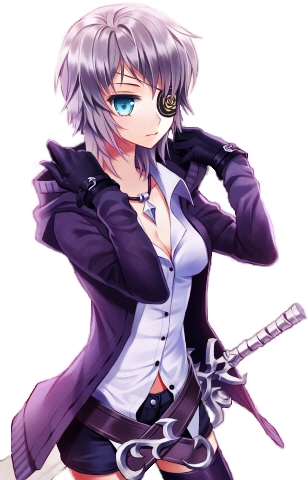 ☉ Description ☉


Five feet, two inches
116 lb.

Kaede, in an essence, has the features of a doll. Her form is curvy and slim- a form envied by many. The structure of her face is slightly heart shaped and her skin is soft and smooth; the shade being a pale yet creamy ivory. Her lips are a natural color of pink and are usually pursed together in a thin line. Her teeth are naturally aligned and a pearly white. No one has seen her teeth as she has never smiled wide enough around anyone but her past lover. On multiple occasions she has thought about getting her canines sharpened... to allow some better experiences. Her nose is rather small and pointed on the tip. The length of her ash hair lightly brushes her shoulder. Usually, the soft hair is left alone aside from being brushed lightly, the only restriction being two clips on the right side of her face holding her bangs in place and a third on the left doing so as well. Every now and then she will gell her hair down where the tips will rest on her shoulders. She's tinted hair in colors of light blues and purple tints. She has the small tattoo of a bat engraved onto the inner thigh of her left leg. Kaede has heterochromia; multicolored eyes. Her right is a sharp, piercing blue while the other is a violet red. Kaede is always seen in public with an eye patch covering her left eye, though around the mansion where the Dolls and Poetaster lives she sometimes reveals both eyes.

What lies in Kaede's closet runs with the goth-punk crowd. She is almost seen in dark tights and long sleeves along with some sort of accessory adorning her neck. The colors of clothing usually run around dark blues and purples and light blue undertones. No matter the situation, Kaede will always be seen her usual standards of dressing; she is never seen in vague and uncharacteristic clothing. It's actually a vague pet peeve of hers when others don't really put the effort into what to wear like she does.
---
---
☉ Personality ☉


Kaede is the most silent and secretive of the Singing Dolls. She finds it very difficult to trust people and will not let people easily know what's going on in her mind or life. She is sensible and knows her place in the mansion. She will carry out the Poetaster's orders without so much as a peep of protest. Though, when given the chance, she will show only the smallest signs of hatred and rebellion towards the Poetaster. She has not really been caught doing so. Around those she cares for, Kaede will tend to be possessive and jealous. And the jealousy more often than not disturbs her relationships with others and affects her peace of mind. Being an introvert, she will shy away from large crowds with glares and silence. Her strong will to prevent people from knowing more about her and lack of trust is what usually drives her to act with such secrecy and pessimism. As much as she will hide it, Kaede is sensitive and can get easily hurt by negative treatment and comments. She will carry a strong grudge or feel strongly towards the one who caused her pain, be it emotionally or physically. Although she is sensitive, she can become ruthless and will not allow emotions to come in the way, especially when she is supposed to take tough, firm decisions. Beneath her thick layers, Kaede is light-hearted and passionate, but not immature and careless. One to come across as mature and poised, Kaede is a pleasant personality to be with... after you've gained her trust. Trust is what ruined her life, and here, living in the mansion with the Singing Dolls and Poetaster, she hopes it will not ruin her life a second time around. You can trust Kaede, for she will always stand by you if she has promised she would, such events are rare though. Kaede is incredibly inuitive and can read the emotions of another person based on face, dialogue, and action. Of course, she isn't as good as good at reading and understanding emotions as Alexander, but she comes in with second place.

Kaede finds blood interesting. Human blood, specifically. After an incident when she was a child where she became curious and lapped up some blood from a wound for curiosity's sake, she found herself attaining pleasure from the taste, just the sight of it. It wasn't long until she hit puberty and began attaining sexual pleasure from blood. Renfield's syndrome is what she as. Better known as clinical vampirism. It is notably harder to keep her composure upon seeing blood and will need have the compulsive desire to drink it. Everyone in the mansion is aware of her oddity. In fact, many a times she will often be seen lurking around the mansion sipping on a blood bag.

A final oddity of Kaede is her need to wear some sort of accessory adorning her neck. It reminds her of the chains she wears. The way she is bound to the mansion, and thus the Poetaster. When she was given the chance to pick out her clothing, Kaede chose many necklaces and chokers as a form of rebellion, in the smallest, subtlest, and quietest way. The way the accessory is worn comfortably serves as the constant reminder that no matter how happy she will be in mansion, she is still bound by invisible ties.

Sexuality wise, Kaede only finds sexual attraction towards those she shares extremely close emotional bonds. She is somewhat a panromantic, as she doesn't identify her romantic interests by gender.

Kaede's feelings toward the Poetaster are mixed. In one way, she trusts him with her history and hopes he doesn't use it against her. In another, she fears him and just knows he will black mail her eventually when she does something wrong. It is this fear that keeps her obedient and partly the reason why she keeps to herself in the mansion.
---
---
☉ Likes ☉

♪ Security
♪ Music
♪ Freedom
♪ Blood
☉ Dislikes ☉

♪ Birds
♪ Being judged
♪ Attention
♪ Rainy Days
♪ Her past
☉ Fears ☉

☢ Losing those she loves; partly afraid of falling in love again.
☢ Oblivion; everything she will do/has done will all be forgotten and in vain.
☢ Avoidance; people leaving her.
☢ Black mail; she's just afraid of it. The lack of trust between the victim and black mailer is high.
---
---
☉ Power ☉
Intagibility|| Kaede is granted the ability to pretty much pass through solid material. She is able to vibrate their molecules into a new quantam frequency in order to fuse with the material as she moves through it. Examples of her power in action include: walking on water/air, ignore gravity,and ignore most physical attacks. She has tried on multiple occasions to walk through the walls of the mansion but finds the density of the walls too much for her body to fuse with. She is uses this ability best when it comes to stealth.
☉ Crush ☉
No one as of now. The only person she has ever truly loved,
Erika
, died two years ago.
☉ History ☉
TBA (Poetaster- How life was before you found out your power, maybe your explanation of how you got the power. Interesting moments with the Singing Dolls, so on. Singing Dolls- Life before you were a Singing doll, how you were kidnapped by the Poetaster, feelings toward the Poetaster, so on.