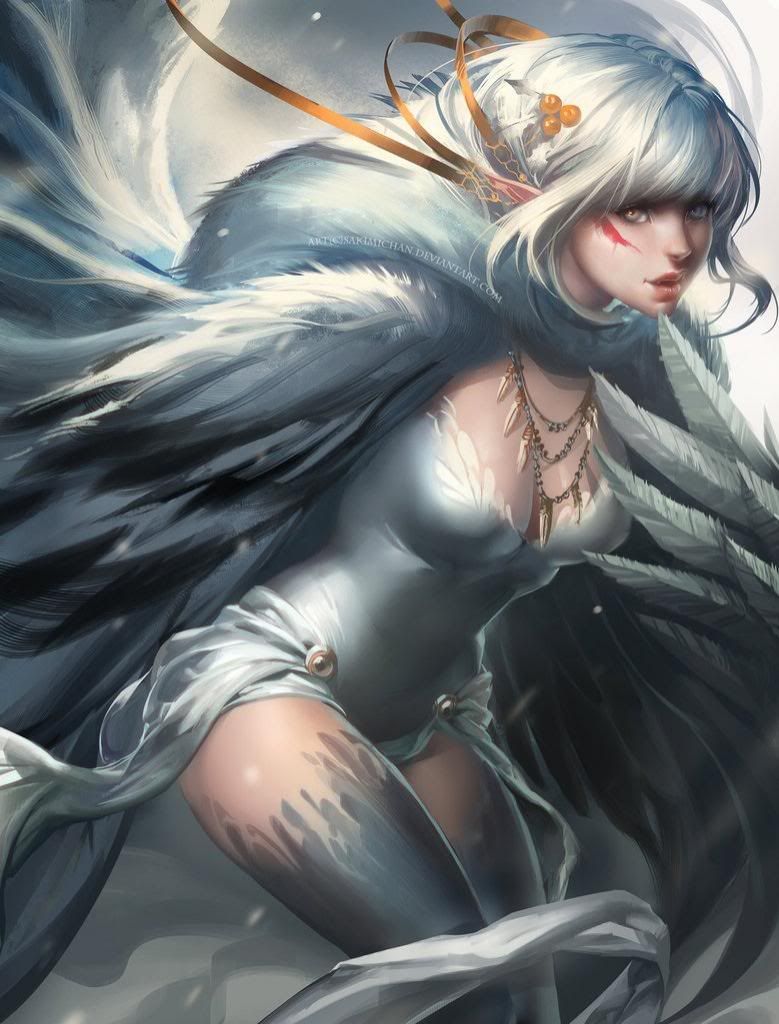 Name:
Celia Swift
Age:
The age of a siren is immeasurable due to their infinite life span. Roughly 50 years have passed since her birth
Sex and Sexuality:
Female and considered bi-sexual due to her sensual nature.
Species and Appearance:
Siren - close cousin of the Harpy. The Siren's have dipped in and out of human myth for a long time. A species of female close to the Harpy's with their bird-like features. Only, where Harpy's repel people, Siren's entice and mislead humans and other unfortunate creatures. With voices so gorgeous and otherworldly Siren's create discord and death wherever they sing. Certain Siren's exist in different places, the most commonly known, is by the sea but they live in clusters all over the place. Mainly places deep and undiscovered where people can easily be led astray. Sirens do eat meat, whether that meat orginally be from a human or an animal. It's easy to tell when you have passed into Siren territory by the discord of shipwrecks or abandoned possessions and the horrendous bone graveyards of unfortunate victims. Sometime there could well be fresh rotting carcasses laying around.
A Siren in it's true form has a beauty no human can hold a candle to. Celia has the body of a woman down to the knees, and the lower legs of a bird. Great, snowy white wings replace her arms, and her hands turn to sharp talons. She has wintery white hair that falls down to her bottom and intwined within her locks are more feathers. Her skin is mainly creamy apart from a silvery discolouring that crawls from her bird-legs to her upper thighs. Her teeth turn sharp and when pushed she can develop a very sharp beak.
Glamour appearance:
Celia's glamour needs to be quite a strong one but she struggles to do a complete glamour like all monsters who aren't used to using one. When wearing her glamour she manages to rid her body of it's bird-like features apart from a few feathers in her hair. Luckily this just makes her look eccentric.
Fortunately most of her skin is an ordinary creamy colour because she isn't very good at altering the colour. Her silvery coloured legs are still in sight but she covers this up with thigh high black socks for school. Celia still has her long, white hair and discoloured eyes, one duck egg blue and the other the same brown, orange of an owl eye. Celia has gathered a cover story for these oddities too.

Powers/ Abilities (if any):


FLIGHT & HUNTING: Celia can fly when she drops her glamour just like any other bird. She's a very skilled hunter and can be very dangerous when in the sky, like any bird of prey. Speed, agility and deadly precision are all skills she has. Her humane personality can drop away like a glamour if beastial instincts need to kick in.
SIREN SONG: Like any siren, she has the voice of an angel and can create sweet sounds to lure and entice those who fall within hearing distance. Her songs can be anything from haunting whispers, to clear, worded lyrics.
STEALTH: Alongside a sirens capability to create beautiful music, is the frightening ability to be silent. Celia can move in soundless ways whic is both eery and dangerous.
Personality:
Head-strong | Passionate | Outspoken.
Celia is a 10 stone, 5 foot 8 body of feminine fatale and she's aware of it. Siren's are hopelessly vain and she's no exception. You'll never find Celia far from her fine comb made of ivory. She constantly brushes and preens her silken waves and feathers like a bird. If you watch her long enough you'll see a compact mirror encased in Ivory appear so she can check her appearance.
On reaching maturity Celia's developed the defensive, frosty personality of a girl leaning towards the heavy side of life. Despite her curves making her drop-dead gorgeous, they've also made her suspicious of others. There's a fine line between curvy and chubby and she doesn't want anyone getting the wrong idea about her physique.
Vanity aside, she's intelligent, calculating and one of the girls you've got to look out for. There's a survival code in boarding school and she'll be one of the creatures you're trying to survive. She always has something to say, she's witty like that which is both a gift and curse. Outwitting an enemy one day, offending a friend the next.
Celia's wrapped herself in a shell of confidence and fiery passion over the years. It's difficult to tell what a persons truly like and you'll only see half a girl walking the halls of Warren High. She's secretly hoping to make some good friends, maybe even have a love interest or two otherwise the next few years are going to be lonely ones, and being alone isn't her strong suit.
Are you a friend or foe of humans? Or neutral?:
Humans have been both dinner and company to Celia in the past. It's safe to say she's never really considered a humans feelings or looked upon them as an equal. Perhaps going to school with them will change her views, or perhaps she'll just eat a few of them on the sly. She might even take advantage of a few, humans can be pretty, passionate little things sometimes.
History/ Other:
Oh the history of a modern day Siren is drizzled in naughtiness and lack of boundaries.
Olden day Sirens were know to cluster together, seeking isolated places that allowed for them to create a paradise and lead unfortunates astray in, jungles, vast forests, mountain ranges and coastlines.
Our modern day Siren, Celia, has so far led the life of a traveller. Leisurely going about the world, singing her way through freebies and life like some kind of deity. She's no angel and has at times slipped from one bed into another purely because she can, most would think she'd feel slutty and used but she happens to be the only one not being used. Despite her actions she still maintains such a classy edge, an edge all Sirens have.
This girl has been wined and dined by the rich, the poor, the young, the old, married, single, male or female, Celia has had them all. She has beautiful dresses, jewellery, perfumes- all gifts from her victims who were all too compliant with her wishes and desires.
Her adventures were cut short when her mother finally caught up with her on the road after 20 years of wayward behaviour. Long story short, Celia's mother Willow had decided it was about time Celia went to school and became a respectable lady.