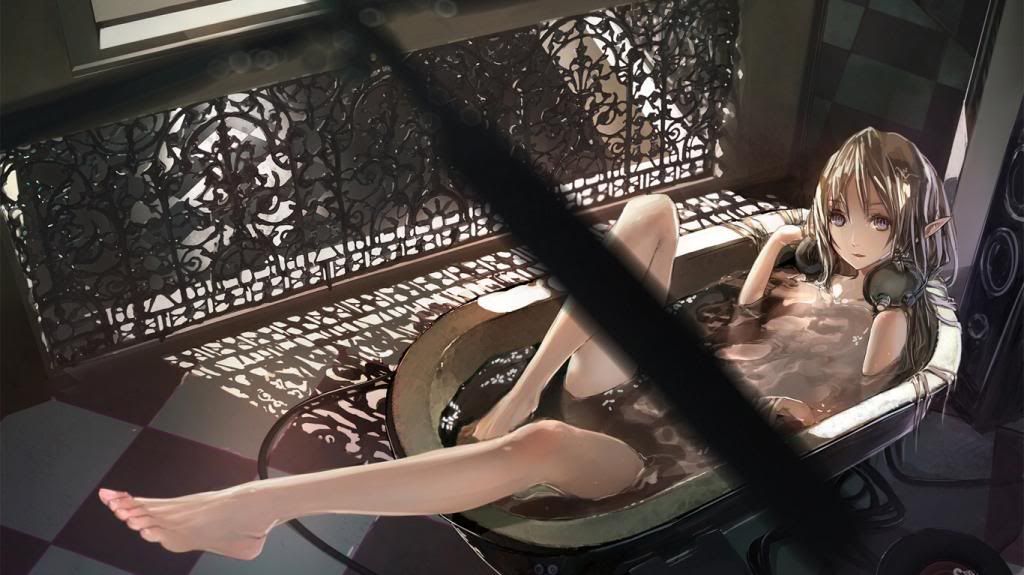 Name:
Winter lavine
Age:
16 years old (long life span, Elves age with grace)
Sex and Sexuality:
Female and straight.
Species and Appearance:
Elf:
A creature known for its grace, beauty and intellect. Portrayed in many human myths, stories and films as a superior and arrogant species that cherishes nature.
Winter, also known as Winnie, stands at 5'9 in height and will reach a staggering height of 6'4 or 5 once fully matured. She has glowy, pink skin, long limbs and a gorgeous little face. Her eyes are big and watery like she has a cold and the colour of silver and dusky purple; her cheeks and nose are usually rosey too. She has long, silver hair and the stereotypical pointy ears. Her feet are fairly large and the bottoms of her soles are tough. She's visually, a beautiful elf. Due to her species, Winnie is a vegetarian.
Glamour appearance:
Winnie's glamour isn't a strong one. It mainly disguises her Elfen ears, eye colour and the abnormal glow to her skin. With her glamour on she has no glow, normal ears and duller, grey eyes.
Powers/ Abilities (if any):
Natural Magic: The ability to use natures resources to create potions and remedies, magic from natural materials. It's usually a magic used by light elves but can be used to cause harm. It's ultimately a neutral magic that can be used to help or hinder.
The Art of Creativity: Elves are naturally creative creatures and that includes but isn't limited to dance and music, two things Winter treasures. She can dance all night in festivities and though her voice isn't the purest she still hums a note or two while bathing. She even makes clothing, dresses in particular. Her greatest joy is observing though and she will adore those who can preform for her.
The Art of Knowledge: Winnie is very intelligent, and her love of knowledge knows no bounds. She easily passed entry exams for Warren High, enticed with the bait of new knowledge and a different way of learning.
Personality:
A persons first impressions of Winter depend on the individual, people who are loud and have personalities that shout tend to leave her quiet and observant, those who are quieter themselves will probably find Winter to be a kind and endearing person. She is in general a lovely person, or at least she tries to be. She's gentle, has a great connection with nature that boarders on maternal and an intense love for creativity. A couple of things she cannot stand among others are meaningless violence and modern slang. She finds sexual advances and flirtation uncomfortable and embarrassing, even seeing it has the same effect. She enjoys learning new things, even when they are unpleasant, she appreciates all knowledge.
Are you a friend or foe of humans? Or neutral?:
Winnie's opinion is fairly neutral towards humans, they can be both creative and destructive. As for whether she's a friend or foe to them, it's no secret that elves use all sorts of ingredients in their 'nature' magic, some human ingredients. Still, she would never go out of her way to hurt a human.
History/ Other:
Winter comes from a society of elves still living traditionally in a glamour protected location. She has been brought up by her aunt and uncle, a tradition in the elven society. Her home and the home of her community is carved from a mountain side, working with nature to create an intricate and elegant collection of buildings.
Most elf girls don't leave the community until they are wed, so that they have a male partner to guide and protect them. Winter has made it clear however that in these modern times exceptions need to be made. She has left her home with the strict reminder that she is at the boarding school to study only. No fraternising with the opposite sex or the other species, no getting any strange ideas. Of course winter left out that, she'd be sharing living quarters with other species and that she intended to learn more than what her studies had in store for her.