The Prophecy of Escunium was a Prophecy originating from the Year of Horrors 700 years ago in year 243. The two major races of Escunium, the Elves and the Humans, were engaged in bitter war, locked in a stalemate due to the unique strengths of both sides, the former in magical prowess, while the latter in technology. In that year, it was the height of the war, with both sides about to clash at the Helvasana Plains for a decisive battle to decide the outcome of the war.

It was then, a swarm of insects descended from the skies, spreading diseases to both races. With the epidemic running rampant, the numbers on both sides were severely diminished. However, both races were deep in their hatred for each other and went ahead with the Battle of Helvasana regardless. This became the shortest battle in Escunium history when both sides discovered to their horror, a message engraved in stone right in the middle of the Helvasana Plains.

On it, were the words:
By the flames almighty,
None shall survive this coming storm,
Try as one might; pity,
It is lost once stars align and form.

Part 1 of the Prophecy of Escunium
With these ominous words written in the curious linguistic style of the Ancients, the two sides decided to put aside their differences to comprehend the meaning of these words. These would not be the only words bestowed upon them, they would soon discover.

Not too long after the discovery of the Prophecy, both sides began to report two new verses to this Prophecy:
Of the years that spells doom,
three of drought, two of storm,
one of flood, and one of gloom.

Part 2 of the Prophecy of Escunium
The Pendant protects all.

Part 3 of the Prophecy of Escunium
For the first time in decades, both races would convene a Council on the Helvasana Plains, a neutral ground owned by no race. There, a historic pact was made - the Pact of Escunium. It declared that both races would cease hostilities with each other and focus their efforts on finding this 'Pendant' that the third part of the Prophecy speaks of.

With both sides having agreed to obey this Pact, peace reigned over Escunium for a century before all memories of the Prophecy and the Pact was ignored to satisfy the greed of Human and Elven Kings of the time. Escunium was once again plunged into a state of war for a time before peace would return; the cycle continues. Gradually, the Prophecy of Escunium was lost to the annals of history.
700 years later...
The signs were showing. All over Escunium, from East to West, a sudden drought struck the lands for three years. Rivers ran dry while sea levels dropped drastically. Then for two years, a furious storm raged over the land. Thunder and lightning constantly roared and flashed, accompanied by a massive downpour, even in the icy region of the East, where it never rains.

The storm never ceased, and before long, water levels were rising so high that various coastal areas were suffering from severe flooding. Within that year, the landmass of Escunium was reduced by a quarter. Many died while others were displaced, left with no homes. A year of gloomy, cloudy weather prevailed thereafter, and it was then the voices of historians were heard.

The Prophecy of Escunium.

It was happening.

The Kingdoms began to panic and suddenly, the search for the 'Pendant' stated in the Prophecy became very real and intense. Different Kingdoms began to wage war on each other in order to attempt a full-scale sweep of a neighbouring Kingdom's land for this 'Pendant'.

In the midst of this, one Kingdom, the Isolated Kingdom of Theonandias decides to send a Princess of the Kingdom to the nearby Kingdom of Ugeos in a diplomatic effort to forge an alliance. What the King would neglect to consider was his daughter's feisty nature...
----
Maps!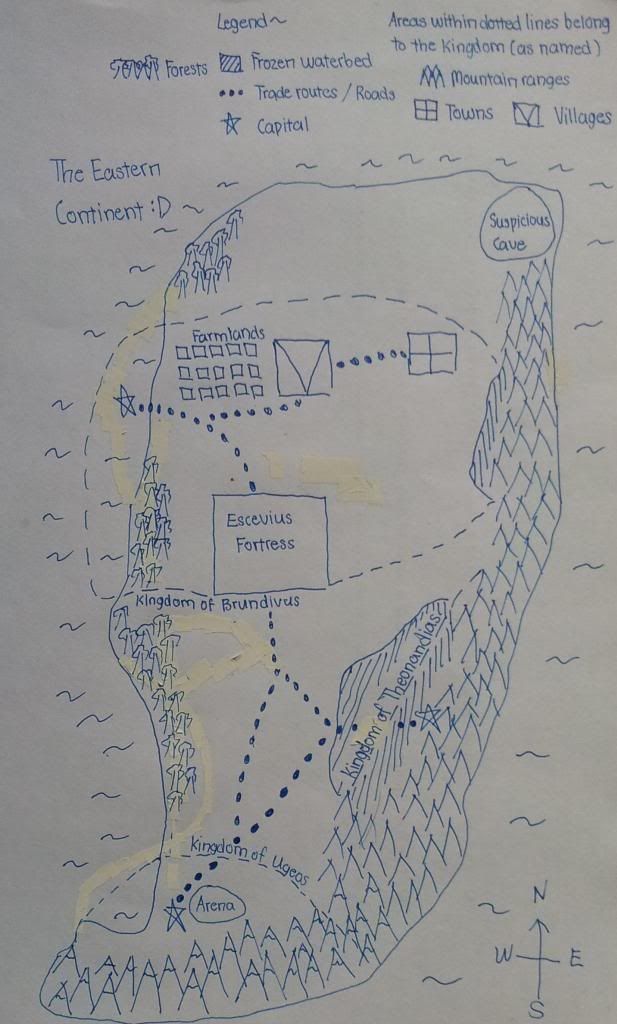 This is a 1x1 Role-Play between me (TheodoraMina) and Athrun Zala
So, sorry, will not be accepting character applications. Feel free to read this RP though. :D
13 posts here • Page 1 of 1
13 posts here • Page 1 of 1
Arcs are bundles of posts that you can organize on your own. They're useful for telling a story that might span long periods of time or space.
There are no arcs in this roleplay.
There are no quests in this roleplay.
Here's the current leaderboard.
There are no groups in this roleplay!
Welcome home, Promethean. Here, you can manage your universe.
Arcs are bundles of posts from any location, allowing you to easily capture sub-plots which might be spread out across multiple locations.
You can create Quests with various rewards, encouraging your players to engage with specific plot lines.
Settings are the backdrop for the characters in your universe, giving meaning and context to their existence. By creating a number of well-written locations, you can organize your universe into areas and regions.
Navigation
While not required, locations can be organized onto a map. More information soon!
There are no groups in this roleplay!
By creating Collectibles, you can reward your players with unique items that accentuate their character sheets.
Once an Item has been created, it can be spawned in the IC using /spawn Item Name (case-sensitive, as usual) — this can be followed with /take Item Name to retrieve the item into the current character's inventory.
Give your Universe life by adding a Mob, which are auto-replenishing NPCs your players can interact with. Useful for some quick hack-and-slash fun!
Mobs can be automated spawns, like rats and bats, or full-on NPCs complete with conversation menus. Use them to enhance your player experience!
Current Mobs
No mobs have been created yet.
Locations where Mobs and Items might appear.
You can schedule events for your players to create notifications and schedule times for everyone to plan around.
Add and remove other people from your Universe.
The Forge
Use your INK to craft new artifacts in The Prophecy of Escunium. Once created, Items cannot be changed, but they can be bought and sold in the marketplace.
Notable Items
No items have been created yet!
The Market
Buy, sell, and even craft your own items in this universe.
Market Data

Market conditions are unknown. Use caution when trading.

Quick Buy (Items Most Recently Listed for Sale)
Newest
Trending
Most Followed
A trading Kingdom conveniently located at the base of a mountain and a bay, allowing the development of a trading port that has become the Kingdom's biggest source of income.
Escunium- Two major continents divided by a vast ocean characterizes the landmass of Escunium. Each as its own climate, with the Easterly continent having temperatures as low as -20°C, while the Westerly continent having temperatures as high as 40°C.
The Escevius Fortress built on the Escevius Plains in the Eastern Continent meant to aid in the defense against the Kingdoms of Ugeos and Theonandias, should they decide to attack Brundivus.
Farther East on the Eastern Continent sits the Kingdom of Brundivus. The Kingdom was not initially where it was right now, that is, until the flood from the past year drove the people of the Kingdom inland.
As its name suggests, Theonandias is a Kingdom that is isolated from the other Kingdoms due to its geographical location. Surrounded by and situated on top of mountains, Theonandias is a strategic stronghold that is not easy to attack.
Discussions
Topics

Replies
Views

Last post
Most recent OOC posts in The Prophecy of Escunium
This is a closed, 1x1 Roleplay that I'm doing with Athrun Zala though. Sorry if it caught your interest. Maybe next time!