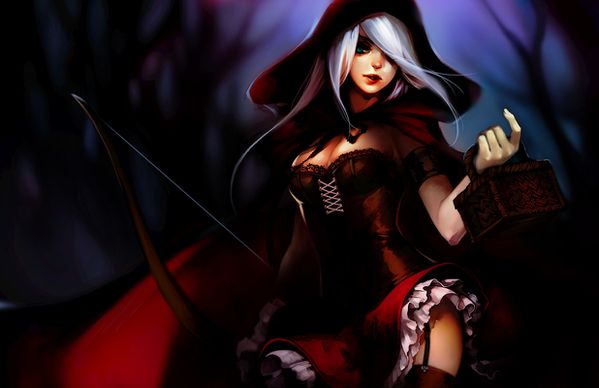 ---
---
Real Name:
♦ Rebekah. Autumn, Hunter
Member name:
♦ Red Rider
Age:
♦ Six-teen
Gender:
♦ Female
Personality:
♦ Red is a very straight forward person, she isnt shy and doesnt back down, she's got a bad temper. If you ever get in a fight with this girl prepare to lose cause she knows how to kick ass. She is slightly aggressive and it a take charge kinda person, but only when people are in dire need of it. Her hard ass persona aside Red is a very sweet girl, the kind that will help a little old lady cross the street without a second thought. She is very over-protective of the people she cares about. Though she barely ever shows her 'sweet' side. She is one of the most feared members of Sanctuary because she is deadly, no remorse.
Appearance:
♦ Red is lean, tall and curvy. Standing at a good 5'8" with blemish free pale ivory skin adore's her body while her pale white wavy locks cascade down to her bum. She is well equipped in the bum and breast area with legs that go for mile's. Plump lips and a heart shaped face, her scarlet eyes seem to glow and pierce through your soul. She has long gracefully fingers and a tribal like birth mark on the under side of her wrist. Her birthmark on her wrist and a gorgeous smile is the final touches to this white haired beauty. She can usually be seen in fighting gear, a hot red dress, a cute white dress or jeans and a t-shirt but she always wears her blood red cloak.
Ability:
♦
Super enhanced speed, strength and senses.
♦
Shape-shift
-
Can turn into a giant white wolf
Powers
Electricity/Lightning:
♦
Quintessence Force
-
Can generate whitish-blue lightning that also contains pure life energy.
♦
Electrokinesis
-
control, generate or absorb electric fields and shoot lightning bolts.
♦
Activation & Deactivation
-
turn stuff on and off.
♦
Electrical Absorption
-
absorb electricity.
♦
Electric Mimicry
-
transform entire body into a lightning-like being of pure elcetrical energy
♦
Electrical Transportation
-
teleport with lightning.
♦
Divine Lightning Manipulation
-
create and control the brightest lightning.
♦
Black Lightning Manipulation
-
create and control the darkest lightning.
♦
Atmokinesis
-
manipulate the various aspects of the weather by using lightning/electricity.
Minor Witch Craft:
( powers from
pentagram
)
♦
Spells from a spell book
♦
Necromancy
-
To bring the dead to life, they are under user's control.
♦
Telepathy
-
To move things with her mind, though Red can only move small items.
♦
Whatever proof
-
her red cloak is enchanted to make it withstand anything from bullets to acid.
Started seeing monsters at age..:
♦ Red has always been able to see monster, ever since she was a baby. But that might be because she was half monster and half human, a hybrid. Her father was a wolf monster who had taken on human form to find a mate and bare a child. That mate was her mother. Once Red's father was sure he had impregnated her mother he disappeared, her mother nor Red ever seeing him. Red and her mother never really left their quiet farm, away from everything and everyone. Her mother tried to hide what Red really was but it was harder then the woman thought. In times of fits as a young child Red would morph into a small white wolf pup, adorable as she may be, she was still a wolf and not only that but a monster wolf making her even more deadly. But none the less Red's mother loved her and treated her like a treasure for Red was the only family the woman had left. When Red turned ten there was a massacre. Apparently her father was a very powerful wolf monster and the other monsters felt threatened. They didn't want the powerful wolf gene's to continue so they hunted down the wolf's only off spring, Red. It was a bloody mess. Her mother knew someone, someday would come for Red so her mother gave Red to a witch monster Red's mother trusted. But Red refused to be separated from her mom and when she went back to the house blood was everywhere, as her mother's torn body lay cold and dead in the middle of the floor the monster gathering around her. Something in Red snapped and the next thing she knew the monster's bodies littered the floor and blood coated her white fur. From that day on Red has trained with the witch monster, whom on Red's 14th birthday gave Red a pentagram that the witch monster had put all her powers in so Red could use them and a weapons crystal. The witch also told Red to be careful because hybrids were very rare and even though she may have the appear of a human, she has the power of a monster and like any monster Red could be 'trained'. A few days later the monster died and Red was on her own. Red joined the Sanctuary almost right after that and became one of the most feared members of the Sanctuary.
Weapons:
♦ Red has a
crystal necklace
that can turn into either a
sword
or a
scythe
.
♦ Teeth and claws