...

New city, new roommates, new drama.
The Real World
S1: WP Beach, FL
|
S2: Seattle, WA.
|
S3: Los Angeles, CA
|
S4: Chicago, IL
The Challenge
S1: The Lagoon
|
S2: The Jungle
|
S3: Rush
|
S4: The Reef
It's been five seasons since the first group of people settled into a Real World house, where the biggest brawls in RW history happened, but with the new house being in New Orleans, it's bound to break boundaries and be the most wild, crazy and destructive season yet to come.
Based off the MTV show, The Real World, which is exactly like this. Every season a group of twenty-somethings from all over the U.S. and Canada move into a house together for three months in a new location every year.
Eight people, four men, and four women will move into a home set in New Orleans, Louisiana. During the three months that they live in this house, some of us will butt heads and some of us will make friendships, but one thing can be for sure. Not a night at the house will be boring.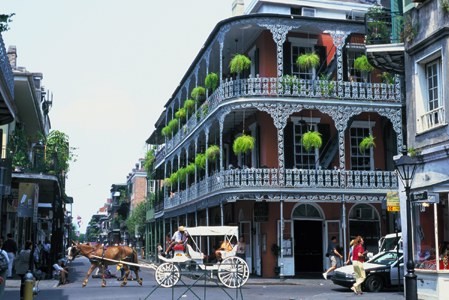 Rules
1. I want all intros more than two good paragraphs at the least.
2. I want all regular posts at least a paragraph. If you have less than that to say, then you don't have anything very important to say then, so save it till you can. Ah, that sounds mean. I'm not mean, I promise. I just like posts with length and meaning. Is that too much to ask?
3. I want all the characters to be different than each other. If I feel like someone is too close to another character than honestly, I will pm you and ask you to change it up to make it more unique. I hate seeing the same kind of characters all of the time.
4. When you post, since this is a reality roleplay, even though it can't be actual reality, I'd like to make it a lot like a reality show. Therefore, please every once in a while make a narration about something that is happening, like it would in a reality show. Put this in bold, and seperate it from the rest of your post. THE NARRATIONS WILL BE IN
BOLD
.
The Residence
The mansion is a three story home with six bedrooms, four of which will actually be used. It was a widespaced living room with old draperies and furniture to give it the old new orleans style. The room is two stories high with large windows and a balcony hallway above. The kitchen is also very large with a dining table and bar in it. There is an indoor movie theatre downstairs and a pool table upstairs. In the backyard there is a gazebo, gas grill, small pool and hot tub.
Character Sheets
Please use a realistic picture for your sheet AND in the icon. I don't want any blank ones.
Code: Select all

[center][b]Name[/b]
PUT FULL NAME HERE

[b]Age[/b]
PUT AGE HERE 21-26

[b]Gender[/b]
PUT GENDER HERE

[b]Looks[/b]
PUT REALISTIC PICTURE HERE

[b]Personality[/b]
PUT PERSONALLITY HERE

[b]Ambitions[/b]
PUT WHAT THEY WANT TO DO WITH THEIR LIFE

[b]College[/b]
COLLEGE IF ANY

[b]History[/b]
BE DESCRIPTIVE

[b]Room[/b]
(1-4 please check the list before you pick one)

[b]Relationship Status[/b]
PUT STATUS HERE- SINGLE, TAKEN, MARRIED(lets keep that one off limits)

[b]Sexuallity[/b]
STRAIGHT, GAY, BISEXUAL ETC.

[b]Hometown[/b]
PUT HOMETOWN HERE[/center]
Rooms
Room One
Dela Brackton played by
lexileigh
Kristian King played by
RPGLoVeR213
Room Two
Chris Singleton played by
JustQuit
Miles Sadler played by
TWISTEDLogicRoom Three
Andrea Gardner played by
Calvazara
Bella Josephson played by
Jayhawker010
Room Four
Gregory Louer played by
Jayhawker010
Blair Stidham played by
thelittlethings♥
Mai Amarose played by
Wheatley
Taking place in...
13 posts here • Page 1 of 1
13 posts here • Page 1 of 1
Arcs are bundles of posts that you can organize on your own. They're useful for telling a story that might span long periods of time or space.
There are no arcs in this roleplay.
There are no quests in this roleplay.
Here's the current leaderboard.
There are no groups in this roleplay!
Welcome home, Promethean. Here, you can manage your universe.
Arcs are bundles of posts from any location, allowing you to easily capture sub-plots which might be spread out across multiple locations.
You can create Quests with various rewards, encouraging your players to engage with specific plot lines.
Settings are the backdrop for the characters in your universe, giving meaning and context to their existence. By creating a number of well-written locations, you can organize your universe into areas and regions.
Navigation
While not required, locations can be organized onto a map. More information soon!
There are no groups in this roleplay!
By creating Collectibles, you can reward your players with unique items that accentuate their character sheets.
Once an Item has been created, it can be spawned in the IC using /spawn Item Name (case-sensitive, as usual) — this can be followed with /take Item Name to retrieve the item into the current character's inventory.
Give your Universe life by adding a Mob, which are auto-replenishing NPCs your players can interact with. Useful for some quick hack-and-slash fun!
Mobs can be automated spawns, like rats and bats, or full-on NPCs complete with conversation menus. Use them to enhance your player experience!
Current Mobs
No mobs have been created yet.
Locations where Mobs and Items might appear.
You can schedule events for your players to create notifications and schedule times for everyone to plan around.
Add and remove other people from your Universe.
The Forge
Use your INK to craft new artifacts in The Real World: New Orleans. Once created, Items cannot be changed, but they can be bought and sold in the marketplace.
Notable Items
No items have been created yet!
The Market
Buy, sell, and even craft your own items in this universe.
Market Data

Market conditions are unknown. Use caution when trading.

Quick Buy (Items Most Recently Listed for Sale)
None
Discussions
Topics

Replies
Views

Last post
Most recent OOC posts in The Real World: New Orleans
Where did half of us go? I can post if nobody else is going to but I'd like most of us to get in a post.
I actually did that but go ahead. We can have 9 :)
Do you mind if I submit a last female character?
Glad you could join us Maria :) I think I'll just make another female so we can get this started.
Hey! :) I hope you enjoy the character I submitted. Oh, and I'm Maria, btw. I hope I get accepted.I'm actually rather excited for this RP. :D
[/size]
Hey would love to reserve a female character if that okay? I'll have her up when i get home from work :)
I'm suprised that all the male slots are filled before even two female ones. Usually its the opposite. I'm sure we'll get some girls quick, but if not, I can also create a female character. And no problem guys. Glad you joined :D
Hey guys!! I want to get this started soon, are any other girls applying yet? I could make another female character but it would be nice if we could get some other people to join! Thanks for letting me in this roleplay!!
Thanks for letting me join!
I think I'll make a gay character, that'll cause some drama with Jay's character >:)
My Icon won't work.... )`: