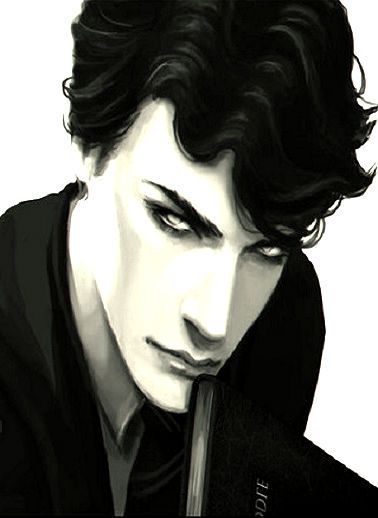 ---
---
F

ull

N

ame
Oliver Valentine
N

icknames/

A

liases
Oli
A

ge
Appears to be early-mid 20s but official age is unknown along with his birth date.
G

ender
Male
S

pecies
Many have called him a ghoul, a demon, a dark spirit, a monster or a freak. What his true species is however is unknown, all that is know is that he is not Human and has some quite odd abilities and characteristics.
S

exuality
Pansexual
H

eight
6'1
H

air

C

olour
Black
E

ye

C

olour
Pale Grey
---
---
O

riginal

C

anon
Oli comes from a cruel and unforgiving world and he doesn't even know it. He used to be part of a tribe and all of them wore animal skull themed masks to represent who they were; it was their totem and would be the animal they would seek wisdom from and respect their whole life. However Oli doesn't know any of this. The tribe lived far from civilisation, or so they thought. A scifi, high tech city far away, host to many intelligent scientists, full of amazing new technology found his tribe, killed most and took the rest. The scientists did anyway. They would be experiments. Many failed and died, Oli is the only to survive however at a cost. He lost all his memories.
D

escription
Oli is a tall, dead pale, guy with quite messy, wavy, black, thick hair. His body is toned and muscular but always cold. His face face is odd with rather slender looking eyes, sharp black eyebrows and a long, small nose. His pale grey eyes add to his odd look and his facial structure tends to give off rather odd facial expressions. He does not feel the cold but feels the heat more and tends to get hot easily. He lives off the cold and loves it, the reason why he is able to survive in harsh, cold temperatures with barely any clothes is still a mystery. And so, he is usually seen not very rugged up as it's really warm when he enters a building around the area he lives and wanders. He is always seen in completely black clothing; a long black coat, thick, black boots, pants etc his outfits sometimes change, depending on the weather. Although he can stand pretty harsh cold climate, there is a limit and even he gets cold when the winter, snow weather is most harsh and unforgiving. Apart from that he is quite slender and usually seen walking or sitting slouched. His face is usually covered at all times until he is alone he finally removes his large, wolf like skull helmet/mask. Usually his shoulders and the top half of his chest are covered by black cloth or linen, lightly draped over him and either rugged black pants tucked into high black boots or a more tribal, long black linen loin cloth of sorts.
L

ikes
✔ Space
✔ Dancing
✔ Puzzles
✔ Cold
✔ Animals
D

islikes
✖ Sharp objects (for some reason seeing a sharp object makes him panic and feel distressed, which he thinks is somehow linked to his forgotten past)
✖ Cocky people
✖ Being underestimated
✖ Broken promises
✖ Liars
---
---
P

ersonality
Oli is fairly quiet, keeps to himself, kind, gentle, but doesn't really show it. Having his face covered all the time makes it hard to see any emotion he may be feeling or showing. He enjoys life and everything living, no matter what they look like or what they do. Perhaps this is the way of his people still lingering within him. He's almost quite shy really but very protective and will most certainly be seen doing many unexpected things. At times he seems cold, cruel and uncaring, but Oli is simply honest, doesn't like to open up to others and sometimes hurts others to keep them away. He is simply scared as he doesn't know anything about the world anymore and has to learn all over again.
A

bilities
So far he has discovered his senses are different from others. His vision and mind randomly acts like an intense heat detector at times whenever he is lost. His vision turns to a blurry red and he has a terrible headache in the process as his sense pull him towards life and people. He begins to hear voices that are far too distant for any normal human to hear and see's a mixture or colours highlighting people depending on the person, as he gets closer.
He has stitch marks around the joint on his arms: middle of arm, around the shoulder area and wrist. As well as around his neck. His other side is in complete control of all Oli's abilities without any headaches and has shown that the places stitched can detach from his body, moving wherever they please, simply floating around to his desired location with a trail of black mist, smoke of sorts followed by any parts. He has the ability to create illusions; made many copies of himself; heal quicker than others and can stand the extreme cold weather, naked if he wished. He is usually seen shirtless, bare footed with nothing but pants and a long, ankle length, black, coat, slung onto his shoulders, clinging on. The heat is a big weakness and makes him very flustered, uncomfortable and could even cause trouble breathing or even death.
Self Mutilation
- Oli has stitch marks around almost all his joints; around his wrists, middle of his arms, shoulders, neck, knees, ankles. He has the ability to detach these parts from the stitched area and use them however he pleases. When he controls them to go do a certain thing, a black trail of mist can be seen. These limbs can work just as well as they would when attached.
The Illusionist
- Oli can make copies of himself or parts of himself, making him look quite drastically mutilated or horrifying if wished to. However it is not real and is just to trick the target. These copies can work just as well as the real him though, however the more copies, the weaker they get. They can move to his will, fight, cause harm as if they were truly there. Once they are hit by the target however, they disappear.
Ocean of Darkness
- If he really needed to or wanted to, he could release the dark miasma within him and let it slowly surround everyone. What this does is basically darkens the whole surrounding area he wishes to cover. Encases everyone in a bubble of darkness. As if someone suddenly switched out the lights. However it's more of a defensive or supportive ability not an attack as it does nothing to harm them. If he wanted to however, he could control the a simple string or small amount of the dark miasma, like a tentacle of darkness and use it to push someone, constrict or choke them.
Thermo Senses
- He can't control this ability very well yet (as well as most of his abilities). It happens randomly and unintentionally, his vision is suddenly twitched to thermographic mode; as if looking through a thermographic camera. This allows him to see where different living creatures are from a very far distance.
W

eaknesses
- Heat, hot climates and temperatures
- Sharp objects, they tend to make him freak out a little
- His emotions can sometimes get in the way of logical decisions
- Using his abilities too much can result in a darker side of him taking control of his actions, causing quite mayhem and harm to others. Including himself. He could potentially destroy his own mind, killing himself or being lost in an eternal sleep.
- Not the strongest, not very good stamina or endurance. He is fast but more in short random bursts, can't constantly stay fast for a long period of time.
- He has random flash backs from time to time of the experiments, random faces flash before him as if they were in front of him. Peoples faces morph to those of more sinister, familiar faces, his vision blurs, everything looks as though someone twitched a red filter on. Images shake, wicked smiles, screaming. He's not very mentally stable.
H

istory
All of his history is forgotten and it is now time to make a new story. The only thing he remembers is that his mask is important and wearing it comforts him. You'll never catch him with it off. No one has yet to see his true face except the scientists who used him and his tribe as test subjects.
The scientists found them to be the perfect tool for furthering their studies. His tribe weren't hear of, know one knew of their existence in his world, so no one would care if they all died. Oli is the only one to have survived and be the only successful experiment with the cost of his entire memory.