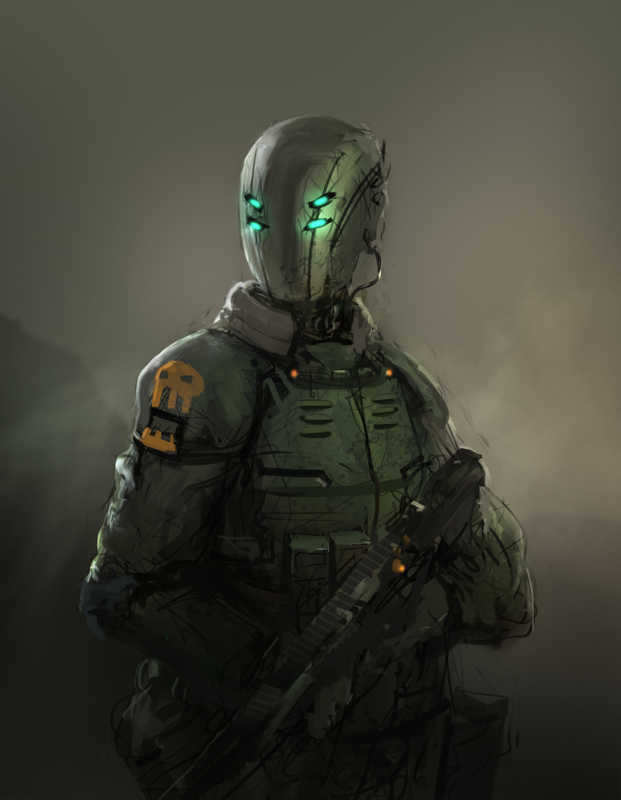 Full Name:
Xinder Ouquid
Nicknames/Aliases:
X, Xin, Quid, Scar, TankFace, Four-Eyes
Age:
Mind: 2053 Years
Body: 6 Months Since Release from the Tube
Gender:
Male
Species:
Original: Human
Current: Alphadine Warflesh Model 3-R
In the distant future of 5051 man has found out how to transcend a single body. While any particular mind can only handle one body at a time, the bodies can be set up in such a way that when the user dies they go to said body. This was in combination with the discovery of matter printers. Humans now hold the power to create anything they want as long as the have enough matter.
Even with this new found ability to have anything they wanted, man still found reasons to wage war. The corporations that once provided basic goods died with weapons manufactures and other tech companies taking rise with proprietary tech that simply couldn't be produced when you didn't know the plans to make it form. This and raw space soon became man's items of value.
Seeking to expand their influence, the governments formed to server the Corporations' will fought for nearly every livable planet they could, and even some that weren't. However, land wasn't the only thing that these governments would fight for. Technology brought in a new age of espionage and warfare as armies would clash over new firing systems, vehicle engines, spaceship tech, or armor systems.
The most recent battle was over the planet PI-5513. The war being waged was between the local government, Alphadine Systems Inc., and Mad Catz, with millions of soldiers being sent in to destroy the others every day. As of the last known state of PI-5513, it was at a point where Alphadine was pushing the Mad Catz outpost border.
Xin's armor matches the picture above, excepting that it also bears the Alphadine logo on the chest. Without his armor, Xin is a pale white humaniod figure with two silver eyes, a crumpled nose, ear-slots, a mouth, and no hair. His body's build is like that of larger athlete, standing in at 6 and a half feet tall that is covered in pure muscle. The skin of this body is also in near perfect condition not yet having had time to develop scars and shows no signs of aging beyond 20 years of age.
2000 years of killing and dying has not done well for Xin's psyche. While most people would feel guilt for everything done over these 2000 years, Xin couldn't care less. His cold exterior reflects his views of what people truly are. To Xin, it is only the mind that is important and the rest of a person is an expendable tool worthy only to fulfill a purpose and die. Even when someone is bound to only a single body, Xin has no qualms about killing them if it furthers his goals.
His coldness is further increased by his seeming inability to get angry, which leads to his constant methodicalness. That isn't to say that Xin can't be brought to rage, but unless you know his triggers it can seem like an impossible feat. The triggers include: Certain battles that just piss Xin off, his father's drunk ass, 3 specific COs that Xin has killed multiple times each, and the fact that his current body lacks procreative organs.
When he is angered, Xin can take days to simmer down if he doesn't take his anger out on something living. During this time he will gladly strangle anyone who doesn't agree with him and/or just shoot what is pissing him off. Angry Xin also enjoys napalm and the joys that come from dumping it over populated areas.
Alphadine Warflesh Model 3-R - The Warflesh series of shells was designed to do one thing, wage war. Made with no other intents than to kill and survive the Model 3 is the most used model in production and offers exceptional strength and endurance as well as a strong immune system and poison resistance. The Version R is the recon version and offers a maintainable run at 11 miles per hour and can sprint at 25 miles per hour for 2 minutes straight while carrying a 200 pound load. The recon model can also operate on half the food and air of a normal human and has a second heart.
Alphadine Bolt Rifle AR-53R - The recon version of the standard Bolt Rifle AR-53, the 53R is capable of alternating between physical and plasma bolts and maintaining a fully-automatic fire rate of 150 rounds per minute. The rifle operates off of an internal Raw Mass supply that is good for 500 rounds and takes 12 seconds to refuel from the suits internal supply. The weapon aims with a Smart Sights system that can reform between iron sight, 2x-4x holographic sight, and a 6x-12x scope.
Alphadine Side Slugger Pistol P-12 - About the size of a M-1911, the P-12 offers the ability to be quickly drawn and fired. Operating at up to 300 rounds per minute of sustained fire, the P-12 only holds 100 rounds of fire and takes 6 seconds to refill the internal Raw Mass supply. It only fires solid slugs and has a range of 200 yards.
CZek Corporation Plasma Knife Model 7 - The Model 7 plasma knife, when inactivate, is little more than a hilt with Raw Mass in it. Once activated, a blade of thermal plasma forms, from 6 inches to 4 feet at the users discretion, and can remain active for an hour before needing a 4 second recharge of Raw Matter.
Hand-Forged Combat Knife - Made because of the idea that "You should always have a knife that doesn't run out of ammo," this combat knife is formed of a light-weight, but durable, titanium alloy and is sharp enough to slice a single hair. It is a 8 inch blade.
Alphadine Recon Armor 8 - The RA-8 armor system is made up of basic ballistic fiber surrounding a non-physical barriers system. It also offers a Raw Matter storage of up to 100 pounds and the ability to reconstruct air. It offers protection against thermal energy below 3000 degrees, lack of and hostile atmospheres, physical strikes, and allows the suit to be submerged up to 300 feet deep. Holding off thermal energy exceeding 150 degrees Ferlinghetti or physical strikes faster than a punch burns away at the internal fuel supply.
4-Eyes' Helmet - His most well known namesake, Xin made this helmet himself. It offers basic ballistic protection when the barriers run out of power, is sealed and connects to his armor's air supply, allows for the use of thermal, low-light, and normal vision, and includes a basic motion tracker that detects any motion within 30 feet provided that no physical objects between the helmet and object in question. It also has a full comms suit with a broadcast range of 500 miles.
Mobile Matter Printer - A mobile matter print that expands to a 4 foot cube, it is capable of constructing (give the proper blueprints) or deconstructing (directly into pure mass) any object of lesser size . The printer can't record new blueprints. It can process 30 pounds of matter every minute. It can recharge any item with Raw Mass. When in storage mode it becomes a 3 inch cube.
2000 Year Soldier - Xin has been fighting since the day he was born. Space-ship fuel. Organic medicines. Technology. Living space. Xin has fought for it all in his lifetime. He is more than capable with his knife and pistol, but his rifle is his main area of focus.
1000 Year Engineer - Having learned engineering after having enough of others not being able to upkeep his equipment, Xin is now more than capable of rebuilding and repairing any piece of equipment that he brings to the field. He is also familiar with working on vehicles and computers.
Maintenance Cycles - As amazing as Xin's technology is, it is not infallible. When just operating normally it requires at least an hour a day of maintenance. While this can be skipped for a few days, when it is the tech will become increasingly unreliable until it breaks. Xin has to be out of his armor while maintaining everything.
Hungry Machines - While all of his equipment runs off of Raw Mass and he is able to produce mass, when the mass runs out only two items operate fully. His hand-forged knife and the matter printer.
Trans Tech Recklessness - Xin is used to being able to die without any serious repercussions. This leads him to occasionally try tactics and fights that he knows will kill him, as he forgets that he only has one body here occasionally.
Poor Survivalist - When unable to operate his matter printer, Xin is unfamiliar with gathering food, water, and medicine.
Fight Lightning With Lightning - While the armor's barriers can last a good while, electricity drains the shields faster than other types of damage and can increase the speed at which they decay.
P-2022 was a fairly quiet place, being the homeworld of Alphadine. This is where Xin was born the child of an executive with a drinking problem and an assembler with no respect for herself. Neither of them was expecting the ball of will and stubbornness of Xin, which was strong enough that he was six he refused to leg go of a toy despite his father beating him for nearly 3 hours straight. His family life was about as much fun as walking through a rose bush and his hate of his parents quickly showed of it.
When he grew to be 16, Xin quickly signed up to join the Alphadine military. On his first day they gave him a body that precursored the Warflesh series and a pistol to practice with. Seeing the opportunity, Xin returned home and shot both of his parents before killing both of their backups as well. After he was done at his house, Xin went to the bar with his training squad, returning back to the barracks when they were sufficiently drunk.
Xin quickly showed great potential in the military. He followed every order without any other question than "Is there a more efficient way to do this?" After 50 years of service he was entered into the Space Marines Division, raiding enemy ships for nearly 600 years. When Alphadine needed more heads in the recon division, he was one of the first to be chosen.
Being the tip of the spear excited Xin. The first on a planet, breaking the great walls before they had little more than a ship and a few basic backups. His normal strategy during attacks was to get behind the enemy and cause chaos behind their line before sneaking off to another point and causing more chaos. This tactic won thousands of battles over the past 1500 or so years, cementing Xin's place as the leader of Recon Division ground operations of whatever planet he happened to be on.