Alias: Karvoth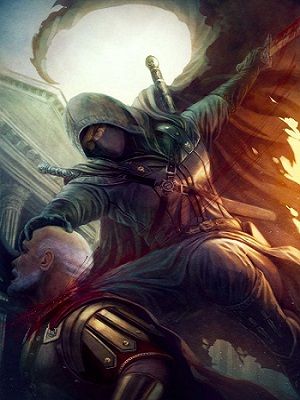 Name:
Now why would you want to know that?
Conner Shor
Age:
Far younger then I look and far older then I feel.
31
Gender:
.. I am just going to ignore this question.
Male
Position:
Technically, I am apart of the Foresworn, but really they just pay well. Have you seen how much a dragon claw goes for?
Assassin for the Foresworn
Species:
Does it matter? They all bleed.
Human
Description / Appearance:
I would hope your eyes would do the work for you, but if I had to say... You would walk by me on the street without sparing me a second glance.
Karvoth is an average man in almost all aspects. He stands at 6ft and has an 'average' build that consist of large shoulders and a thin waist. His muscle build is what you would expect from a man who swings a blade all day as he is definitively not one of those 'lean but with muscles' that some people pretend to be. He has powerful arms, while they do not bulge and tear clothing, he can hold his own against most other men, assuming that it is indeed a man and not an ogre or some other monstrously powerful creature. His auburn hair is long having down to his shoulders and the bangs dangle before his face reaching down to his chin. His hair is unkempt as he does not take any special effort to brush it and usually just cuts it with a dagger when it gets too long. His eyes are a deep brown... nothing special.
Personality:
Simple. I am a working man. People pay me gold to... acquire goods or end peoples lives, and I am quite good at doing both. Don't take it personal, its just business.
Karvoth is a man running form his past and doing the only thing he knows how to do to stay alive: Kill. He is a proud man as he has fought hard for his reputation and believes he has rightfully earned his current position in getting fat off of some little dragon tokens. Karvoth is condescending towards others as he views himself as superior to them in every way, but also it is a defense mechanism that allows him to keep others at arms length because you never know when you may someday have to kill them... and life is simpler when one is alone. He is not above lashing out at others who attempt to get close to him, but few try as he is not the type to truly arouse interest. It is fair to say that Karvoth is a man that values his secrets, but he is not a silent man. Karvoth loves to make his opinion known if its taunting another or simply making an observation; he loves the sound of his own voice, but then, he never allows himself to truly talk to others, so talking to himself is his only real option.
Short History:
Son of a bitch, er, prostitute, but really is there a difference?
Karvoth was born in the small village of Torsono to the village prostitute Sherry Shor. He had no idea who his father is and doubted his mother did either. Because he was the son of a whore, women in the village hated him for they all feared that their men were sleeping with his mother, in turn the men hated him to convince their wives that they never even spoke to Sherry. While the adults never did anything to him; it did not stop their hatred from being transferred to their kids. They would laugh and beat on him. Beat on the poor, dirty kid who played with himself by drawing pictures in the sand alone.
Karvoth hated himself as well. Everyone else hated him, so logic dictated that something had to be wrong with him as well, and no matter how much his mother said that he was her 'special boy' the feeling remained, but besides that was a new feeling. One of loathing. It was his mothers fault. If she weren't a prostitute the kids wouldn't hurt him. They would like him, and he could finally have friends... In truth, this was just a way for a scared and hurt child to pass the blame onto another person.
When he was 12, his mother gave birth to his sister; Lori. How karvoth adored her because finally he had someone to talk to. Someone he could play with, and he loved her more then any other in the world. It no longer bothered him that everyone else in the world despised him because Lori.. she loved him. The villager kids hatred was transferred to Lori too, but Karvoth never let them touch her even if he had to sacrificing himself; he always promised to protect her. Until the day they came. Soldiers broke into their small shack and murdered Sherry, Karvoth tried to run with his sister, now five, but a soldier grabbed the girls hand, and instead of fighting. Instead of trying to help his sister. He let go of her hand and ran. He abandoned her to her death. The look on her face when he let go... and her scream that followed still haunt him.
Karvoth wandered the forest for a time becoming a bandit attacking travelers for food, this time is a blur for him as he was more of a husk then a man at the time. Life was a daze, he eventually joined a nations military where he was taught formal fighting, but found the life of orders to be... not for someone of his taste. He became a mercenary fighting for gold, gold to buy food, women, and drink. He cast away his old name in order to take an Alias that would allow his reputation to grow: Karvoth. A name that became well known in the underworld, well known enough that a group calling themselves the Foresworn approached him and offered him a job. A well paying job. That was six years ago. While not the most loyal of assassins, Karvoth is one of their deadliest.
Power: None. Weapon of Choice:
Two longswords he keeps tied to his back.
Other: