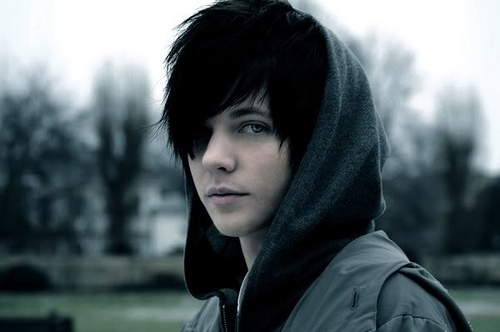 Age:
19
Gender:
Male
Position:
Dragon Rider
Species:
Human
Description / Appearance:
Nero is tall, about 6'2'' and has a lean build. He has straight, jaggedly cut pitch black hair that usually falls into his dark blue-gray eyes, and you will almost always find him wearing worn jeans and a gray or black hoodie.
Personality:
Nero is more of the strong, silent, badass type. He is very caring and protective over his friends and fellow dragon riders, but is slightly mistrusting of people he doesn't know. He is clever and he is quick with a blade or battle axe, and will fight fiercely for the ones he loves. He is not one to give up so easily. Oh, and beware; He can be somewhat of a smart-ass. ;)
Short History:
Nero has grown up with his father in an outer-lying village near a large expanse of forest. He has never known his mother, for she was killed when he was young, and he has no known siblings. His father has been taking him hunting since he was a small boy, and as much as he loves his battle axe, he still sometimes prefers to use the bow his father gave him.
Power:
He has the ability to sense/detect other sources of power, magic, etc. and how powerful they are/the extent of their powers. He can only sense other power sources for a certain distance before they are out of his range, and since this is still a skill he is trying to hone, he has a fairly small distance range at first, at least until he can figure out how to expand it.

Nero can also put strong mind barriers around his mind and thoughts, so not even the most skilled and powerful of magicians or mind-readers/mind-controllers can enter his mind or know his intentions, unless he wills them to. This is one of his stronger and more honed abilities, so he has enough control to let certain people, if he wishes it, into his mind. One of his weaknesses is that once in, he may have trouble casting them back out of his mind if they are powerful enough, and this is why he must be slightly more careful of who he trusts and allows into his mind.

His third power isn't really a power, but more of a natural-born beneficial talent, for he can be somewhat of a master of stealth if he wishes to be. He is adept at sneaking around places undetected if he is careful and doesn't do anything reckless.
Weapon(s) of Choice:
Dragon:
Khothara
Other:
He is sort of a leader of the dragon riders. They don't have any definite 'leader,' but if they did, he would most likely be it.
______________________________________________________________________________________________________________________________________________