---
---
---
---
| Name |
Starlight's real name is unknown.
Everyone just calls her Starlight.
| Age |
21
| Gender |
Female
| Sexuality |
Pansexual
| Race |
Starlight is a Light Neko, otherwise known as The Nekos of the Day.
| Affiliation |
Captain Rubber's First Mate: the only person she will ever take orders from.
| Faceclaim |
Tsubasa Hanekawa
| Appearance |
Starlight is the definition of eye-catching.
Her hair is pure white and very long, reaching just below her waist. She generally wears it down, but might put it up in a braid occasionally. Her eyes are the color of pure gold, and her pupils slit and expand to match the amount of light she is in. She's about 6'1'' and weighs in around 140 pounds. She has beautiful, feminine curves to go along with her lean, powerful muscles. Her skin is of a pale complexion.
Resting on the top of her head, along with her regular human ears, are a pair of snow white ears with pink insides. Growing from her tailbone is a long white tail that reaches just above her head. She has retractable claws on both her fingers and toes. She has fangs that grow and shrink at her will.
Like many other Light Nekos, Starlight has a Neko form. She takes the appearance of a large, snow white tiger, being about 6'5'' at the shoulder and more than 15 feet long from head tail. When in this form, her eyes turn blood red and her pupils slit, no matter the amount of light.
---
---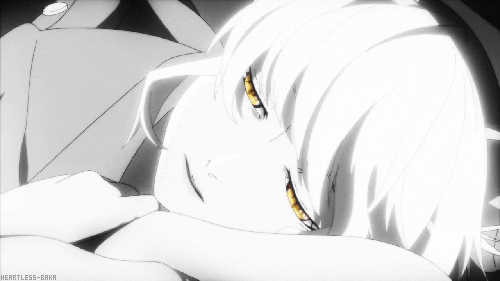 | Personality |
Starlight is one mysterious creature. Her origins are unknown by everybody, except for maybe some cryptic hints she's uttered when in a drunken stupor.
Similar to that of her Captain, Starlight can easily be described as a cruel and cold person. She's practically heartless; showing no mercy for the people who have fallen victim to her quick claws and short temper. She's distant and prefers her own company over everybody else's.

She has a sort of sadistic playfulness to her. She likes to tease her prey, play with it before finally ending its life. She can be overly cocky and robust when facing an opponent, which can get her into trouble sometimes. She is known to easily seduce men with her dashing looks.

Starlight has sharp claws, but her tongue is sharper. She's quick witted, clever, strategic, and amazingly intelligent; not to mention she can easily talk someone's ear off. Getting in an argument with her is not a very smart idea for more than one reason. She's got an extremely short temper and can easily fly into a blind rage, destroying everything that crosses her path. When in a rage state, she practically goes feral and may even shift into her Neko form.

Many people have different sides to them, but it seems as if Starlight only has one. No one has ever found the "heart of gold" that almost everyone has buried deep within their souls. Starlight is not kind, she is not generous, and she is not friendly. She was born a monster and raised to be a killer, and it appears that nobody can change that.

| Like |
+Danger+
+Adrenaline+
+The Rebels+
+Alcohol+
+Cats+
+Meat+
+Sailing+
+Sparring+
+Being Alone+
+Light+
+The Moon+
+The Sun+
+The Smell of Someone Else's Fear+

| Dislikes |
+The Current Queen+
+Ignorance+
+Dark Magic+
+Dogs+
+Loud Sounds+
+Boredom+
+Excessive Blood+
+Weakness+
+Mercy+
+Spicy Foods+
+Narcissism+
+Werewolves+
+Darkness+

| Hobbies |
~Sparring~
~Drinking~
~Sailing~
~Spying~
~Stealing~
~Seducing Random People~

| Fears |
~Suffocating, Eternal Darkness~
~Being Trapped in a Small Space~
~Dying~
~Killing Someone Important to Her~

| Secrets |
~Her Power Over Light~
~She Was Raised to be an Assassin~
~Her Weaknesses~
---
---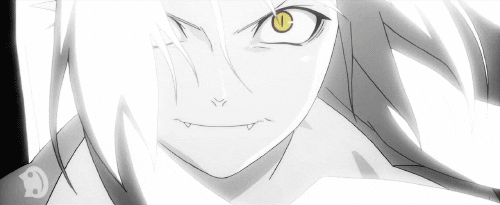 | Weapons |
Starlight carries many, many weapons with her, including:
Throwing Knives
A Balisong Knife
A Dagger
A Rapier
A Bow and Some Arrows
and Shurikens

Not to mention, Starlight herself is a weapon. Her claws and fangs are razor sharp and capable of tearing through flesh and slicing armor. Her jaw is strong enough to bite through bone and metal. She is inhumanly flexible and strong, not to mention her senses are heightened. She can describe in detail her surroundings even if her eyes are covered.

| Equipment |
Starlight always seems to carry too little. She only appears to have the clothes on her back and a certain black cape that she never seems to take off. It reaches just above the floor and has a hood for her to hide her ears in. To most people, they see the cape and think nothing of it; perhaps maybe a bad fashion choice. But this cape is much more than just a piece of black cloth.

Starlight's cape is known as The Thief's Cape. It is a cape that can magically store a numerous amount of items, and only the owner of the cape can access the hidden items that lie within the cape. Starlight herself has no idea just how much can be stored in the cape. If someone who doesn't own the cape tries to access the secrets of the cape, they would just be grabbing at dark, empty fabric.

Within the cape, Starlight carries her weapons and the essentials; some food, clothing, a map, a small telescope, and just the right amount of money.

Also, Starlight always wears a necklace with a star pendant. If you dare try to take it off or touch it, she will kill you. No hesitation. What. So. Ever.

| Abilities |
~Feline Attributes~
Being part cat has its perks. All of Starlight's senses have been heightened sharply, and she can see in the dark. She's extremely flexible and utterly strong for her age and body shape. Her tail makes her more balanced. Her claws and fangs are built in weapons.

However, her attributes also provide her with weaknesses. Loud sounds and smells can weaken and distract her. Both her tail and ears are very sensitive. If her tail is broken, dislocated, or restrained, it can throw her off balance completely.

~Photokinesis~
Photokinesis is the ability to manipulate light.
All Light Nekos are born with some form of Photokinesis. Some are simply born with much better capabilities and some are born with worse. Even at her young age, Starlight showed great potential to become a master over the element of light. However, she chose to take the path of an assassin opposed to that of a mage. She does sometimes practice by herself, and even then her power is tremendous. She can create small balls of light in her palm, however it is much easier to manipulate existing light.

She can channel light into powerful beams and blasts that can blind people, burn their skin, or knock them off balance. She has been practicing making tangible items out of light. She has been able to create small knives and daggers, but anything larger practically makes her pass out from exhaustion. She's capable of "bounding people in light". The light surrounds them and takes on the effect of rope, binding their limbs together and rendering them helpless.

| Bio |
Starlight's true origins are unknown to everyone except herself.

Like many other mystical creatures, she was born into "servanthood", otherwise known as slavery in disguise. She was taken from her parents as a baby and given to another family, only for that family to be abusive and treat her like dirt. Everytime she spoke out, she was beaten and starved.
She spent the first nine years of her life in a living hell. But one fateful day, all of that changed. She was rescued by a vigilante. He took her back to his home where he lived alone. The man, who never revealed his face or identity, told her to call him "Master". It was very clear that this man was different from others. He promised her safety, security, and training. He told her that she would start anew, with a new name and a new identity. So she chose her new name and told the man that she wanted to be like him; a dark hero, a knight in black armor, a cerberus for people to both fear and respect.

So Master taught her. His name was not representing his power over her, his name was representing his knowledge and mastery over all that he does. So he did his best to pass his knowledge onto this little girl who wanted nothing more than to be somebody. He taught her how to fight weaponless or with weapons, close combat or ranged.

Starlight, with her new name and newfound abilities, started taking up jobs. Jobs as a bodyguard, an assassin, a thief, anything that would make her money and help build up her name. At around 18, the royalty caught wind of this "White Shadow" streaking through the towns and cities surrounding the castle. People were sent after her. Of course, she avoided them and fought them off, but eventually she was overwhelmed and captured. She was restrained and put on public display, to wallow in her own shame before she would have been executed.

People laughed, pointed, spat at her, cursed her kind, and much worse. The guards who stood by her didn't take notice. Master caught wind of Starlight impending demise. He went to free her, but there were many more guards than her had planned to be there. He managed to free her, but was mortally wounded in the process. They escaped, Starlight practically carrying him. They made it back to his home, where he bled out in her arms.

Since that day, Starlight promised to never bow down to any king or queen. She now knew that there is corruption in everything. She gathered her things and spent most of her money paying for Master's burial. After he was traditionally buried, Starlight took all she could, and burned down his house.

Starlight needed to start anew once more. She noticed a ship docked and decided to stowaway. It was not long before she was discovered. She begged them to let her stay and become part of their crew. They most likely would have thrown her into the middle of the ocean if not for Captain Rubber. He allowed her to stay long enough that she could prove herself as a good addition to his crew. She managed to defeat his best fighter in mere moments. However, when he asked her to fight him, she refused, saying that he was her captain, and that she was not worthy to fight him.

He let her stay, and it was not long before she began rising in the ranks to become Captain Rubber's First Mate. He is the only person she will ever be loyal to, and the only person who she will ever take orders from. She trusts him with her life, which is something very rare for her.
---
---