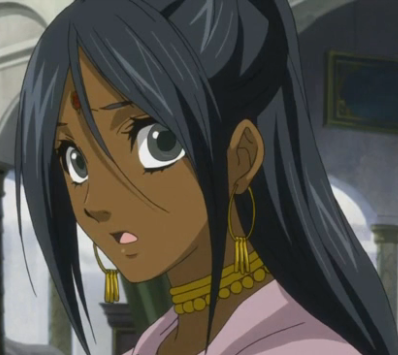 ~Age~
23

~Race~
Human

~Affiliation~
Loyalist

~Appearance~
Standing regally and slender at 5'8, Sierra appears to be fairly frail and unassuming, however, her lithe build enables her to move quite swiftly, even when casually strolling through the courtyard! She is in every way a lady of the castle, always well groomed and elegantly dressed (the only exception, of course, is when she is on a Kingdom sanctioned operation!) Her wrists and ankles are always adorned with a large golden bangle, which serve to augment her magical powers.

~Personality~
Cautious, yet not soft spoken. Analytical, yet impulsive. Opinionated, yet knows when to hold her tongue. Sierra is a very interesting blend of apparent antonymous qualities, yet they meld together to create a very competent and poised young lady, if not just a little too serious! As House Shaeffer's most gifted user of destructive magic, she is an asset to the Kingdom's Magical branch of military, and she takes her job both publicly as Royal Mage Instructor and privately as a Royal Agent very seriously. She is not above small talk and making friends, but as long as she is on the clock, her job will always take precedence (unless of course, matters of urgency involving her family surface. For her, family is more important than even the Queen herself!)

~Weapons~
Vysl'kand Arts- Immersion into the studies and practices of the War God Vysl'kand, Sierra has gained an expertise in the field of Destructive Magic. She is able to conjur the elements to aid her in vanquishing her foes!

Vysl'kand's Scythe- The weapon of Sir Vysl'kand himself, Sierra is able to summon this mystical weapon to reap the souls of her enemies!

~Abilities~
Magical Prowess- Being talented in the field of Destructive magic, Sierra is knowledgeable in both theory and practical application of magic. Though she is still able to cast for more prolonged periods than the ley-magician, her petite constitution still fatigues her from prolonged usage of higher-level spells and the summoning of Vysl'kand's Scythe.

Level-Headed- Calm, cool, and collected, Sierra is adept at both giving and following orders in the heat of any stressful situation! This comes quite in handy, as it is her job both to command and to be commanded!

Frail Build- Though she tries to refrain from getting hit during combat, her petite build can render her far more prone to injury than the average soldier.

~Bio~
Sierra is the middle child of Zaneth and Esmerelda Shaeffer, head of the illustrious House Shaeffer. In direct service to the Purple Kingdom, they are historically known for being the kingdoms most trusted Military Contractors. For years, House Shaeffer has provided their knowledge of training and tactics to help better the kingdom's military. Zaneth is a renowned former general of the Royal Army, and Esmerelda is an accomplished healer who still periodically offers her services to the kingdom.

While her eldest brother Wolfe excelled at diplomacy and her youngest sibling, Vincent, at swordplay, Sierra found her niche in magical arts. Being first trained by her mother, she quickly advanced through the rudiments of spellcasting and became an apprentice to a renowned magician, eventually specializing in Vysl'kand-level conjuration. Shortly after Wolfe resigned from his position as Diplomatic Advisor to the Commonwealth, she was employed at the Purple Royal Castle, where officially, she would act as an instructor to the magical branch of the kingdom's military. However, under the table, she acts as a Royal Agent, conducting investigations into shady matters that the Queen and King would rather not make public.

Though this job initially seemed legitimate, she soon began to question the motives behind these operations. Her jobs quickly became more and more bloody, and she found herself morally conflicted by the people she was being made to kill. Realizing now why her brother left, she continues her service to the Queen, hoping that one day, Wolfe will again re-surface and she can seek his council on the matter.

She would never admit it, but she had always known that Wolfe was always the more practical out of the three...