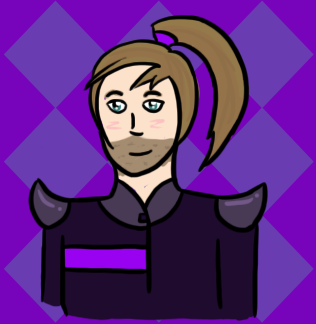 Name:
Synclair Prunson
Age:
Twenty four
Race:
Human
Status:
Noble
Affiliation:
Loyalist
--
Nickname(s):
Sy
Synclair the Fair
Synnister(sometimes calls himself this when drunk)
Captain + any of his names (Captain is his title/rank)
Appearance:
Synclair is a tall man, 6'4 from head to toe, though his ponytail adds an inch or two to that. He has long nut-brown hair and a darker shade of stubble to match his somewhat bushy eyebrows. His eyes are a shade of blue that he would describe to be dull, compared to the shining bright eyes his mother had. There is a look of simplicity to him, despite his nobleman's clothes. You might think that if he were to wear something more humble, he might even be taken for a common born. But then, his skin is clean and clear, free of scars and stains. He'd make a pristine commoner, perhaps. But he'd have to lose that commanding presence of his.
Personality:
His subordinates often jokingly call him "Synclair the Fair" due to his extremely neutral attitude on all matters not involving the Queen. (Though some people make fun of him with this name because he also has fair skin) He is well known for never batting an eye when being directly insulted, and for caring not at all for the lesser politics revolving around the nobles. He has been accused of lacking emotion by his enemies, but that can hardly be considered a truth. Synclair can get riled up in the defense of others, mainly the Queen or his subordinates. He simply excels at tolerating the opinions of those who oppose him. He will only react to taunts if it would end up damaging his honor to ignore a given remark. And he would prefer a proper duel in this case, rather than a brawl of any sort. Also, when drunk, Synclair is an excessively happy individual. And he simply can't refuse an invitation to a friendly drinking game. He's rather proud of his talents in that area, though less proud of the results.
Weapons:
Sword and crossbow. His sword is two-handed, so he does not carry a shield. He instead wears lighter armor to try and dodge any attack he can not block in time. Heavy armor has proven to slow him down and leave him an easy target for archers and bowmen. Synclair did not have the patience to master both his sword and a traditional bow, so he decided on a crossbow. He can use a curved bow, but his shots are not nearly so accurate or powerful. And he isn't quite sure how to string a curved bow either.
Abilities:
Due to his boring human heritage, Synclair has no superhuman abilities. Magic was something he didn't even believe in for half of his life. The abilities that Synclair has are those he has obtained through training. He is skilled at reading and writing, though in all honesty he never realized this was a skill until he met those who didn't posses it. He is skilled at a select few weapons, and has basic knowledge of most weapons. But his true talents lie in strategy and command. And if loyalty counted as a special talent, that would be included. He is extremely loyal to his queen.
Bio:
Though raised in a very prejudiced home, Synclair is a surprisingly understanding person. He had been a rather rebellious child, and had spent many years sneaking around with street urchins just for the fun of it. While this stint as a common thief was (no rhyme intended) altogether brief, it had an enormous impact on his mindset. Synclair never did fit in with his friends who were noble born. They always spent their time butting heads over trying to be the best, or trying to be in control. Synclair didn't understand it, since none of his friends were even royal. Why try to control anyone when they should be focusing on how to best serve the queen? As a teenager, Synclair found yet another way to sneak out of his home and visit the common born. He tried to make friends among them, but it was a difficult age, sixteen, and being high born earned him more enemies than anything else. He gave up on these endeavors one night after he heard the boys he was trying to befriend speak ill of the queen. He decided that they simply were not his kind of people.
For a few years, he retreated, his only friends being his brothers. Though his older brother was being groomed to take on his title as lord and would be in charge of many lives when he came of age, Synclair was clearly the leader among his brothers. He was a natural leader, though it puzzled him. He had never aspired to leading anyone, and had never asked for his brothers to follow his example. It just went this way after years of his brothers coming to him to settle arguments. Synclair had always been known to weigh the facts and decide clearly on any topic. Because of this, his brothers had come to trust him above anyone they knew. They trusted his judgement, and therefor listened for his instruction, letting him decide on a course of action first so that they could follow suit. Synclair often attempted to get his brothers to decide certain matters for themselves. They would agree, for a time. But then their father would ask the opinions of his sons on a matter, and Synclair's brothers would turn to him. Synclair had no choice but to offer his own opinion, which his brothers then adopted. Synclair eventually gave up and got used to being a leader among his siblings. He would not recognize his trustworthy personality or leadership qualities for the blessings they were for many years.
Synclair did not meet anyone of his mind until he was twenty and his father got him a job. Being the second born son, it was tradition in his family that he should become a member of the military, with higher rank of course. And here Synclair found his place. Everyone around him was encouraged to be loyal to the crown, to do their best to serve and to stand up for their belief in the system. Granted, not everyone was there solely for the queen. Some were like him, and had come out of duty and tradition. Others needed the money, or had even signed up to raise their chances of a good marriage. But Synclair knew that if this was not the place for him, then there was no place for him anywhere. Determined to make it work, Synclair put every waking hour into his work, and soon gained rank and respect. It was tiring for him, especially since he had never had to work hard before in his life. But the results were gratifying as he gained status among military personnel and found friends in the ranks.
As an act of diplomacy, Synclair was married to a woman he did not know at the age of twenty three. He rarely saw her over the coarse of their marriage due to his work habits. But he did like her, even though she wasn't very pretty or anything like what he imagined in a wife. She was funny and headstrong and bossy. She constantly fired his staff, which he did not approve of, and would bicker with him when she could manage to get him upset enough to do so. But Synclair had grown to admire her strength, and imagined she could do anything if she put her mind to it. However, his strong Kalin could not survive the birth of their first child. And the child did not survive either. Synclair was a widower at twenty four, and has spent the last year in mourning. He regrets that he did not get to know her better when she was alive, and that it was essentially his fault that she was dead. He also has fault terribly guilty over the fact that he was more devastated to lose his daughter, who died only after three days. He hadn't even named the baby girl before she had died, though he now thinks of her as Adeline, because it was Kalin's middle name and he knew nothing better for the baby, but she needed a name.
Synclair worked all through his mourning, but has only recently begun to wear purple again instead of the colors of mourning.